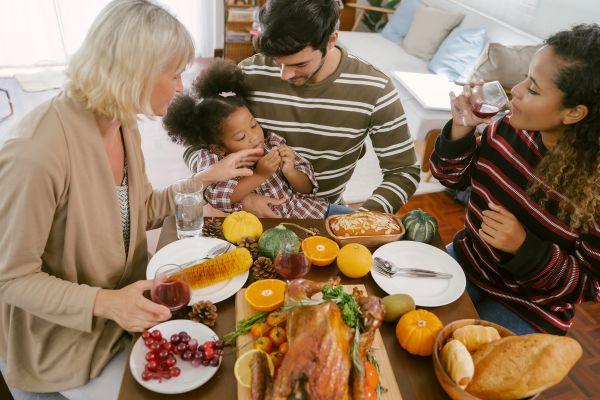 Thanksgiving is a time for family, gratitude, and a hearty feast, but it's also a holiday celebrated uniquely by each family.
In my family, we've experienced Thanksgiving in many locations throughout the United States and abroad.
We usually celebrate with family but also with friends, with my husband's colleagues and students, and with New Americans. Although our celebrations haven't been conducive to creating traditions, they've given us a beautiful patchwork of memories.
At Fargo Mom, our contributors are a diverse group of mothers who share their wisdom, humor, and unique perspectives on parenting and life.
This Thanksgiving, we've come together to offer you a gift: a glimpse into our own special Thanksgiving traditions.
While these traditions vary, and encompass topics from recipes to practical tips, they all share the same spirit of love, togetherness, and gratitude.
Thanksgiving Traditions: Turkey Magic & Sweet Delights
First up, we have Katina Behm, who suggests a fantastic tip for preparing the perfect Thanksgiving turkey: spatchcocking. She has been doing this for seven years now and in her words, has "never looked back." Some of our other contributors agree that this technique is definitely worth a try. It ensures your turkey is succulent and evenly cooked, among other benefits, including a faster cooking time. For the complete experience, Katina suggests this recipe.
A delicious meal that Traci VanBruggen's family enjoyed for Thanksgiving last year included smoked turkey and mac and cheese. Although mac and cheese doesn't fit into the traditional menu of turkey, gravy, stuffing, green bean casserole, and potatoes, I bet that the children were satisfied! I love this idea and may use it this year. Maybe if the children fill up on mac and cheese, there will be more pie for the adults!
Gina Dahl shared a delightful twist to her Thanksgiving celebration. As someone who is lactose intolerant, Gina's husband makes her a special chai pumpkin pie, ensuring that her dietary needs don't take away from the Thanksgiving joy.
Cherished Family Traditions
Lindsay Paulson's family celebrates Thanksgiving in a practical and fun-loving way: they embrace the great outdoors with the annual "Turkey Trot."
Kathy Schommer always buys a paper "Thankful Tree" from Target. It's only $3 and includes ornaments where guests can write what they're thankful for. Also, her children love to make simple construction paper placemats for guests as well. I like how this can keep little hands busy as the excitement builds for the celebration.
The VanBruggens' immediate family has a special Thanksgiving tablecloth where they jot down what they're thankful for year after year. This touching tradition serves as a reminder of life's simple joys. At the larger family gathering last year, her daughter passed around cards for everyone to write what they're thankful for. They kept them as a memory of who was there and what they were thankful for. Then after the meal, they, like many of us Fargo Mom families, will watch football. Some of us, like the Dahls, plan to watch classic TV specials like A Charlie Brown Thanksgiving and A Charlie Brown Christmas.
Dani Ladwig and her family bring a playful twist to their Thanksgiving celebrations. They enjoy card tournaments with a coveted $25 gift card prize for the winner. They also sometimes create a custom-made family trivia game for added fun.
Thanksgiving Tips
Lindsay Paulson has a helpful tip to share: her family and relatives make sure no delicious leftovers go to waste by bringing Tupperware containers to their gatherings. I'm definitely going to make use of this tip!
If you don't have extra Tupperware around, Kyhlie Imsland recommends using disposable muffin tins for leftovers. This is a way to allow each guest to take their own samples of up to six dishes, and they're easy to reheat.
Finally, I have a tip to share. It's simply to prepare a little so you don't have as much to think about on the big day. Whether that means making some dishes ahead (then heating in a slow cooker, to save precious stovetop space), or even cooking and slicing the turkey a day or two beforehand. I actually have cooked and sliced the turkey a day ahead, and the guests loved it!
I hope that you've found some inspiration from our contributions here. While each tradition varies in style and flavor, they all capture the essence of Thanksgiving: the celebration of love, gratitude, and togetherness.
We hope this Thanksgiving brings joy, warmth, and delicious moments to your family, however you choose to celebrate.
What are some of your family's Thanksgiving traditions? Let us know in the comments!