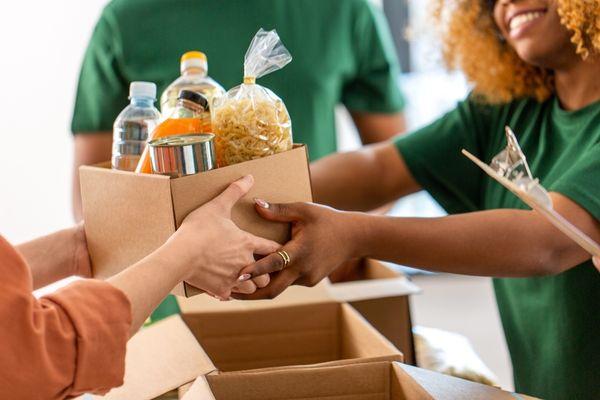 Looking for ways to volunteer with kids in Fargo & Moorhead? We've got a list of some great spots the whole family can get involved!
Here are some ways to serve in the Fargo-Moorhead community with kids.
Volunteer with Kids in Fargo & Moorhead
Where would you like to make an impact? Is there a certain cause that is close to your heart? There are a variety of organizations that cater to specific needs in Fargo-Moorhead.
The Dorothy Day Food Pantry (Churches United for the Homeless) provides food for the community in both their Moorhead and West Fargo locations. Volunteers can donate food, help in the kitchen, work in the food panties, serve meals in the Community Center, or help with cleaning, painting, repairs, and donation sorting.
Down Home's mission is to empower lives by furnishing homes for families and individuals emerging from homelessness. Get involved by sponsoring a family or organize a drive to collect items to help furnish a home!
Volunteers of all ages are welcome to help at Emergency Food Pantry! Sign up for a volunteer shift here.
You can also check the Emergency Food Pantry website for a list of current needs and accepted items, or make a financial donation. According to their website, a single donation of $21 can feed a family for one week!
The only food bank in North Dakota, their goal is a hunger-free North Dakota and Clay County. Take the opportunity to work a shift in the Fargo warehouse. There are four shifts available and opportunities for both individuals and groups (adults, youth, families, and organizations).
Heart 'N Soul is a cafe dedicated to serving local, healthy, delicious meals to everyone in our community with dignity and respect, with pay what you can afford pricing. There are numerous ways individuals, organizations, and groups can help out including:
Enjoy a meal: Stop by one of their events and enjoy a meal where participants can pay what they can afford, pay it forward, or volunteer in exchange for a meal. Check out their Facebook page for upcoming meals!
Be a part of the Lunch Bunch: Help prepare and pack sack lunchs for those in the community that need them.
Create cards of encouragement: These will be included in the to-go lunches to help brighten each recipient's day.
At HERO, they provide access to affordable medical equipment and supplies through recycling and redistribution (both locally and globally).
They move thousands of pounds of medical supplies, instruments, equipment, and other health-related products each year. And are in need of volunteers to help with day-to-day operations. Call (701) 212-1921 to schedule a tour or email a completed application to [email protected].
The goal of Hope Blooms is to inspire healing and hope through repurposed flowers. Volunteer as an individual or a group to help with duties such as preparing and processing flowers, arranging bouquets, and making deliveries.
Interested in helping out in other ways? The organizations listed above also accept monetary donations and some take donations in the form of food or supplies.
This program provides one hot, nutritious meal per day for those age 60 and older who are home-bound and not able to prepare their own meals. Volunteers deliver meals to those in need Monday through Friday.
Volunteering in Cass County is through Valley Senior Services or in Clay County through Lutheran Social Service of Minnesota.
River Keepers
The mission of River Keepers is to keep the Red River healthy and vibrant for our community to enjoy. Volunteer opportunities can include helping at events throughout the Spring and Summer, cleaning up along the river and it's paths, and more. Visit their website for more information.
Ronald McDonald House Charities of the Red River Valley
The biggest support RMHC needs currently is help with meals for the families staying at their guest house. They offer specific volunteer opportunities for kids, and encourage families to volunteer together! Donations of ingredients, frozen meals, or restaurant gift cards are also a huge help at this time to continue providing meals to families. To help donate their most-needed items right now, please check out their wishlist, or provide a monetary contribution online at www.rmhcfargo.org.
Local services provided by the Fargo-Moorhead Salvation Army include counseling, crisis intervention, emergency disaster services, a community hot meal program, and more.
If you're interested in volunteering your time, there's an opportunity to serve a community meal. Contact their volunteer coordinator at (701) 356-2688 for more information.
Special Olympics
Volunteer at one of the Special Olympic events coming up! Check out their page with upcoming events here, and contact them at (701) 746-0331 to see what opportunities would work best for your family/age of your kids.
Other Organizations Accepting Supplies or Funds
Want to organize a local neighborhood or community drive? These organizations would love your help!
The mission of Box of Balloons is make sure every child feels special and celebrated on their birthday. You can donate a birthday box to a local child and make their day extra special! Find out more on their website about volunteering your time.
This organization works to connect members of the community to kids in need and they accept donations year-round.
Jeremiah Program
The Jeremiah Program works to transform families from poverty to prosperity through education and employment. You can donate to support families by purchasing items on the organization's Amazon Wishlist or providing a monetary donation through their Giving Page. 
Joy Project
The Joy Project shares JOY with people living in temporary housing in the Fargo-Moorhead area. You can help by donating some needed items. Check their Facebook page for most current updates.
New Life Center
The New Life Center is Fargo's oldest and largest rescue mission. You can support NLC by providing a monetary donation here, shopping their thrift stores, or providing in-kind donations of their most urgent needs.
Open Doors 365
Open Doors serves those in need of household items, clothing, shoes, friendship, and hope. They are always looking for items to stock their store or monetary donations. Details on both can be found on their website.
RACC serves over 2,500 clients each year, and therefore have both Crisis Intervention and Therapeutic Needs to help serve their clients. Crisis intervention needs include gift cards for Wal-Mart, Target, or Visa, grocery cards, or gas cards. Therapeutic needs include diapers, baby wipes, hygiene products like toothbrushes, shampoo, conditioner, deodorant, bath soap, and feminine hygiene, and hats, gloves, and socks. Gift cards to fast food restaurants, haircuts, and oil changes are a great help as well.
YMCA
The YMCA offers a youth food program where to-go meals are distributed FREE of charge to children ages 18 years and younger  to help ensure that children don't go hungry. Each child may receive one 'to go' meal bag per week — including five days' worth of suppers. Please click here to make a donation online.
YWCA
The YWCA operates the largest Emergency Shelter for women and children in the area. They provide safe and affordable, short and long term supportive housing options for low-income women.
There are so many worthy organizations in our area, beyond what we've listed here. Where do you like to volunteer with kids in Fargo? Let us know in the comments below!