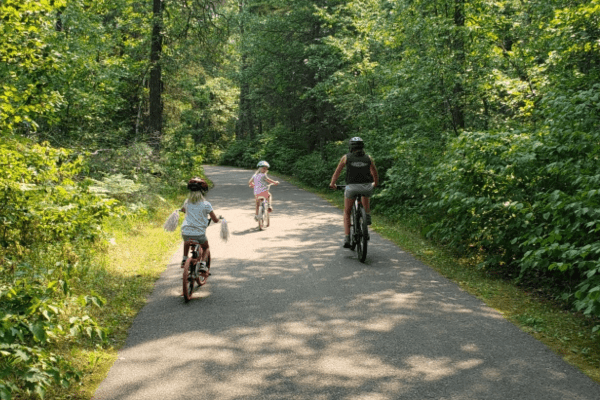 State parks provide a great way for families to get out of town, enjoy nature, and explore.
Here are six family-friendly state parks near Fargo!
6 Great State Parks Near Fargo for Families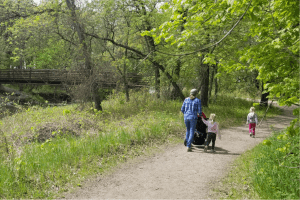 You can't beat the closeness of Buffalo River State Park. In about 20 minutes you will be out in nature and enjoying river and prairie views.
Things to Do
Hike the trails! Paths are easy to walk and many routes are short loops for little ones who tire easily (or for mom who ends up having to carry someone). Walk the Prairie View Trail to view colorful grasses and wildflowers and search for wildlife on the trails near the river.
Fish along the Buffalo River for white sucker, river redhorse, and goldeye.
Find a nice shady spot along the river for a picnic.
Please note: the Buffalo River swimming beach is closed again this year.
Camping
Buffalo River has 44 spacious drive-in sites at the park campground. Also, electric hook-ups, trailer, tent, and handicap accessible sites are available. And they also have tent sites.
This state park is a scenic, wooded area in the Sheyenne River Valley. South of Valley City. It's about an hour's drive from Fargo.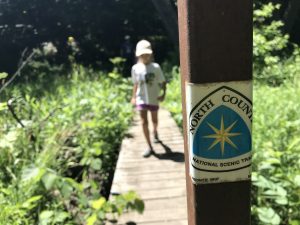 Things to Do
Explore the Sheyenne River! Kayaks available for rent and there is also a canoe/kayak launch.
Fish for bass, walleye, and catfish.
Look for wildlife on the trails. The total trail system covers 20 miles and includes a segment (2.2 miles) of the North Country National Scenic Trail.
Check out the Sunne Farmstead within the park to learn about North Dakota's homesteading heritage.
Access Fort Ransom State Park from the Sheyenne River Valley National Scenic Byway. Then continue on the byway for views of rolling hills, quaint towns, and farms.
Camping
Rent a historic house, rustic cabin, or opt for a unique lodging option — like staying in a yurt, or a covered wagon. Several different campsite options are available, including modern, primitive, and equestrian campsites.
Although it's a bit of a drive from Fargo (about 90 minutes), this quiet and beautiful state park is worth the trip.
Things to Do
Swim in Annie Battle Lake. It's very shallow and free of motorized boats.
Or for some adventure, paddle in a canoe, kayak, or fish in this beautiful setting. Annie Battle Lake is known for its pan fish. And if you don't have fishing equipment? No problem! Borrow a fishing kit from the park office.
And for biking, there is a 12-mile paved trail and many hiking trails are also available. Hike (or bike) the paved Glendalough Trail loop, or take the scenic Beaver Pond Interpretive Trail. There are so many wonderful views, and you can take a pit stop at the local swimming beaches within the park.
Visit the historic Glendalough Lodge for displays that feature the park's history.
Camping
Lodging includes 22 cart-in sites, 4 camper-cabins, and 2 yurts away from the main campground. Please note: there are not drive-in sites for campers.
Glendalough offers a true respite from civilization, with no motorized boats allowed on Annie Battle Lake and no vehicles in the campground.
Read more on Glendalough State Park from a local mom!
Up in Northwest Minnesota and established in 1891, Itasca is Minnesota's oldest state park. It spans 32,000 acres and is less than a two hour drive from Fargo.
Things to Do
See the start of the mighty Mississippi River and hop from rock to rock at the headwaters.
Hike or bike one of the numerous, well-groomed trails among towering, old pine trees. If you can fit the bikes in/on your vehicle, bring them! Don't worry if you can't – Itasca Sports Rental is located inside the park where you can rent pontoons, paddle boards, bikes, and kayaks.
Or, view the beauty of Itasca State Park from the comfort of your vehicle and take the 10-mile wilderness drive through lakes and forests.
Check out the Visitors Center to learn more about this historic park.
Swim at the beach is on Lake Itasca.
For those who enjoy an adventure, climb to the top of the fire tower for expansive views of the park.
Read more about Itasca State Park from a local mom!
Camping/Lodging
There are a variety of cabins, lodge rooms, and suites available for rental, along with over 200 campsites to fit whatever level of adventure you're looking for.
Looking for comfort? Stay at historic Douglas Lodge, with an onsite restaurant.
For more on this park, see Things to Do in Itasca State Park All Year Round.
Near Pelican Rapids, Minnesota and about an hour drive from Fargo, this state park offers diverse landscape with grasslands, lakes, forests, and hills.
Things to Do
Search for wildlife. There is a large variety of animals due to the diverse landscape of the park. Including birds, mammals, reptiles, and amphibians. Commonly spotted animals include white-tail deer, squirrels, racoons, swallows, and kingbirds.
Hike one of the many trails. Maplewood State Park has 25 miles of hiking trails, 20 miles of horse trails, and also cross-country ski and snowmobile trails in the winter. Climb Halloway Hill (a half-mile one way hike) overlooking South Lake Lida for spectacular views.
Bike the trails! Many of the hiking trails are wide and easy to navigate for young riders.
Swim at the sandy beach on Lake Lida. The swimming beach is also a fun spot to have a picnic, with shade and picnic tables.
Fish one of the eight lakes. Check out the fishing pier on Beers Lake. It's great for fishing with kids — no boat required!
Or, rent a boat or canoe to explore the lakes.
Check out the historic Maplewood Church, built in the 1880s.
Camping
Maplewood State Park has 71 campsites available. Also, there are five camper cabins available for those who want to enjoy the great outdoors but would prefer not to tent. Some even have heat for year-round use. Reservations are available for tents, campers, and camper cabins.
Read more how to spend a day at Maplewood State Park here!
This park is located in a beautiful, wooded valley along the Turtle River. It's about an hour and half drive from Fargo.
Things to Do
Explore hills and valleys and take in prairie, woodland, and river views as you hike the trails. There are 12 miles of paths through the forested hills and along meandering Turtle River and
If you like to fish, cast a line off one of the bridges or well-worn sandy shorelines along the Turtle River to fish for trout. It's a perfect spot to teach a little one how to watch a bobber.
Wade in the Turtle River, or bike along it.
Camping:
There are 12 camper cabins, 65 drive-in, electric sites and 26 primitive, tent-only campsites.
So venture a bit out of town and see all that the nearby state parks have to offer!