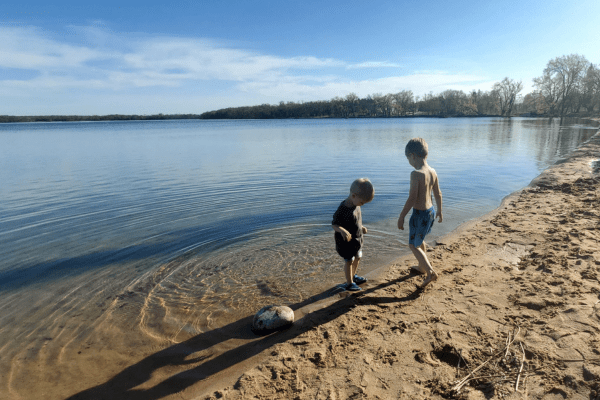 My husband and I first discovered Glendalough State Park 15 years ago when our oldest child was eight. I liked it so much that I wrote a five-star review for it on Trekaroo!
At about a 90-minute drive from Fargo, it's still our favorite place for a summer day trip with our whole family.
Glendalough is also one of our favorite camping spots. And we love meeting up with friends and family there because people of all ages enjoy it.
Here's why we love Glendalough State Park and some tips to keep in mind while visiting!
Why I Love Glendalough State Park
1. It's safe.
I love visiting state parks, nature preserves, and wildlife areas with my children. Unfortunately, some require so much effort in terms of planning and supervision!
Sometimes, especially with young children and babies, it's nice to just relax — to not have to worry about hidden cliffs or steep trail systems. And it's nice to not have to deal with beaches that have drop-offs, swimmers itch, or weeds.
Glendalough Park has none of those.
The only negative I can think of is that yellow jackets seem to love its shorelines in late August and early September. Other than that, it's very kid-friendly.
I'm always so relaxed there, even with a baby and toddler in tow. The trails are mostly flat and easy to navigate, with lots of places to stop.
The beach at Annie Battle Lake is narrow but very long. It has a very gradual slope and crystal clear water. And you can walk across almost the entire lake!
There are enough shade trees for comfort in the picnic areas, but not so many that would make it easy to lose sight of young children.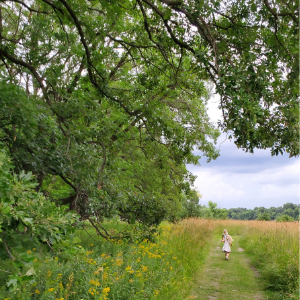 2. It's peaceful.

Glendalough has two main lakes with spacious picnic areas: Molly Lake and Annie Battle Lake.
The Molly Lake site has an accessible picnic shelter and fishing pier. It also has more fire rings with grills than the picnic area at Annie Battle Lake. But we've never had trouble finding a spot at either. Although the park can be crowded on Saturday afternoons, there's still usually ample space to spread out.
The spaciousness of the picnic areas is great, but the thing I like most about Glendalough, and one of the reasons it's so peaceful, is that motorized watercraft aren't allowed on Annie Battle Lake. It's a decent-sized lake (335 acres) but you'll never hear the hum of a boat motor or jet ski.
Annie Battle Lake is a "Heritage Fishery" as well. The fishermen in our family appreciate the many options for undisturbed angling. You can fish on a canoe, near or in the stream, on the pier or anywhere along the huge beach.
We usually fish near or in the stream, and over the years have caught sunnies, crappies, and bass. 
3. It's everyone's "happy place."
Sometimes it's difficult to plan day-long outings that work well for the whole family. Older children crave adventure. Younger children also crave adventure, but must be closely supervised.
If you bring an infant along, it's helpful to have access to a clean restroom. It's also nice to have a "base camp" where you can easily manage naps and meals.
Our favorite spot to set up a picnic blanket is near the beach at Annie Battle Lake, between the lodge and the bridge. Within a few hundred feet of there, you can build sandcastles and wade in the shallow water, go tubing in the stream, go fishing near the bridge, hike the Pet Cemetery trail, learn about park history at the lodge, and access clean indoor restrooms.
We currently have children who range in age between two and twenty-two years old. When we all met my parents at Glendalough for Mother's Day this year, various members of our family enjoyed swimming, making sandcastles and canals, playing football and spikeball, relaxing in a hammock, taking turns riding a three-person bike rental, doing a geocache, catching snakes, rescuing a turtle, climbing trees, and exploring the dirt trails that go beyond the new paved bike path that surrounds the lake.
4. They have free nature kits for kids.
There are four kits available: GPS units; kids discovery kits that have activities and stories for children ages five to twelve; fishing kits that include a rod, reel and stocked tackle box; and birding kits that contain binoculars, guide books and park-specific bird lists. The kits are first-come, first-served and are available at the ranger station.
5. The camping is great. 
Glendalough offers cart-in tent camping, camper cabins, yurts, and a group tent-camping area.
The process of "carting in" involves parking your vehicle in a lot and then using a cart to bring your supplies to your campsite. It sounds difficult, but it's actually easy (even with young children) because the walk to the campsites isn't far and is pretty flat. And it's wonderful to not have to worry about watching for vehicles when you're making dinner and your children are exploring the campsite.
I've only stayed in tents and a camper cabin there, but my sister stayed in a yurt with her daughters and raved about it. And my husband and sons have stayed at the group camp site a few times.
All four options are so easy at Glendalough, but all give young children a feel of adventure. Adults love them, too. In fact, one time we were there we met a woman who had camped at every state park in Minnesota, and she said Glendalough was her favorite one.
I love going in late July or early August. Yes, the mosquitos are out then, but the restored oak savanna is at its peak. Walking through the delicate, snow white wildflowers under the canopy is dreamlike and reminds me of one of my favorite trails in Ireland.
Preparing for Your Visit to Glendalough State Park
Glendalough State Park is one of those places you can enjoy with little preparation.
You will need a vehicle permit, food, and water (although when the new visitor center is completed this fall, they will have concessions). And if you're a Minnesota resident you don't even need a fishing license to fish there.
If you have time to prepare for your trip, here are some helpful suggestions.
Things to Bring:
Food, water, charcoal, lighter, ice, etc.

Smaller cooler and/or packs (for bike/hiking trips)

Shovels and buckets (for the huge, sandy beach)

Beach towels and/or folding chairs

Hammocks

Sun protection (most of the beach is in full sun, and most of the stream is also in full sun)

Tubes, floaties, and life vests (for floating in the lake and stream) 

Fishing gear (although they do have fishing kits you can borrow)

Bug spray

Picnic blanket (if you want to set up over by the stream because there are no picnic tables there)

First aid kit
Places to Stop Nearby:
Helpful Resources: