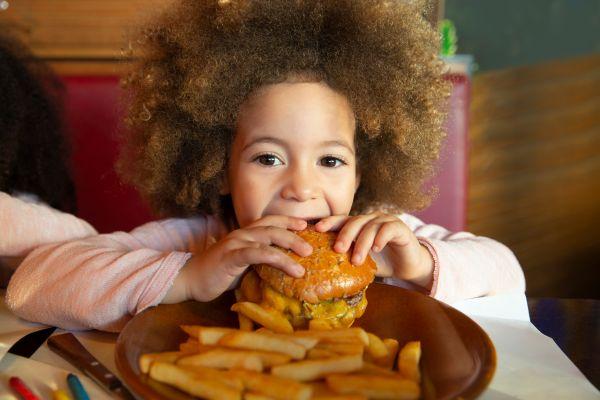 Going out to eat with kids is not always as easy or fun as we expect it to be. However, some restaurants are more kid-friendly than others (particularly for those younger kids).
Here are some of our top choices for kid-friendly restaurants in Fargo-Moorhead, and why we love them!
Favorite Kid-Friendly Restaurants in Fargo
Head upstairs to Camp Lonetree for rooftop fun and a more relaxed vibe with camping-themed decor. The rooftop patio is open year-round and they occasionally host live music. It's great spot for kids to play or warm up by the fire! Just a heads up, they are closed Mondays.
Kids will love their chicken tenders and adults will love their classic cocktails. Bonus, almost everything is gluten-free.
At Brewhalla there's plenty of space for kids to run and explore on the second floor. And they have several options for meals including Unicorn Park Fine Foodery and The Bird Woodfire Pizza (and Nichole's FIne Pastries or Cows & Co. Creamery for dessert). Or, head over to Drekker to play the arcade games. Kids are allowed at Drekker until 8:00 p.m., and all day at Brewhalla.
Kids will fit right into this lively atmosphere! Buffalo Wild Wings serves very good classic kid fare (chicken and fries), they have arcade games, and lots of TVs for watching sports!
Kid's meals are $1.99 with each purchase of an adult entree on Sundays.
The food at Chik-fil-a is consistently tasty and the service is friendly and fast. And the Chick-fil-A in Fargo is conveniently located next to West Acres Mall and has a great, clean play place, with a spot for younger kids to play.
Ordering from the app is easy. Also, expect their usual quick and efficient service when going through the drive-thru.
Head to Deaner's Diner in West Fargo for reasonably priced food, good service, and classic diner fare. Kids love the "animal trucks" that serve their food.
Kids like their tasty sandwiches and grabbing a plastic fire hat to take home.
Kids eat for $1 for each adult entree purchased on Mondays and Wednesdays. 
This small shop located in Scheels has affordable options with classic American food, coffee, and desserts. Warning: the candy store is right next door so be prepared for some candy requests.
Lucky's 13
This local favorite has a great kids menu, popcorn and a when you enter and wait for your food, plus a treasure chest for kids! Check out their weekly Bingo on Tuesdays at 7:00 p.m.
This pizza place is kid-friendly with a relaxed atmosphere that is also enjoyable for adults. And the kids pizza is huge — enough for two, maybe even three kids to share!
One (1) free kid's meal with each adult meal purchased on Wednesdays.
Mango's is great because the food comes so fast — this works great for kids' short attention spans. They have authentic Mexican cuisine, big portions, good specials, and also several kids meal options. Overall, it's tasty and affordable and the chips are great for snacking, and gives them something to do while waiting for the food!
One (1) free kid's meal with each adult meal purchased (kids 10 and under) on Sundays.
Enjoy Downtown Fargo with the kids at Rhombus Guys. Kids can color on the paper tablecloth and adults will appreciate the creative pizza choices and extensive beers on tap.
We love how kids meals are priced by age (littles are cheaper), plus the attached game room is great motivation to get kids to the restaurant! Also, the buffet is a smart option if you have hungry kiddos, or if you're in a hurry. And the buffet includes a salad bar, chicken, and dessert pizza.
And on Tuesdays, get one (1) free kid's meal with each adult entree purchased (ages 12 and under). 
This is another spot with a game room and it's nice that the atmosphere is a bit more wild, allowing kids to be their loud selves. They have some good American classics (including ribs and wings), weekly specials, and happy hours. Just a heads up, they are closed Mondays.
A classic diner, Randy's has reasonable prices and serves breakfast ALL day. The staff is really friendly, it has a laid-back atmosphere, and quick service. And they now have two locations, with Randy's Diner, Too in West Fargo.
This spot has great food, is not usually super busy, and has a great game room in the back! And we've heard their queso is very good.
For every kid's meal purchased (dine-in only) you receive a free $5 game card from 11:00 a.m. – 9:00 p.m. on Tuesdays!
This is a favorite sit-down restaurant to bring the kids! We love that they give you goldfish right when you sit down! Also, kids meals are relatively inexpensive. Just a heads up, they are closed Mondays.
Are there any businesses you would add to this list of kid-friendly restaurants in Fargo? Let us know in the comments!