Looking for some close places to hike in Fargo or Moorhead that the kids can do?
There are tons of parks and conservation areas in our region ready to be explored! Gather up your family (and your walking shoes) and hit one of these hiking trails.
Places to Hike in Fargo & Moorhead
FARGO HIKES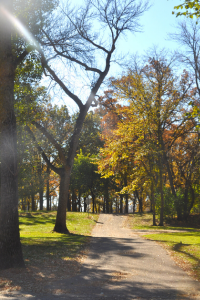 Located just off the Interstate, Lindenwood Park is the largest multi-use park in Fargo. There's tons of space to hike on both dirt and paved trails that provide scenic views of the Red River.
Lindenwood Park has two separate playground areas, so one fun (and short) option is to walk from one playground to the next.
And if you're feeling ambitious and the kids are up for it, venture across the river to Minnesota on the pedestrian bridge (open seasonally).
This pretty, hidden park is set along the banks of the Red River in South Fargo.
Lions Conservancy Park is a conservation area (a project of the Urban Woods & Prairie Initiative with Audubon Dakota) and has abundant native plants and animals.
This shorter hike is full of scenic views. And the terrain is hilly and wooded. It's home to many animals, so watch for birds and wildlife as you go!
There is also a small stone amphitheater where kids can play.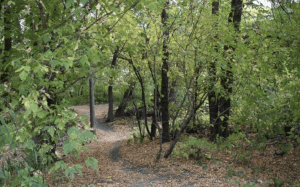 Approximately six miles of trails run between North and South Iwen Parks.
The Iwen North Trail connects Iwen Park to Lions Conservancy Park and goes in a counterclockwise direction. It cuts through the multi-use park and through wooded areas with an off-road path along the Red River.
The north entrance is at Iwen Park boat launch and south entrance is by the lift station at University Drive and 58th Avenue.
This quiet, kid-friendly trail provides views of the Red River and the dam at Lemke Park.
To access the trail, climb the dike/hill by the Lemke Park playground and follow the trail to the northeast.
This park is also a project of the Urban Woods & Prairie Initiative, so keep an eye out for birds and other wildlife in their natural surroundings.
One of the oldest parks in Fargo. Enjoy the river views and the shade of mature trees as you hike!
And if you have some extra time, check out the disc golf course or horseshoe complex.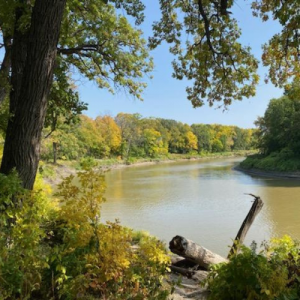 The trail is an easy 1.2 mile loop, close to the Red River with a community orchard providing views of trees, vegetation, and wildlife. Orchard Glen and Forest River Parks are also part of the Urban Woods & Prairie Initiative and provide beautiful scenery in a quiet, wooded area.
Pause your hike for bird watching, and keep an eye out for deer!
In North Fargo, this beautiful trail gives plenty of shade and views of the Red River. It's great for hiking and biking!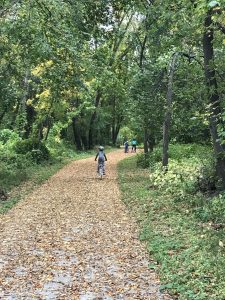 This park is a way to access the Red River Trail, a city trail that goes through Dike East Park and Lindenwood Park in Fargo.
Right along the Red River, this path is wide and paved. It offers both sun and shade along with scenic views of the river.
Looking for more adventure? Cross over one of the two bridges connecting to Moorhead (open seasonally).
MOORHEAD HIKES
This is another large city park located in Moorhead. It's just off the Interstate and along the Minnesota side of the Red River.
Hike the paved or dirt trails for 3.6 miles of river and woodland views. And kids can enjoy the unique play structures while you're there!
This 15.0-acre park is seeded with native grasses and flowers as a part of the Urban Woods & Prairie Initiative.
Hike the approximately two miles of trails for river views.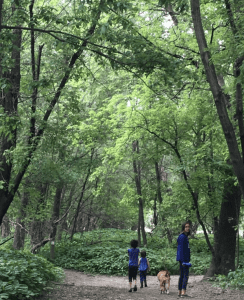 In North Moorhead, this park is a bit farther out. It's a great space that feels like it's out in the country (although still technically within the city limits).
The dirt trails curve through the trees for miles of scenic views. This wooded path is somewhat strenous with the length of the path, four miles, and the hills.
If you're looking for something a bit milder and stroller-friendly, the paved walking trail is not as strenuous at 1.1 miles.
Hike these paved trails along the Red River. This is another park that is part of the Urban Woods & Prairie Initiative, and restoration began in 2018.
This conservation park stretches 32.9 acres along the Red River in South Moorhead.
Hike the cleared trails within the woodlands of the park.
Mostly flat but with some rolling hills, this newly paved and lighted trail 1.5 mile trail will interest the whole family.
While at the park, view the beautiful Norwegian Stave Church replica.
And for more information on hiking paths in Moorhead, check out the City of Moorhead's Parks Tracks & Trails Maps.
WEST FARGO
Elmwood Park (Note: Currently closed Spring 2023 for remodeling.)
This wooded park is just west of the Sheyenne River in West Fargo.
North Elmwood Park offers a 1/2 mile trail and South Elmwood has a one mile trail.
It's one of West Fargo's oldest parks and is currently being renovated with improvements planned for the paths. It is currently closed, with a reopening planned in early summer 2023.
Check their Facebook page for updates on construction.