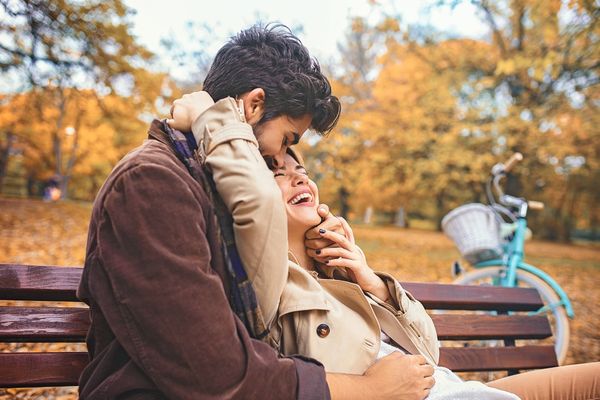 Winter sure gets a lot of attention for all the holiday fun it offers. And summer has a good reputation with its ample sunshine and hot temps. But let's not rule out fall when planning a special date with our significant other. 
Crisp air. Gorgeous colors. Delicious seasonal flavors. Fall has some pretty amazing things going for it! In fact, it just may be the perfect time to plan a fun and cozy date.
So if you're ready for some quality time with your favorite person, but aren't quite sure yet what to do, here are some seasonal date ideas you'll both love.
Fall Date Ideas
Get Outside
Sometimes the impending winter weather makes it hard to realize the sweet spot we're currently in. Yes, the temps are dropping and the air can be brisk. But, it's still such a great time to enjoy a date outside.
Go check out a football game (bonus points if you can take in some tailgating beforehand)!
Stroll through one of our many amazing parks. Want to take it up a notch? Pack a picnic lunch, throw in a thermos of hot apple cider, and grab a comfy blanket before heading out the door.
If you're feeling up to being active together, you could go hiking or bike riding in one of the many beautiful spots in our area. Or, grab your clubs and go golfing. Some courses are open until the end of October. And if you want to feel like a kid again, challenge your date to a game of mini golf at Thunder Road (which is open through November).
Visit a pumpkin patch. I know these are typically for kids, but think about it. Horse drawn carriage rides, picking out a pumpkin to carve together later, and lots of cute photo ops? Sounds like a fun, playful date to me.
Put a Seasonal Spin on a Classic
There's a reason that dinner and a movie is an iconic date night. Fabulous food followed by a great flick? It's nearly flawless. Take advantage of this time of year though and instead try one of these fun "twists." 
Swap out your usual dinner spot for a local restaurant featuring a fall menu. Many are currently showcasing the seasonal flavors of squash, pumpkin, and apple. Or, e

njoy a meal at one of the restaurants in town that still offers outdoor seating and those amazing heaters or bonfires.

Grab a pair of seasonal drinks (doesn't a brown sugar cinnamon latte or pumpkin cream cold brew sound tasty?) and then catch a matinee.

Maybe skip the movie altogether and be brave by checking out a haunted farm or corn maze.
If "spooky" is your thing, go see the scariest movie currently playing in one of our great theaters (don't forget to check the listings at the Fargo Theatre downtown).
Invent your own "classic date" by grabbing your favorite trick-or-treat candy and browsing Halloween costumes together.
Don't limit your dates to just night time (a bonus to this is that some babysitters may have more availability during daytime hours). The two of you could start your morning out with a delicious breakfast, followed by starting on your holiday shopping list downtown.
Cozy Up and Stay In
You and I both know that when you have kids (especially little kids), babysitters can be hard to come by. If it's just not in the cards to head out, make your date night in as fun as possible. My rules? It has to be out of your normal, ordinary routine and some pre-planning is in order.
Order your favorite takeout and have a scary movie marathon.

Pick out a new recipe and then whip up a fall-themed entree, cocktail, or dessert together. Not sure where to start? Pumpkin pecan cobbler, autumn spiced rum punch, or creamy butternut squash pasta would definitely do the trick.
Or, simply snuggle up in front of your fireplace or fire pit, put together a puzzle, or play one of your favorite board games together.
Have Fun
Sometimes the best dates are the ones where you start with something planned and then just see where the hours ahead take you.
Whatever you pick from this list, just be sure to enjoy the goodness that fall has to offer and have a wonderful time together.
Looking ahead to winter date ideas? Check out our list here!