The Arthur Market
If you're looking for a quick trip out of down, look no further than the Arthur Market in Arthur, ND!
Now in its fourth season, the Arthur Market is the perfect blend of market vendors, live entertainment, and fun in the community park.
Market Founder, Jeremy Nelson says that, "The purpose of Arthur Market is to deepen relationships and cultivate community through the support of small businesses and side hustles." And I can affirmatively say the vendor side of the market lived up to these aspirations! It only took 10 steps inside the event before I had already purchased my daughter a handmade tutu and crown.
More than Just Vendors
There were even a variety of stalls for locally-grown food and handmade items for adults, such as woodworking, painting, and macrame. In keeping to its community feel, there weren't so many vendors as to feel overwhelming. There were just enough to be enjoyable, with the opportunity for some delightful local food like Maria's Homestyle Mexican and drink options from businesses like The Cider House to enjoy when it was time for a shopping break!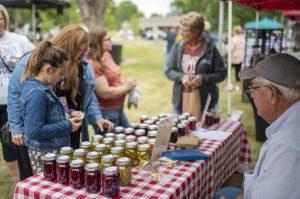 The market is set up in the Arthur City Park. This leaves room to spend time in the community and relax outdoors without having to hurry back into a busy Saturday schedule.
We particularly enjoyed the large playground setting and the petting zoo from Trowbridge Creek Zoo! We stayed close to the entirety of the market because the weather was so beautiful. Our family was able to hang in the park with no agenda. That also meant we got to enjoy the community the market brings beyond the vendors.
For Jeremy, one favorite metric to track post market day is what he calls the "communities of origin." To date he says that 102 communities from 15 states and 2 countries have all visited his market. This is meaningful to him because it tells him, "People in and around the Arthur market find incredible value in the market, and when family or friends are visiting during a market weekend we get to be a part of their fun together."
Family-Friendly Fun
Arthur Market is a family affair. Not only is it family (and well-behaved pet)-friendly, you'll often see various members of Jeremy's family helping out too. Jeremy considers his wife to be the inspiration for the origination of Arthur Market. One day she said, "I really think you should put together a farmers market." She is now market photographer while his kids, all various ages, help out in anyway they can.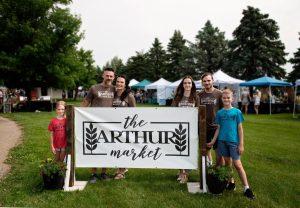 There's two more chances this season to travel to Arthur Market as a vendor or a visitor. If you are a vendor interested in participating, you can email Jeremy at [email protected]. Upcoming Market days are August 12th, 2023 and October 7th, 2023 from 10:00 a.m. – 2:00 p.m.
And on social media, look for The Arthur Market to get updates on all the fun that takes place!
Jeremy says that Arthur Market is meant to be a place where community can thrive. I can happily say, it lived up to the ideal close-knit community market that it aims to be. If you are looking for a quick Saturday day trip, this experience won't disappoint!