Are you a family of animal lovers looking for a new zoo near Fargo?
Here are some zoos outside the Fargo-Moorhead area that are worth the drive!
Zoos Worth the Drive
1. Wahpeton, ND
Distance from Fargo: 50 minutes
Chahinkapa Zoo
This nearby zoo is open May – October and is a great, easy getaway to see some unique animals for the day. Spend time visiting the orangutans, bears, monkeys, zebras, rhinos, and so much more! We love watching the peacocks roam the grounds, and enjoy feeding the goats and ducks in the pond. Don't forget to hit up the historic carousel on your way out, which is located across from the zoo grounds!
See our article on more things to do in Wahpeton to spend the whole day exploring!
2. Bismarck, ND
Distance from Fargo: 3 hours
This Bismarck zoo is massive and you can easily spend half a day here. They have a large variety of animals — including tigers, bears, and even penguins! And also two play areas for kids to get their energy out. Dakota Zoo also has cool train that takes you on a tour all over the grounds (note: you do have to pay extra for the train ride). Also, if you are a member of the Red River Zoo, you get into the Dakota Zoo for FREE! 
See our article about more kid-friendly things to do in Bismarck!
3. Watertown, SD
Distance from Fargo: 2 hours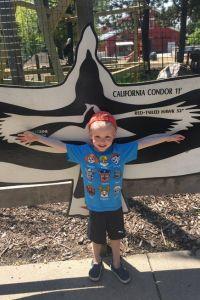 Located just along Highway 20 in northwest Watertown, Bramble Park features over 500 animals in its 15 acres. Started in 1912, they offer family fun with concessions, a playground, and picnic areas. Zoo keeper talks and demonstrations are offered along with guided tours for groups.
4. Sioux Falls, SD
Distance from Fargo: 3.5 hours
This zoo houses animals from North America, the African Savannah, Asian cats, flamingos, and primates. It features tigers, rhinos, giraffes, zebras, and an award-winning snow monkey exhibit. Ride the train, the carousel, or go on a birding walk (cost not included in general admission). It also has the Delbridge Museum of Natural History that has a collection of 150 mounted animals, including 38 "vanishing species."
5. Twin Cities (Como Zoo and Minnesota Zoo)
Distance from Fargo: 3 hours 45 minutes
The Como Zoo in St. Paul is FREE to the public and welcomes visitors throughout the year. It's home to more than 60 animal species including lions, seals, polar bears, gorillas, and tigers. They also offer interactive events each day and a stroll through the conservatory treats guests to gardens and exotic plant life in spectacular displays. Adjacent to the zoo is Como Town Amusement Park (opening May 20, 2023) and the historic Cafesjian's Carousel, offering plenty of rides and attractions to suit all ages!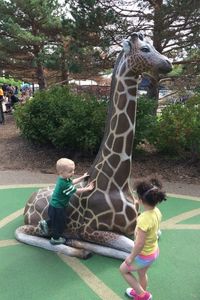 The Minnesota Zoo is a quick 30-minute drive south to the suburb of Apple Valley. Exhibits showcase animals from different regions of the world including the tropics, oceans, tundra, farmsteads, and Minnesota's own native wildlife.
The zoo is open to visitors year-round and regularly hosts seasonal shows and activities for families. When kids want a break from exploring, they can let off some steam at the indoor "Bee Hive and Woodland Adventure" play area as well as a splash pad and carousel during the summer months.
Please note that online tickets are currently required. See their website for more information.
See our article about more kid-friendly things to do in the Twin Cities!
6. Duluth, MN
Distance from Fargo: 4.5 hours
Meet animals from our region and around the world! There are animals representing Africa, Asia, and Australia located on 19 scenic acres, including rocky hillsides, majestic pines, and beautiful Kingsbury Creek. Bonus — Red River Zoo members receive 50% off admission with their reciprocity program.
Book a Behind-the-Scenes tour to get up close to the animals. All tours are approximately 30 minutes and must be booked at least week in advance and cost in not included in admission.
See our article about more kid-friendly things to do in Duluth!
7. Minot, ND
Distance from Fargo: 4.5 hours
Roosevelt Park houses animals from Africa, Asia, Australia, Europe, and North and South America. Check out their zoo map with a listing of animals and places to explore. Get up close to the animals at the giraffe feeding station and ride the train around the park (weather-permitting).
8. Omaha, NE
Distance from Fargo: 6 hours
Be prepared to spend a full day at this huge zoo! The Henry Doorly Zoo has so much to offer was aptly voted as America's #1 zoo by USA Today.
It is 160 acres of plants, animals, and unique habitats. It also has numerous attractions including a carousel, theater, train, tram, Skyfari, Stingray Beach, and Alaskan Adventure. Please note that attractions are weather-permitting and not included in the cost of admission. Purchase daily passes online to save time.
See our article about more kid-friendly things to do in Omaha!
We hope this helps you plan your next family adventure! And for more road trip inspiration, see Aquariums Near Fargo That Are Worth the Drive.
What are some of your favorite zoos near Fargo? Let us know in the comments below!