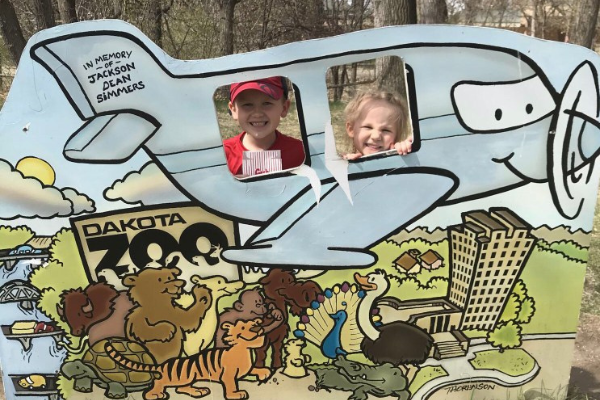 Trying to think of something fun to do for a weekend? Maybe go on a 'shorter' road trip? Look no further than a trip out west – there's so many things to do with kids in Bismarck!
It is about a 2.5 hour drive from Fargo; just hop on I-94 and head west. It's a great place for a little getaway with plenty of fun things to do.
We have family in the Bismarck area and have been there many times. Here are a few of our favorites:
Things to Do in Bismarck with Kids
Attractions
Hotels
If you plan to stay for the weekend with kiddos, you are probably looking for a place that has some kind of water slides/nice pool area for some extra things to do in Bismarck with kids in tow. Here are a few options:
Ramkota Hotel is located right by the mall and not very far from Dakota Zoo. If you are looking for a centrally-located place to stay, this is it!
Comfort Inn has two separate pool areas that both have slides in them. They also have a toddler water slide and splash area.
Country Inn & Suites also has a water slide and a toddler area. It is located in North Bismarck area and is near lots of restaurants.
Restaurants
Bismarck has a lot of the same restaurants that we have locally here in Fargo. But one fun part of traveling is checking out some new places. Here are some of our family favorites!
A&B Pizza is definitely worth the drive. Their pizza is delicious, and our kids devour it when we are in town. The House Special is one of our favorites!
Bearscat Bakehouse is basically the Sandy's Donuts of the western part of the state. And who doesn't love a fresh donut?!
Cracker Barrel is a popular spot. I don't know what it is, but I feel like every time I talk to someone about going to Bismarck, they always stop here! Obviously, no complaints about having the option to eat breakfast food at any time of the day.
Bismarck is a great place for a day trip or even a weekend trip.
And there's nothing better than a change of scenery, along with the opportunity for family fun that's not too far from home!