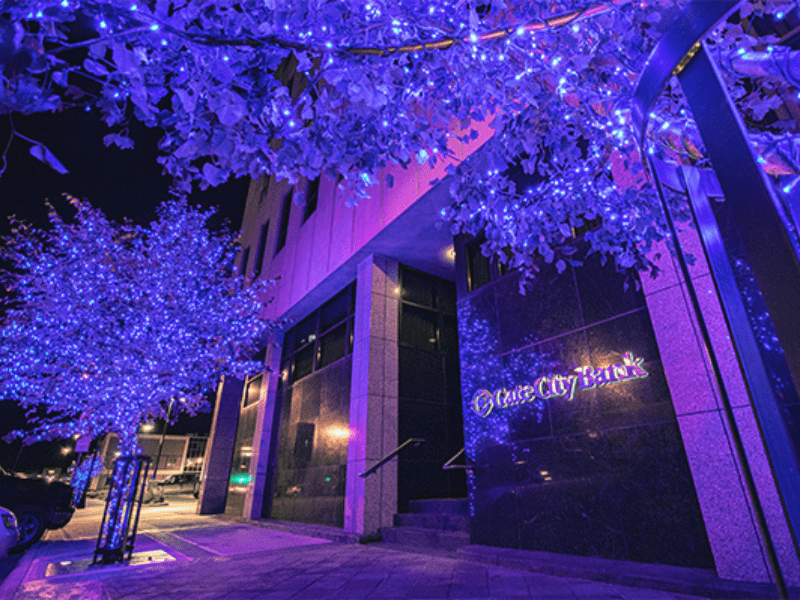 Please note we are continuing to update this list for 2023 as we hear of lights. 
There's nothing better than grabbing a cup of hot cocoa and looking for Christmas lights in Fargo! We've got a list of neighborhoods around town to look at Christmas lights in Fargo and Moorhead, plus a map (plus a
PRINTABLE version below

!) to easily plan your route. Enjoy!

Note: Based on our research and individuals that have contacted us, the neighborhoods listed below have been know to have multiple houses with fun lights. If there is neighborhood to add or remove, please contact us and let us know!
Special thanks to Gate City Bank for partnering with us to bring you this helpful guide to enjoy all the holiday lights!
Check out their iconic blue lights at their locations throughout Fargo!

---

Light Shows
Note: All addresses were provided by the homeowner. 
Holiday Lights at the Fairgrounds (1805 Main Ave West, West Fargo)
Big Trees
Downtown West Fargo (POW/MIA Plaza)
Sanford Medical Center (5225 23rd Ave S)
Thomsen Homes Building (3280 Veteran's Blvd)
Neighborhoods to Check for Fun Lights!
Please note we include neighborhoods we have been told have a number of lighted houses. We make every effort to keep this resource updated, and can make changes/additions as we hear of them. We only include specific address if we have been given permission by the actual home owner. 
West Fargo
River's Bend (Make sure to see how many candy canes you can find!)
1614 16th Street East (Maplewood Area of West Fargo)
Moorhead
North Fargo
Downtown Fargo (Broadway and Island Park usually has a tree lit)
Across the Street from Longfellow Elementary
Lilac Lane, along North Oaks Park
South Fargo
Southpointe area (especially 21st St. between 33rd & 37th Ave – called Candy Cane Lane!)
Looking for specific houses with lights? Check out the "Cheer Map" on the

Nextdoor app

or check out the map in the Facebook group Christmas Lights of Fargo Moorhead!
More Holiday Fun to Check Out