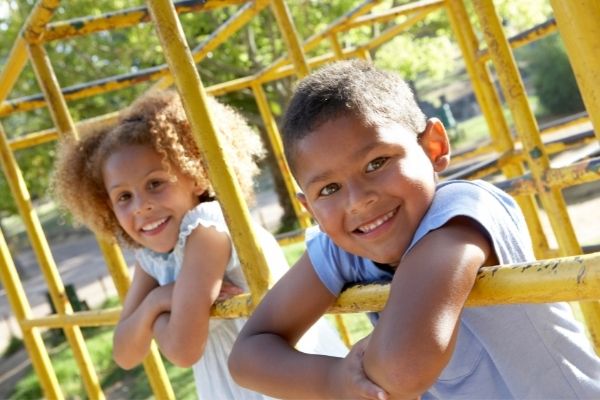 Looking for the best parks in Fargo? Heading to the park is a great way to for kids to burn off energy in the summer months.
Looking to try some new playgrounds this summer?
Here is a roundup of what I consider to be the eight best parks in the Fargo-Moorhead region.
I selected these parks taking note of convenient parking, shelter or bathroom access (available on-site or nearby), and also high energy and low energy spaces for the age groups 2–5 years old and 5-12 years old.
8 Great Parks in the Fargo-Moorhead Area
2548 1st St. E West Fargo, ND 58078
This cute, whimsical park provides the littles with their own play space. It was enough to challenge them, but not too much for them to take on. Being that I took my kids on this a few different times, it was helpful to know I could climb up the structure with my littles. But also could reach them in any direction on the ground if they decided to go into "I can do it" mode. And the shelter right next to the playground is a good spot for potty breaks.
This park does have a fun and separated space for 5–12-year-olds. This was a plus so that their high energy play wasn't too overwhelming for the littles.
Highlights:
Playground for toddlers
Spider net great for climbing
Nearby pond with paths around
Restrooms
Shelter with picnic tables
Musical features
Fun flowers and other bright colors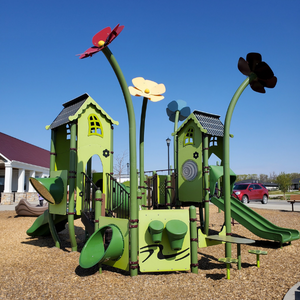 4243 19th Ave S Fargo, ND 58103
Near the West Acres Mall and needing to get some energy out? This playground has structures for all ages. Again, separate structures for each child's ability to push themselves.
It has ample parking and a building with air conditioning that is available for a quick break or bathroom. Plus, there are walking paths and a community orchard to check out while there!
Be aware that this is part of the YMCA childcare program so it may be extra busy at some points during the weekdays.
Highlights:
Centrally located near West Acres
Smaller play area for toddlers
Bathrooms nearby
Paths around to explore
Community orchard to explore
Basketball court nearby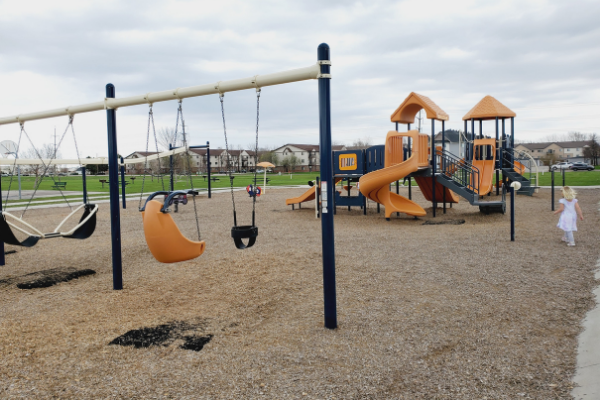 1504 17th Ave E West Fargo ND 58078
The newest addition to the area, this park is adorable and a sight to be seen from the street.
It's the newest inclusive playground available and the second largest in North Dakota. If you're looking for more information on inclusive aspect of this playground, check out this article for more specifics.
Two nice amenities include a bathroom shelter on-site near the playground and the ninja course for older kids (13+ years old).
I have a date night for a summer evening planned at this park. The plan is to have a picnic with my husband and then see who can go through the ninja course the fastest.
It includes a nice bike/pedestrian path around the playground and park, a large sledding hill, and a basketball court and pickleball combo with dasher boards to keep the balls in one area.
Maplewood has the two parking lots, so ample parking shouldn't be a worry, but being a new park, I imagine it will be full all summer long.
Highlights:
Accessible for all abilities
Small structures for little ones
Pretend play with the hot air balloon structure
Nearby Ninja Course for big kids
Restrooms
Shelters/picnic tables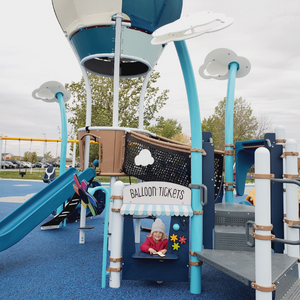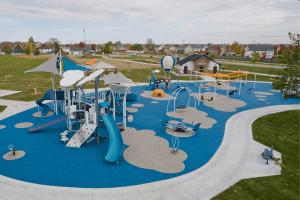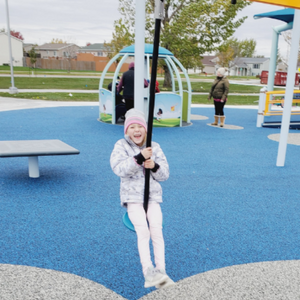 3545 4th St E West Fargo, ND 58078
This one has a nice selection of play features for every age with a fun nature theme. Play search with the hidden creatures, use the fitness equipment along the sidewalk for a workout session, and enjoy the splash pad when it's up and running.
Again, another great place with a shelter and bathroom available. And it also has a large shelter for doing picnics away from the playground and splash pad if you need some quiet time.
Highlights:
Splash pad nearby
Toddler structure and structure for bigger kids
Pond views
Use the underground tunnel to cross the street and explore the exercise equipment
Fun log slide, plus climbing feature
Shelters and picnic tables near the splash pad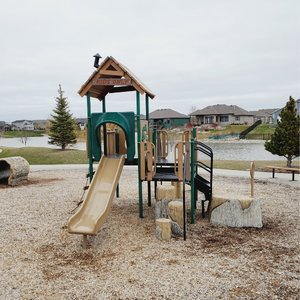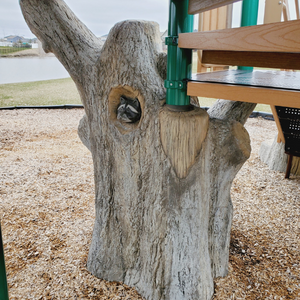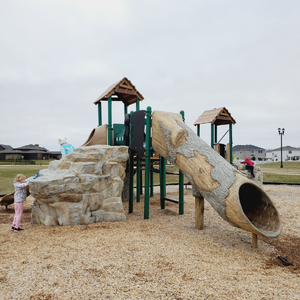 8880 Lost River Road, Horace, ND 58047
This new playground is a nature-themed in a different perspective with two playground zones for the kids of ages to be able to play in the space. It has a nice amount of parking available on the street and a picnic shelter. If you live out in this area it's a nice option to go to a large playground.
Highlights:
Pickleball courts
Basketball court
Gazebo
Connected paths to explore that run throughout the park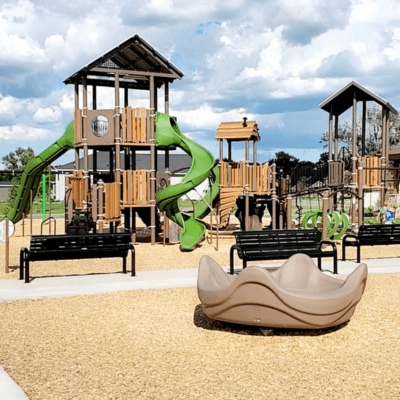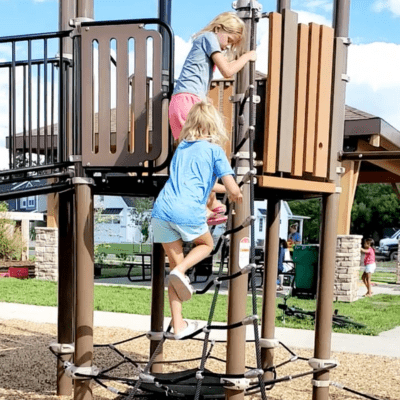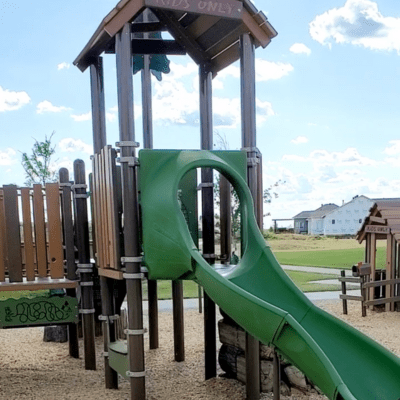 1905 Roger Maris Drive Fargo, ND 58103
This park has more than one playground in the park itself. So, if one playground seems too busy for your liking, chances are there should be more within the area.
There are plenty of spots for parking in different areas of the park. And bikes and kayaks are available to rent.
Note that these parks could be busy with the availability of shelters open for rentals either for family reunions, birthdays, or just to have a gathering spot.
Highlights:
Great trails nearby to explore, just along the Red River
Restrooms
Shelters with picnic tables
Huge variety of play equipment and lots of swings
Trees nearby for shade, great for a picnic lunch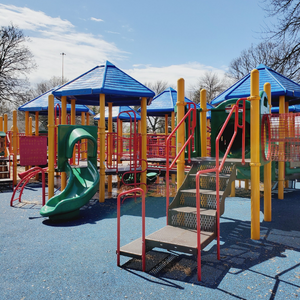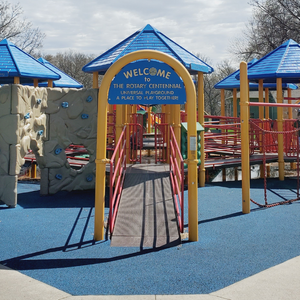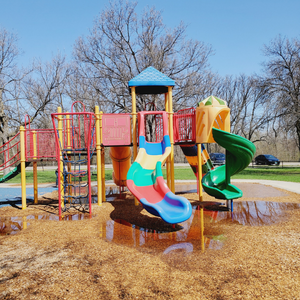 5600 9th St W, West Fargo, ND 58078
This is a newer park with climbing features, numerous slides, and a hiking and biking path.  Pickleball is also an open.
Please note, this park is currently named Wilds South Riverside Park on Google Maps.
Multiple playground options for kids of all ages
Restrooms
Shelters with picnic tables
Tall climbing wall
Lots of opportunities to climb
Musical features
Pond view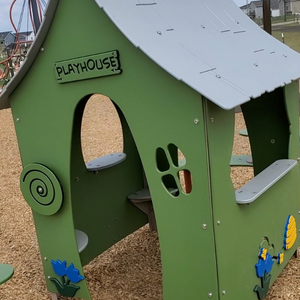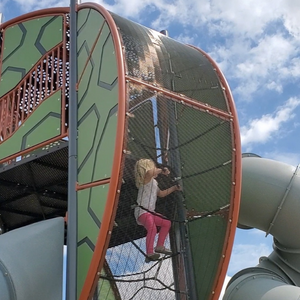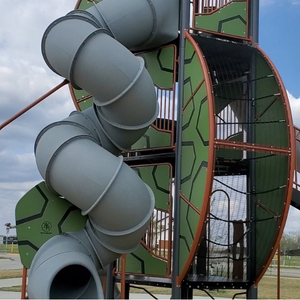 100 22nd Ave S, Moorhead, MN 56560
This park is located just across the river in Moorhead. And has a large playground area with unique structures, including a maze for kids to explore!
There's lots of open space for kids to explore and scenic views of the Red River.
Take the pedestrian bridge across to Lindenwood Park in Fargo, and enjoy the two parks in one trip!
Highlights:
Fun maze
Bathrooms
Shelter with picnic tables
Lots of open fields for free play
Nature play area with slide
Different playgrounds for big and little kids
Lots of shade for hot days
Trails nearby for exploring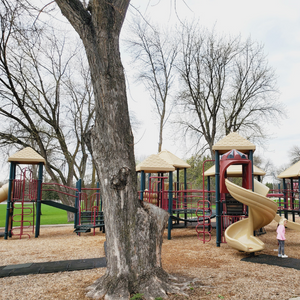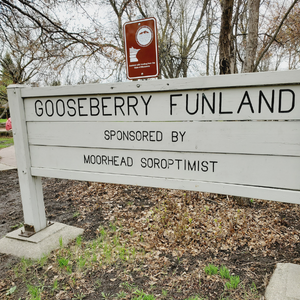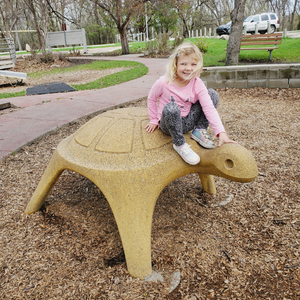 These only highlights a few of the best parks in Fargo and Moorhead. What's your favorite park in the area? Let us know in the comments below!