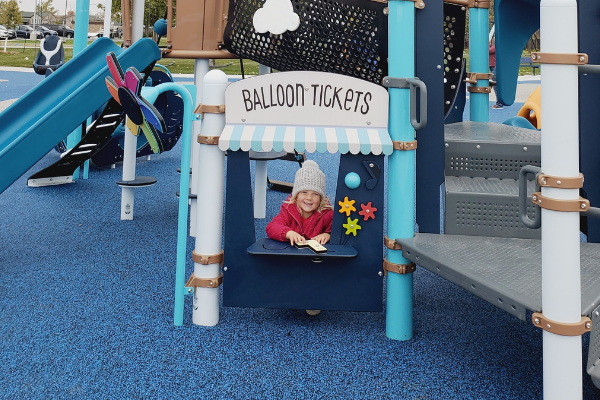 Maplewood Park Inclusive Playground in Fargo is a great spot to spend a few hours!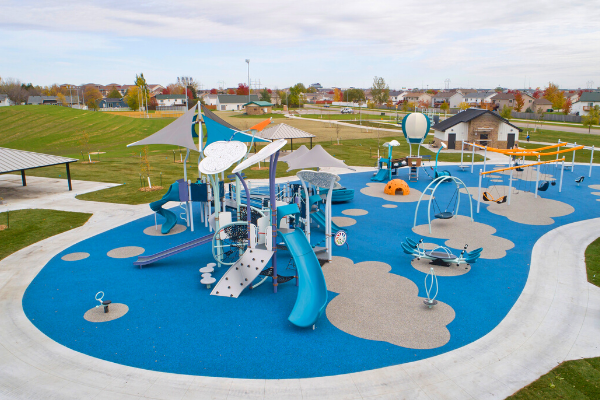 Maplewood Park in West Fargo is the second largest inclusive playground in the state, right behind Mandan Universal Playground. It's a HUGE 12,000 square feet of space for kids to walk, run, or roll onto the rubber surface (no wood chip mess here!).
The playground is inclusive for any child or adult, and we LOVE the bright colors and adaptive play options!
Here's a sneak peek at some of the features:
Hot Air Balloon Playground Structure
This fun addition is designed for 2 to 5-year-olds. There are large marbles for touching and a Balloon Ticket Counter for practicing pretend play and communication skills. In addition, there is a little nook underneath with seats and tables.
My daughters had a blast climbing up the multiple ladder options and using the ticket booth stand to charge me to play with them. Need an idea for playing with your little one? Start with saying the number on the ticket or ring the bells to say the balloon ride is ready for take off.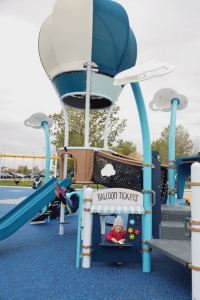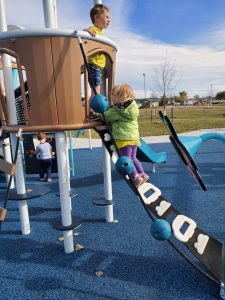 Wheelchair Accessible Merry-Go-Round & Swing
The Merry-Go-Round (called the We Go Round) encourages kids of all abilities to interact and play together! It even has its own spot for a mobility device to park and participate with the spinning.
There is also a ramp up to an accessible swing, called the We Go Swing. It's a great option for little ones, too!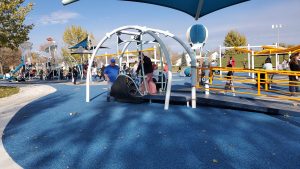 Great Climbing & Slides
The larger play structure has fun options for climbing and sliding! There is a climbing wall, some ropes to climb on, and a blue slide and roller slide good for multiple ages. A fun game I play with my kids on this structure is "I Spy" game or count how many airplanes there are on the equipment. Also, I make the point to go down the blue Alpine Slide because I catch so much air (and hey, moms can have fun, too)!
If your child has a cochlear implant, the special coating on the roller slide helps prevent the shock of resetting the implants.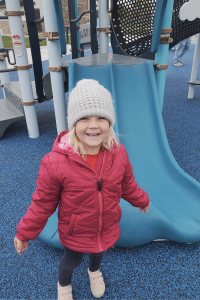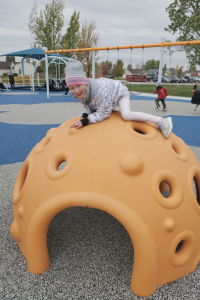 Fun Sensory / Touch Play
There are so many options for little ones of all abilities to touch, feel, and interact with the playground equipment. There is even a quiet "sensory sensitive" space for children to sit if the the park gets to be too much. In addition, for the families that have non-verbal children or wanting to practice sight words with your kids, a double-sided communication board with common phrases are such a fun addition!
Every entry point on the larger play structure has a point for a child to climb, walk, or pull themselves up. There are options to practice telling time, spinning colors, and touching/moving all kinds of gears and shapes. And cloud-shaped stepping pods, which makes for fun balance practice! Or if you child gets up to the tall slide, look out the periscope.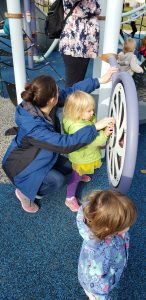 Swings Galore
Multiple swing options keep the kids on (or off, I suppose) their toes! There is a zipline, a larger swing that fits multiple people, and an accessible seat that moves down a zipline as well. Try the friendship swing to be face-to-face with your bestie!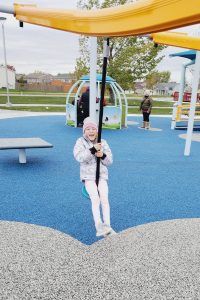 Ninja Course
Have a tween or teen that needs a challenge, or even a unique date activity? The Ninja Course is a fun time! Test out how quickly you can go around the full course or at each individual piece of equipment. There is even a stretching and elliptical if you just need a quick little low impact movement. The equipment was designed for ages 13+, but knowing kids, when they put their mind to it, they figure out a way to climb up the ropes.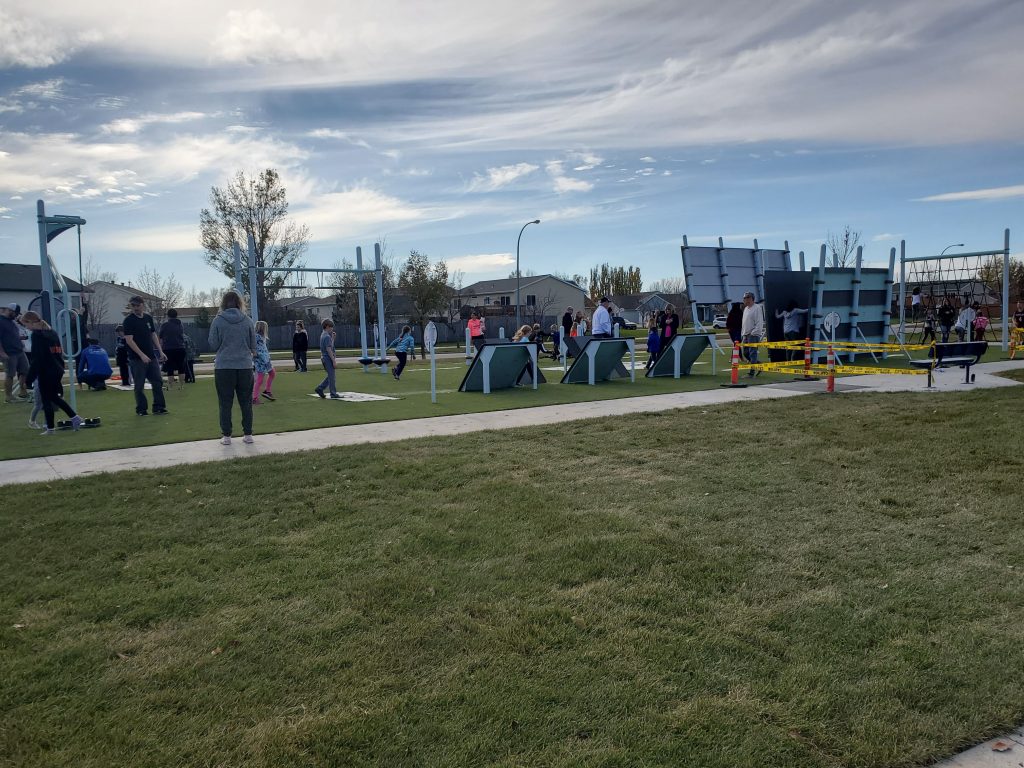 Inclusive Play for All
Inclusive play means everyone can enjoy the space in some way regardless of their abilities. Each person will have a different experience, and each visit can even be different! I cannot wait to get my family out here more this summer. 
Watch our fun video from the park HERE!