When the weather is warm we'll do anything to be outside. Hiking has quickly become a new family favorite to do in Spring, Summer, and Fall!
Here are the Top Spots for Hiking near Fargo (within 2 hours).
Top Trails for Hiking Near Fargo
Location: 15 miles east of Fargo on Hwy 10
You can't beat the closeness of this hiking spot near Fargo. In less than 20 minutes you will be on the trails.
Paths are easy to walk and many routes are short loops for little ones who tire easily or for mom who ends up having to carry someone. It also is home to a man-made swimming pond complete with a sand beach and shower facilities! (Note: the swimming pond will not be open for 2023.)
Location: 40 miles from Fargo, near Arthur and Hunter, ND
This 6-mile paved trail is was converted from an old railroad track, and was made accessible for hiking and biking! Connecting the towns of Arthur and Hunter, ND, this trail gives views of beautiful farmland. If you're looking for a bit of the country life, this trail will get you there!
Watch a video of the project HERE.
Location: 45 miles East of Fargo in Detroit Lakes, MN
This lovely 53-acre park is located on the shores of Muskrat Lake and Lake Sallie near Detroit Lakes, MN. There are just under 4 miles of hiking trails to explore through forested hills. Bring a picnic along to enjoy at one of the shelters. Bathrooms are available, so make sure to use them before setting off on your hike!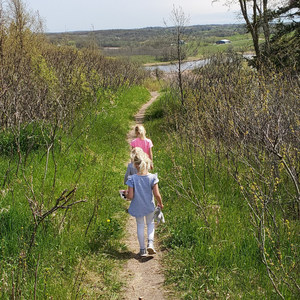 Location: 55 miles East of Fargo via I-94 E and MN-108
Maplewood is a great hiking spot to bring the bikes. Many of the hiking trails are wide and easy to navigate for young riders. The park is home to eight major lakes including Lake Lida, which has a sandy beach for swimming! When your baby needs a quick nap, find one of many scenic loops to drive. You'll also pass through Pelican Rapids and be able to view the World's Largest Pelican statue up close.
Location: 60 miles east of Fargo, just past Detroit Lakes
Tamarac Wildlife Refuge is a hidden gem located in Lakes Country, Minnesota, and is one of our favorite places to visit!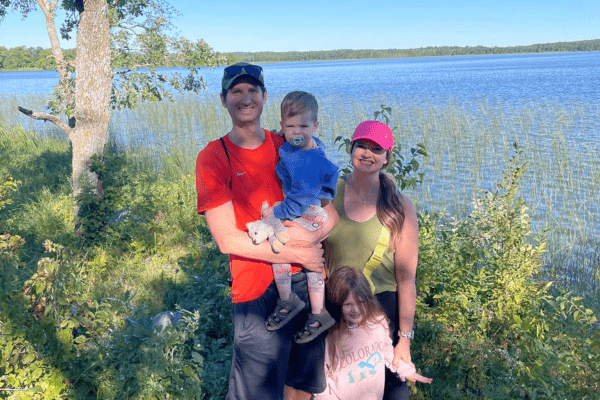 The Wildlife Refuge was established in 1938, with the purpose of serving as a breeding ground sanctuary for birds and other wildlife. The 43,000-acre wildlife refuge is located 18 miles northeast of Detroit Lakes.
It features hiking trails, fishing, a wildlife drive, a visitor center, and so much more. There is no cost for admission, and parking is even free! You can hike part of the 4,600 miles North Country Trail, or hike on the Old Indian Hiking Trail.
Start at the Visitor's Center and head out from there, or start at the North Country Trail trailhead here (just off Highway 34) before heading to the refuge to explore.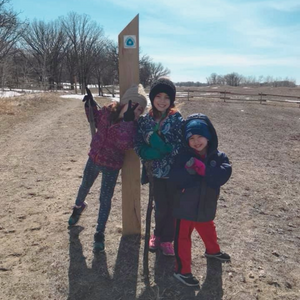 Location: 65 miles southwest of Fargo between Kindred and Lisbon
This is a true hidden gem of our area that is so close to home, yet unknown to many. The hiking trails are easily walkable, many are even graveled. Our four-year-old conquered it no problem. If you have a jogging stroller, it will easily handle the terrain.
The landscape looks like you aren't in eastern ND anymore; it's filled with trees and rolling hills left over from the moving glacier thousands of years ago. Sheyenne National Grasslands is the home to ND's ONLY registered waterfall! It's no Niagra Falls, but still cool to see. The river also has put-ins for canoes and kayaks.
Come prepared because nearby services are null; gas stations, grocery stores, and restaurants are many miles away.
Location: 80 miles from Fargo, just south of Valley City
This gets my number one spot because not only did I have no idea it even existed – there are waterfalls in the hiking trails! Well… my kids thought they were waterfalls. And it blew their minds!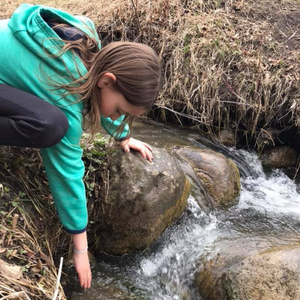 A small creek rushes through the trails and it is like nothing typically seen around here. Down gentle sloping hills, the creek rushes over boulders and logs creating "mini-waterfalls." Hundreds of them. The sound of the flowing water and the green moss on the rocks made me feel like I was transported to the West Coast.
The hiking trails were fairly challenging. Our nine and six year olds love the challenge… climbing over logs and jumping across boulders to get over the stream. Our four-year-old needed a little help, but his adventurous spirit really shone and we were happy to help him navigate.
Bring a change of clothes (and maybe even shoes) as the streams are shallow enough to wade through and likely a kid will try to jump across and end up short.
Find a map of the campsite/trails here!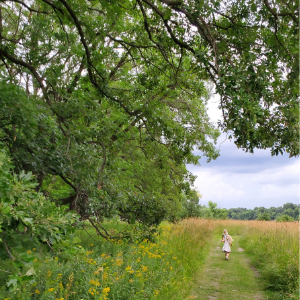 Location: 1 hour and 25 minutes southeast of Fargo (west of Fergus Falls, MN)
This quiet and beautiful state park surrounds Annie Battle Lake and is free of motorized boats. Hike (or bike!) the paved Glendalough Trail loop, or hike the scenic Beaver Pond Interpretive Trail. There are so many wonderful views, and you can take a pit stop at the local swimming beaches within the park. Make sure to stop at Battle Lake on the way home and enjoy some ice cream at the famous Granny's Pantry!
Location: 90 miles east near Jamestown, ND (Just off Highway 281)
This rugged, unpaved trail can be done in 3 miles or 8 miles (so if you have littles we recommend the 3-mile loop!). The trail begins at the east side of the Pipestem Dam, south of the main office. A pit toilet is available at the trailhead, so make sure to use the restroom before you go!
Find a trail map HERE.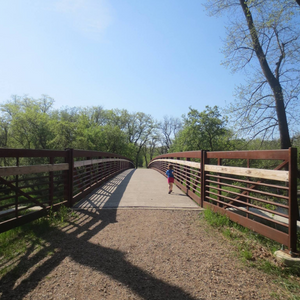 Location: 95 miles northwest of Fargo (20 Miles west of Grand Forks on Hwy 2)
It's like a Minnesota forest snuck into North Dakota. There are hills and valleys and so many trees to walk through. If you like to fish, cast a line off one of the bridges or well-worn sandy shorelines along the Turtle River. It's a perfect spot to teach a little one how to watch a bobber.
Our kids loved the small man-made dam and all the rushing water. Of course they threw in tons of sticks and watched them float over the "falls." A pit stop at the Dairy Queen in Emerado, ND on he drive home is a nice way to end the day.
Location: 70 miles northeast of Fargo near Fertile, MN
There is so much to see on these beautiful trails, including views of the river, panoramic views from Scout Tower, sand dunes, prairies, savannas, forests, wildflowers, birds, butterflies, and more!
There is also the Agassiz Environmental Learning Center, which is unfortunately closed currently (updated 8/3/21). Bathrooms are available Saturday and Sunday only, so plan accordingly!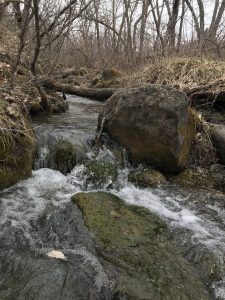 Before you hit the road
Check each website above, as bathrooms and other facilities may be closed. Make sure to bring plenty of water, snacks, toilet paper, and teach your kids how to make a pit stop in the woods.
Also, take a look at the driving route to get to your destination. Many of these drives have landmarks, historical sites, or other points of interest you can stop at for learning or fun.
Think of nature is one of our greatest teachers. Call it a field trip, pack up the minivan, and head out for an adventure on one of the hiking spots near Fargo.
Did we miss your favorite spot for hiking near Fargo? Contact us at [email protected] and let us know!