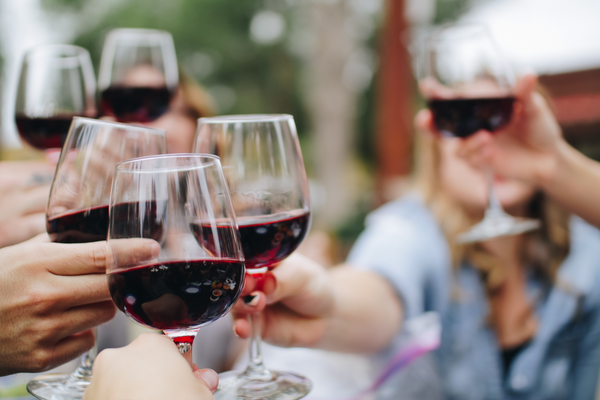 It's an event that only happens twice a year – it's the Happy Harry's Penny Sale!
Starting November 2nd and running through November 29th, The Penny Sale will feature wines of all types, varieties, and price points, all for HALF-OFF!
Our team got a sneak peek (and taste!) at 20 varieties of wine that will be featured at the sale. And although we were delighted with all of them, we wanted to share our top 10 and why we loved them. Plus, since we know how helpful mom-to-mom recommendations are, we created a fun PRINTABLE LIST you can bring in to find them yourself!
Favorite Happy Harry's Penny Sale Wines
Sparkling 
Babarosa d'Asti
If you like sweet and bubbly, this will be your jam! Our team described this one as "sweet and delightful," "fabulous," and great for a ladies night at home. Flavor notes include tangerines and honey.
Natale Verga Prosecco
A top favorite, this sparkling wine has a dryer finish with a lovely touch of bubbles. Our team described it as a "celebratory wine," so this one would be a great stock-up for those special occasions.
White Wine
Chateau Ste Michelle (Pinto Gris)
With tastes of pear and spice, this pinot gris is perfect for those who love white wine without as much sweetness. Described as "light and refreshing," this would make a great white wine to accompany a holiday dinner.
Fisch Sonoma (Sauvignon Blanc)
This crisp, white wine is "definitely one you can wind down with," according to one mom. Light and easy to drink, it has notes of lemon and peach. It was a crowd favorite!
Perseverance (Chardonnay)
If you like chardonnays, this is a good one to stock up on! With tastes of vanilla and banana, it's a great go-to for dinner, desserts, or just because.
Red Wine
Westwood Annadel (Pinot Noir)
This one came in as a favorite of the reds. With its earthy, nutty flavors, it was described as "easy on the palate" with good drinkability. It would make a great dinner wine, especially if paired with a good steak or other red meat.
Armida Dry Creek (Zinfandel)
Another top favorite, this zinfandel has a great aroma with a strong, bold finish. With flavors like blackberry and sandalwood, it will satisfy the both new and seasoned red wine drinkers.
Taken (Red Blend)
This wine is best described as a medium body, with flavors of cherry and raspberries. Our team noted that it would pair well with chocolate, and would even make a great holiday gift. The bold flavors linger a bit, making it a great option to enjoy with dinner or dessert.
McKahn Family (Grenache)
This full-bodied wine makes for a fresh, enjoyable drink. Descirbed by one mom as "classy," it would be a great wine to serve at a dinner party, or bring to a holiday party to share. The bold flavors of black cherry and chocolate balance well with its tartness and acidity.
Fisch Sonoma (Cabernet Sauvignon)
Many moms on our team like a good cabernet, and this one did not disappoint! It's smooth, dry, and full-bodied, and would be great for a date night after the kids go to bed.
Looking for a different variety? Here are others we highly recommend!
See our printable list for bottle images and easy shopping!
Champs Rose Brut (Sparkling)
Natale Verga Sweet Red (Dolce Lina)
Hunuc Reserve (Malbec)
Fox in the Hen House (Shiraz)
Want to see the full list of wines? Visit www.happy-harrys.com/penny-sale to see them all. Happy shopping!