My husband and I are born and raised Minnesotans, so we feel like it's in our DNA to love Duluth and the entire Minnesota North Shore surrounding Lake Superior.
We made a point to visit every summer when we were dating. And we have continued the tradition, now bringing our son.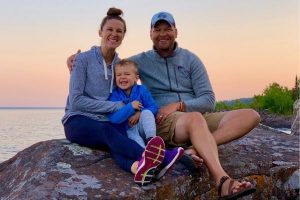 More recently, we have even added a second annual trip during the winter holidays.
Here are some of our favorites things to do with kids in Duluth!
10 Family-Friendly Things to Do with Kids in Duluth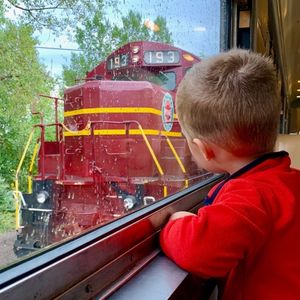 This is an annual must-see for my train-loving preschooler (and my train-loving husband!). There are lots of train engines and cars you can climb into and explore, both indoor and outdoor.
The Railroad Museum also partners with North Shore Scenic Railroad for short excursions up the lake shore. This is always a highlight for our family.
Conveniently located right along the lake front, we find our way to the aquarium on days we need to cool off from the sun, or escape the rain.
The aquarium features exhibits with aquatic life native to Minnesota and beyond. You'll find fun hands-on exhibits to keep the little ones interested along with lots of learning opportunities for big kids and adults. 
Meet animals from our region and around the world! There are animals representing Africa, Asia, and Australia. Bonus — Red River Zoo members receive 50% off admission with their reciprocity program.
4. Toy Stores
There are three mom-and-pop style toy stores in the Duluth Canal Park area. Which are the best kind in my opinion! Make sure to check out Toys for Keeps, J Skylark Company (in the DeWitt-Seitz Building), and The Bookstore at Fitger's. 
5. Watch the Ships
If you only do one activity from this article, let it be this! Whether you're into people-watching or boat-watching, you'll be able to spend an entire afternoon on the newly- remodeled Lake Walk near the iconic Aerial Lift Bridge.
Visit the (free) Lake Superior Maritime Visitor Center and check out the interactive displays and history of the Edmund Fitzgerald.
The museum website has a ship map, so you can track the expected arrivals and departures into Duluth Harbor. Please note times on this map are highly estimated, they change frequently and drastically. But it's nice to have a general idea of when ships are coming and going, so you can plan your day.
No trip to Duluth is complete without at least one trip to the PortLand Malt Shoppe. It's exactly what an old time ice cream shop should be. Time your visit just right and enjoy your cold dessert as a ship comes in or leaves the harbor. And the malts are PLENTY big enough to split between multiple small children. 
I wouldn't plan on spending the whole day here, but it's a great way to spend a few hours. Enjoy lots of hands-on exhibits and the price is right! This museum is best for elementary school-age kids and younger.
Rent a Surrey bike (a 2-person or 4-person bicycle) or single-person bike and explore the Canal Park Lakewalk. There's a coupon on their website to get your second hour of rental free!
9. Throwing Rocks on Canal Park Beach
On a budget but still looking for things to do with kids in Duluth? If your family is anything like mine, you can spend HOURS on the Canal Park Beach throwing rocks into the lake and collecting agates (or other treasures like beach glass and tiny shells).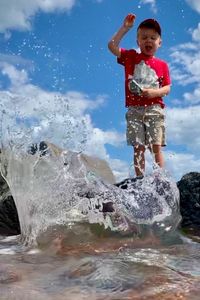 A throwback to simpler times. 
10. Hiking
Love to go hiking as a family? Even some great spots for the littles! These spots are accessible to hike year round. Sometimes we even prefer the quieter trails and winter views during the off season. My personal favorites are just outside of Duluth.
Favorite Hikes in the Duluth Area
Two Harbors, MN is just a 30-minute drive north of Duluth. My family has a ton of fun exploring around the Two Harbors Lighthouse and along the shore.
Gooseberry Falls State Park, MN is a 45-minute drive north of Duluth and a family favorite! Enjoy the scenic falls and tons of natural hiking paths. The path from the Lower Falls to the Upper Falls is pretty short and has some great views. There is a lot of stairs, but my 5-year-old can manage it pretty well. It takes about half an hour moving at a kid's pace. Following the River View Trail to Agate Beach is totally worth it! It's about half an hour hike to the beach. Keep in mind strollers and wagons don't travel that path well, but it's also an option to drive and park closer to Agate Beach.
Split Rock Lighthouse is 55 minutes from Duluth. Park near the lighthouse and explore the historic site. If history is your thing, the lighthouse tour is really great. Or just hike down the path and take a picture at one of Minnesota's most photographed sites. Note that parking near the lighthouse does not require a MN State Parks Vehicle Permit, but other parking lots in that area do have a permit requirement.
We like to visit Gooseberry and Split Rock Lighthouse on the same day. Stop for lunch at the Rustic Inn Café in Castle Danger. And you HAVE to get a slice of pie (my family likes the Rustic Inn pie better than the more familiar Betty's Pies)!
A trip to Duluth and Minnesota's North Shore should be on everyone's bucket list! If you enjoy a family trip with a slower pace and quieter surroundings, Duluth is absolutely the place for you.
What are your favorite things to do with kids in Duluth? We'd love to hear about them! Leave your thoughts in the comments.