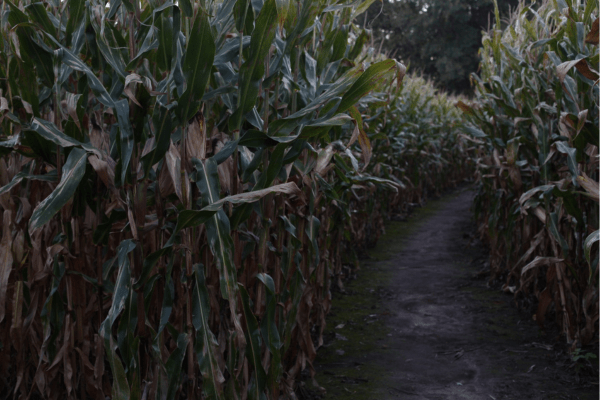 Have a teen that's out of the pumpkin patch stage and looking for a bit of a scare? Check out these options for haunted and scary corn mazes and farms in and around Fargo-Moorhead!
Great Straw Maze
Days: Haunted maze hours are select weekends in late October
Location: West Acres
This huge maze is made with over 1,500 large straw bales right in the West Acres parking lot (east of the CRAVE entrance). During the day time the maze is not to spooky, but check out their Facebook page for when their Haunted Maze events are on Fridays and Saturdays near Halloween.
Days: Fridays & Saturdays from September 22 – October 31, open from 7:00 – 11:00 p.m.
Location: 1947 130th Ave South, Moorhead, MN 56560
Just 10 miles outside of Moorhead, this haunted farm is quite a fright! See if you can find your way out of their Dark Maze. General admission is $22 per person. Check out their website for more details as well as a coupon for $2 off general admission.
Day trips outside of the Fargo-Moorhead area:
Days: September 15 – the end of October, sunset (about 7:30 p.m.) to midnight
Location: 108 ND-18 S, Leonard, ND (40 minutes from Fargo)
Located a bit out of the F-M area is the abandoned Leonard Schoolhouse and surrounding area that makes up the Acres of Terror. This scary corn maze is best for ages 10 and up.
The Crypt at Jacobs Manor
Days: Open Fridays & Saturdays, October 20 – 21, October 27 – 28, from 7:00 – 11:00 p.m.
Location: 307 1/2 Railroad North, Leonard, ND (40 minutes from Fargo)
Another spooky spot you won't want to miss! Also, they have a "lantern option." If little ones don't want to be scared, staff will provide them with a lantern to use throughout the haunt. All the monsters know that means "no scare." See their Facebook page for more details.
Days: Open Friday & Saturday, October 20 – 21, October 27 – 28, from 7:00 – 11:00 p.m.
Location: Park at Tonseth Lutheran Church: 33672 County Hwy 3, Erhard, MN (50 minutes from Fargo)
This haunted forest in Erhard, MN conducts scary tours the last 2 weekends of October every year. Park at Tonseth Lutheran Church, and a shuttle will take you to the Haunted Forest! Please see their Facebook page and website for details.
Did we miss any haunted farms in Fargo? E-mail us at [email protected] and let us know!
More Fall Fun to Check Out!