We all know that finding that *perfect* pair of jeans can be a challenge. What size do I wear? Which brand is best? What fit suits my body best? Thanks to the experts at SCHEELS, we have some tips for finding a great pair of jeans, plus some great brands to try that cater to all sizes!
Finding the Right Jeans Fit
First, you need to know your correct size. The experts at SCHEELS suggest this simple method to find out your proper inseam:
Make sure you shoes are removed and you are wearing tight or slim fit bottoms (like leggings or tights).
Step 1: Stand up straight and place your hands at your side.
Step 2: Have someone use a measuring tape to measure the length from your crotch to the floor. If you want the jeans to land at a certain spot on your ankle, make sure they measure to that spot.
Using that measurement, you now have a starting point in finding the right jeans fit! Finding the correct waist measurement can be trickier – it will depend on where you want the jeans to land (low-rise, mid-rise, or high-rise), and will also depend on the brand (some brands run smaller, while others may run larger).
We suggest trying a range of sizes around your "typical" size when trying on jeans to see which fits the best. For example, if you are normally a 12, try going a size up and down as well.
Jeans for Moms: Our Favorites
Jeans sure have come a long way since we were young. With more style, wash, and fit options (plus materials and fit that actually suits our different bodies), there are some great brands out there that have a mission to help you find your best fit.
Here are the favorites I tried on at SCHEELS!
If you still love your skinny jeans, this is a brand to check out! The whole mission of Good American is to provide sizing and fit for all body types (they require stores to carry all size options from 00-32 when ordering). I loved the extra stretch and tummy slimming of these jeans, plus their "gap proof waistband" makes for a great waist fit even when your behind and hips are wider. The wash on these is super versatile for day to night, and I liked the rough edge (non-hemmed) ankle.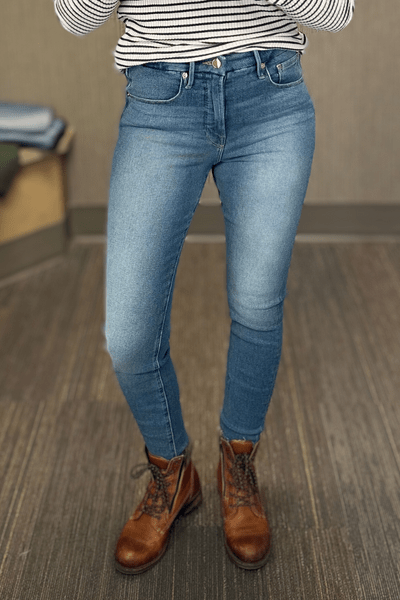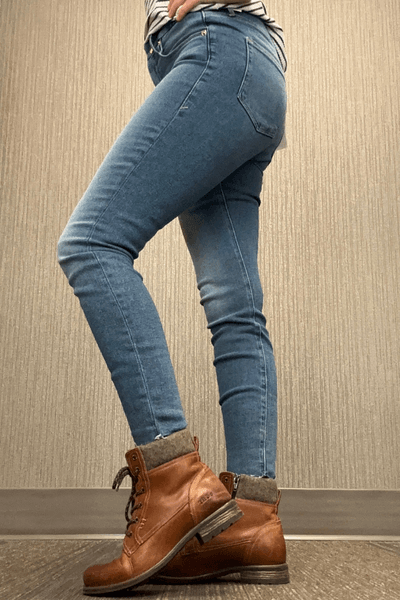 While this post is about jeans, I couldn't go without mentioning these super comfortable cargo pants! The waist has a cross band/double button that made for an extra great fit, and I'd love to wear these with rolled ankle and boots. These are perfect for fall and winter boot wearing, and are a fun alternative to jeans. Pair with a white tee and shacket for added style.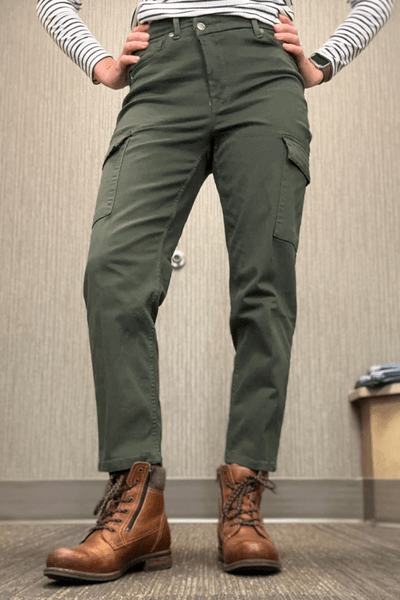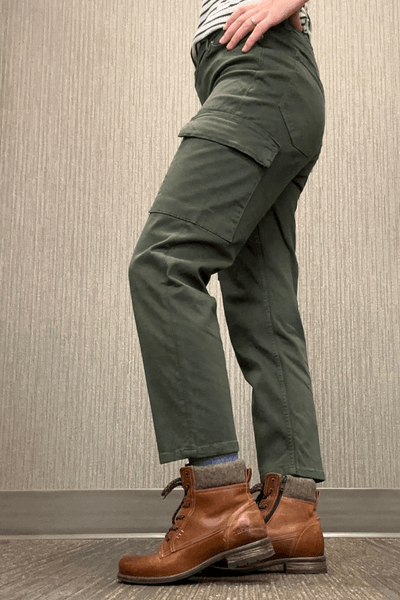 Kut comes in as my favorite brand for both fit and style. They have a great stretchy feel, a high waist for tummy control, and I loved the variety of wash options. This bootcut style is great for fall and winter to wear over those stylish boots you've been waiting to wear!
Helpful hint – Kut runs larger so size down 1-2 sizes when trying them on.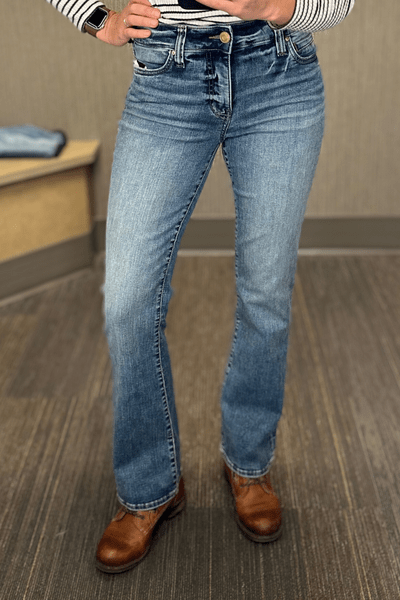 Another jean alternative, I included these for their versatility from workwear to evening or weekend wear as well. The material was so comfortable and stretchy, and the ankle is perfect for boots (it would look great rolled if you have shorter legs).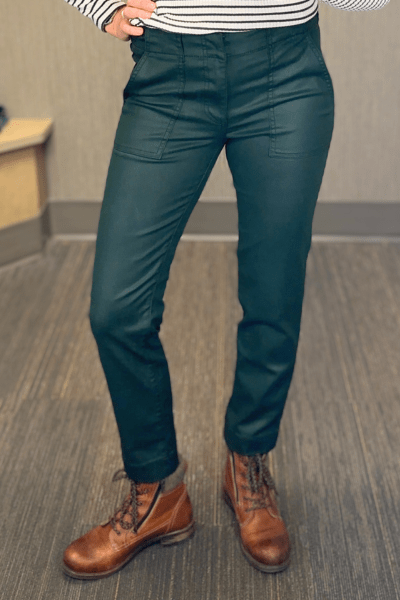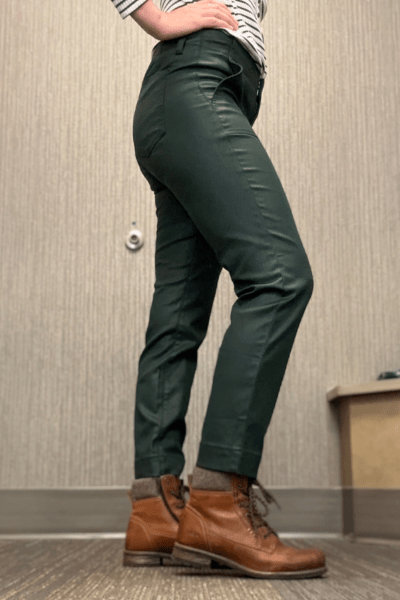 I love to see that flare styles are back again! I'm a big fan of dark washes, especially for those casual work days, and the ankle length of these jeans still shows off those favorite boots you have. These had a great fit through the waist and fit more like a wider boot cut.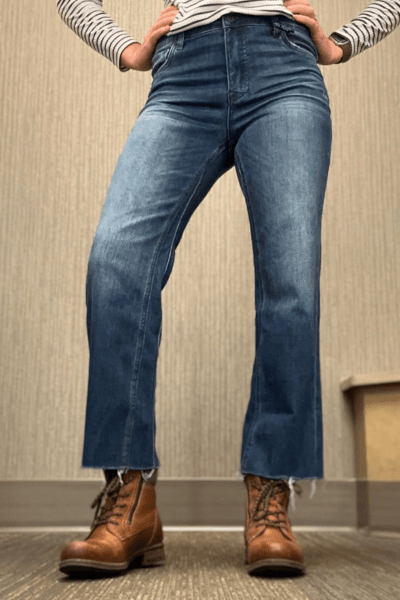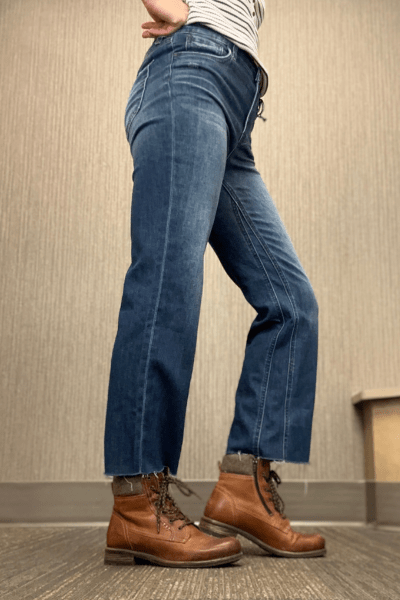 If high waist isn't your jam, these low rise Silver jeans are a must! I loved the boot cut style and embellished back pockets that Silver is known for. They are a great everyday wear option.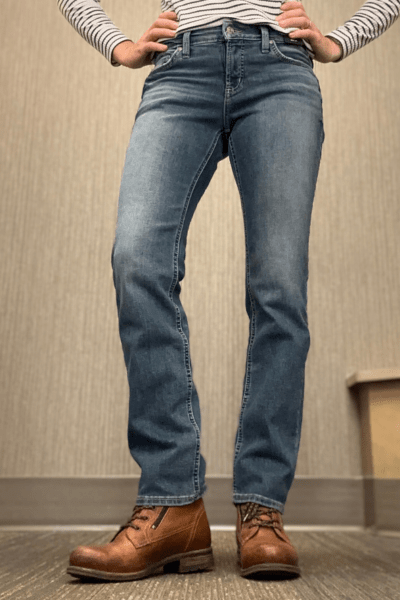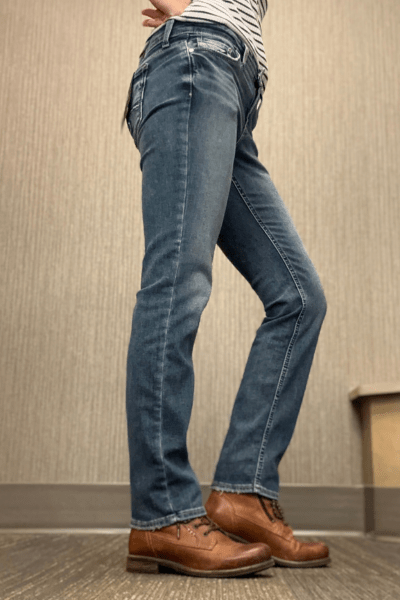 Silver Jeans Co. Infinite Fit Mid-Rise Skinny Jeans
Skinny jean fans, here's another for you! These mid-rise, dark wash skinny jeans are perfect for casual work days or a night out. They have a classic skinny fit and are a great option if you have tall boots to show off. Mid-rise is a great option for shorter torsos, when high-waist is just a bit too much.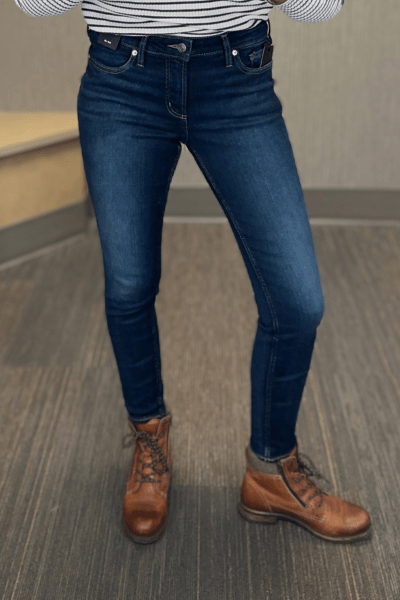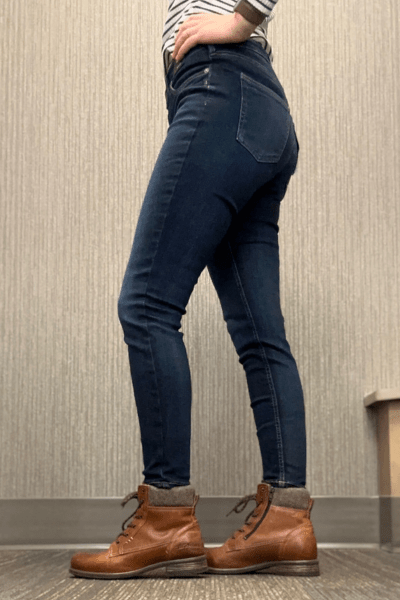 These colored jeans are another great alternative to traditional jeans, and would look fabulous with cream or black boots. I loved all the pockets on these, and they are an affordable option for weekend wear.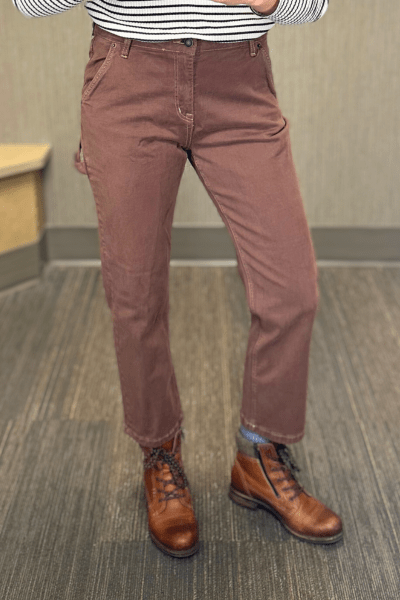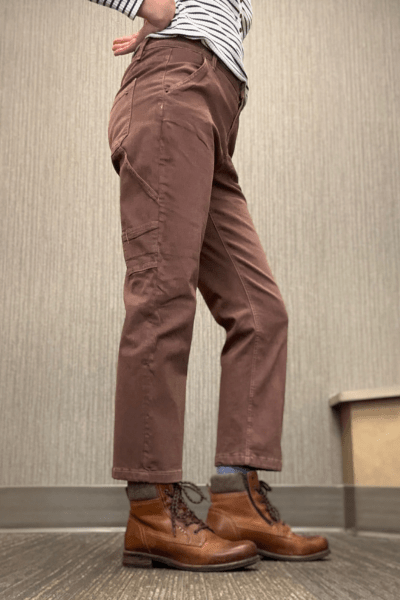 If you love the wide leg, looser style, these Mica jeans were so comfortable. The high waist provides added tummy control, with a crossed, double button style for an extra great fit. These a great option for those with long legs. Wear with boots or heeled boots to show off those extra wide legs!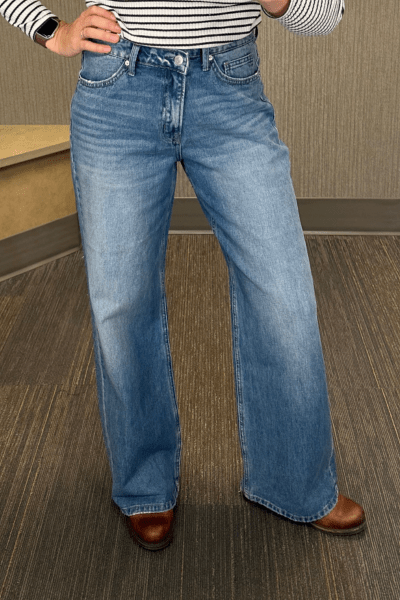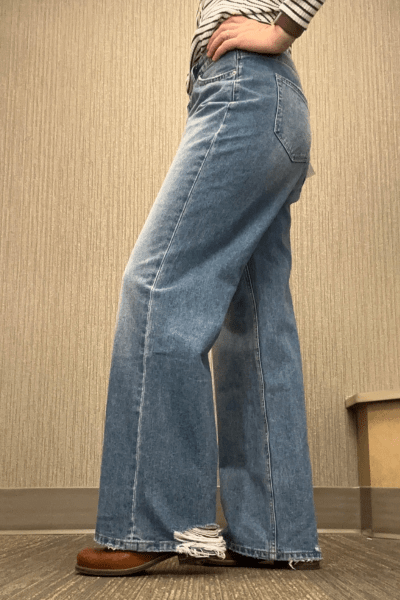 All these options come in multiple sizes (including plus), and my favorite brands for best fit goes to Good American and Kut. With all the shapes and sizes we come in, it's great to see jeans brands striving to make great fits for different body shapes.
Extra Fit Tips
The jean experts at SCHEELS have a few more tips for trying on jeans and finding your best fit:
Sit or squat before you buy (or at least before you take the tags off). You'll be wearing jeans sitting, standing, and moving around, so make sure you know how they feel in all types of movement. Squat and bend down to ensure the backside fits the way you want, and the tummy lands where you like (and doesn't squeeze or pinch too much).
Walk around with them on, and (if possible) try on with different shoe styles. This way you'll know where the ankle falls, and if any hemming or rolling will be needed.
Be flexible in your sizing. Not all brands have equal sizing (for example, Kut runs larger so you'll need to size down), so make sure to try on different sizes in each brand before buying.
Every SCHEELS Associate is an expert in their department, and Women's jeans is no exception! I received so much help in sizing, fit, and style when talking with Katie at SCHEELS, and highly recommend talking with someone to find the best fit for you.
Happy shopping!
Still looking for a winter coat? Check out our favorite styles here!