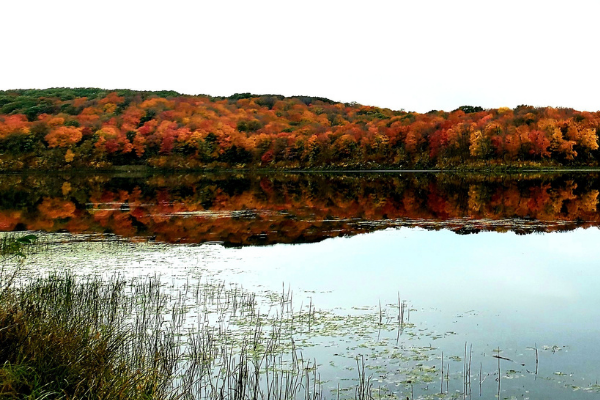 Get ready for hiking and more nature fun – all nearby at Maplewood State Park!
Location: 39721 Park Entrance Rd, Pelican Rapids, MN 
Near Pelican Rapids, Minnesota, this state park offers diverse landscape with grasslands, lakes, forests, and hills.
What to do:
Swim at the sandy beach on Lake Lida.
Reserve one of the 71 campsites. There's even an Equestrian Campground that caters to horseback riders, with access to numerous horse trails in Maplewood State Park.
Fish one of the eight lakes. Or rent a boat or canoe to explore the lakes.
Hike one of the many trails. Maplewood State Park has 25 miles of hiking trails, 20 miles of horse trails, and also cross-country ski and snowmobile trails in the winter.
Search for wildlife. There is a large variety of wildlife due to the diverse landscape of the park. Including birds, mammals, reptiles, and amphibians. Commonly spotted animals include white-tail deer, squirrels, racoons, swallows, and kingbirds.
Check out historic Maplewood Church, built in the 1880s.
Why we love Maplewood State Park:
The swimming beach is a fun spot to have a picnic, with shade and picnic tables.
Check out the fishing pier on Beers Lake. It's great for fishing with kids, no boat required!
Climb Halloway Hill overlooking South Lake Lida for spectacular views.
There are five camper cabins available for those who want to enjoy the great outdoors but would prefer not to tent. Some even have heat for year-round use.
Good to know:
There are boat ramps on Beers Lake and South Lake Lida for lake access.
Due to construction some campsites and amenities will not be available for the 2022 season, please check the Maplewood State Park website for more details and updated information.
Fall Day Trip
If you're headed there for a Fall day trip, make sure to check the Minnesota Fall Foliage Map to see how the colors are changing. And head over to Thea's Pumpkin Patch in Pelican Rapids for a fun corn maze and pumpkin picking!