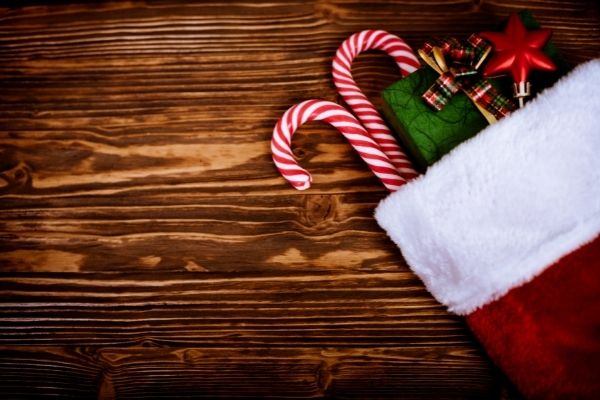 Christmas is right around the corner, and it seems like everyone is preparing their gift lists earlier and earlier each year! And that includes stocking stuffers.
It's always fun to get the standards — fun candy, toothbrushes, and socks. But are you looking for some new ideas? This list will offer up some inspiration!
And for a huge list of all local places to shop check out our Local Holiday Gift Guide!
Stocking Stuffer Ideas for All Ages
Ideas for Babies/Toddlers
Something Fun:
Something Useful:
Toothbrush/toothpaste
Fun socks — these particular socks are cute, with animals on them to use as sock puppets!
Snack cups, dishes, and sippy cups
Baby wipes
Hats or bows
Something Sweet:
Baby food pouches
Puffs
Yogurt melts
Fruit strips/leathers
Local Shopping
Check out Tootsie' Children's Boutique or Vella Kids Boutique in Fargo for lots of adorable baby and toddler stocking stuffer options— including soft toys, cute hats, and bows.
Ferguson Books in West Fargo has brand new and used books for all ages! Take a peek at their wide selection to find some titles to put in your kiddo's stocking. 
Unglued is another fun shop in the area that includes products created by local artisans. You can find creative stickers, zippered pouches for trinkets, newborn apparel, and tons more!
Ideas for Kids/Teens

Something Fun:
Bookmarks
Stickers for water bottles/devices
Flashlight
Molding clay
Card games
Fidget toys
Something Useful:
Toothbrush/toothpaste
Wool socks (we have a family tradition of always giving wool socks)
Character Band-Aids
Gloves or mittens
Lip balms
Lotion
Gift cards
Small doodle pads/journals
Something Sweet:
Hot chocolate packets
Candy canes
Specialty candy
Local Shopping
A great place to find unique games, candies, puzzles, and tons of other items for all ages is at Vintage Point. You can spend a long time exploring in this local shop.
If you are looking for the extra special, hard-to-find candy. Look no further than Sweet Dreams Confections! Tons of handmade treats along and classic favorite candies.
For more fun games and puzzles, check out Game Giant in downtown Fargo or Legacy Toys in the West Acres Mall!
Ideas for Adults 
Something Fun:
Candles (do good adventures is a great local maker!)
Gift cards (maybe for a massage, date night out, or local hotel stay)
Bar accessories — wine corks, can koozies, bottle openers
Playing cards or card game
Jewelry
Bluetooth speaker
Wireless Earbuds
Something Useful:
Lotions, shower steamers, soaps, face masks (Real Good Bath & Body in West Acres mall is local and has great shower steamers and bath bombs!)
Small notepads or journals
Pens
Cozy socks
Something (or Tasty):
Fancy chocolates
Yummy dip mixes
Coffee
Mini bottle of liquor, wine in a can, local beer
Macaroons (or other fun cookie)
Local Shopping
Leela and Lavender is a local boutique that has a lot of fun stocking stuffer ideas for adults from cozy socks, jewelry, and even tea towels! Other fun spots to find gifts for women include Sheywest Garden Center's market, The Black Frame in West Fargo, or Jade & Jasper!
Men's apparel and goodies can be found at a local men's boutique called Druthers. Some good stocking stuffers at Druthers include men's hats, socks, and pocket knives.
So many options abound at Unglued in downtown Fargo! Or find more local treasures in our local gift guide, organized by the person you are shopping for.
So Many Fun Options
These are just some ideas to scratch the surface of ideas for stocking stuffers. The list is endless, and it seems like each year there are always new things to include!
Merry Christmas and happy shopping!
For more gift-giving inspiration, check out our Local Holiday Gift Guide!