Creating a holiday budget. It's something every mom should do, right?
Between gifts and decorations, travel and food, the holidays can get expensive.
But I'm not here to share tips on creating a typical monetary budget. I'm suggesting you create another type of holiday budget, one for something that holds more value than money — your time.
Why Create a Time Budget
You've heard time is the most valuable resource. And it's true.
Time is finite. You can't make more of it. And, unlike money, we all get the same amount of it each day.
In the same way you budget money to make sure there's enough to go around, you can budget your time.
And I don't mean budgeting time so you can do more this holiday season. Keep in mind typical parenting duties don't magically pause during the holiday season. So, you're already doing enough!
I want you to budget your time to do less, so there's time for you this holiday season. Just YOU.
Here are five tips to help make a time budget.
5 Tips for Creating a Holiday Time Budget
1. Plan Ahead
I will go ahead and be THAT person who preaches planning ahead.
When you plan your meals for the week, you're more likely to eat a nutritious diet. When you plan time to exercise, you're more likely to squeeze in those sweat seshes. And when you plan ahead to save money, it's more likely you can take the vacation, buy the house, or #treatyoself.
When it comes to successfully budgeting money for the holidays, experts will tell you to consider all the things you plan to buy. This makes it less likely to be caught off guard by an unexpected big expense. Doing so also reminds you just how much — and how fast — it all can add up.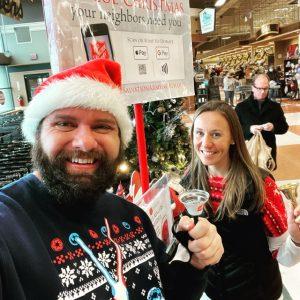 Budgeting time looks similar. Make a list of all the events you plan to attend, as far ahead in advance as possible. The Santa visit, the school programs, dinners with family, and any special traditions you want to do.
Then, make a list of all the typical to-dos that take up time: Baking treats, decorating the tree, wrapping gifts, even watching a favorite Christmas movie.
Now, a quick caveat: Creating lists doesn't exactly help you with time management. But it does give you priorities so that you can get there. Lists help you to start to visualize the days ahead and plot out what can fit in and, maybe, what can't.
2. Don't Schedule Too Much
Even with planning, it's easy to go over a spending budget, especially during the holidays. Unplanned expenses pop up, you may want to add a few extras here and there, and things often cost more than anticipated. (Seriously, everything is so expensive these days.) It's a great practice to build into a total budget some contingency dollars, or wiggle room.
Similarly, you've probably woken up in January feeling exhausted, like you overexerted yourself during the holiday season. And you're not sure how it happened. This isn't only true during the holidays, I think our entire lives tend to be overscheduled.
So when planning this year's time budget, don't schedule too much. Leave lots of open space on your calendar. Don't plan or commit to "just one more thing." That way, as things pop up or take more time than expected, you have room in your schedule, maybe even a little "bank" of time for yourself.
3. Divide and Conquer
If you have siblings, chances are you've all gone in together on a gift for your parents. It's  great being able to split the cost of gifts and ease the financial burden by spreading it around, right?
Consider the same concept with a holiday time budget. Hopefully you have a partner or someone on your team who can help you split things up, to give you back some time.
Can you and your spouse split some of the shopping? Perhaps one of you can plan the holiday photos and schedule, while the other takes care of ordering the cards and sending them out? If Grandpa wants to bake holiday treats with the kids, let him create that memory with them, while you take the time to attend a party or tackle something on the to-do list.
4. Define Need vs. Want vs. Waste
Just like not all monetary spending is equal, there are different ways you can spend your time.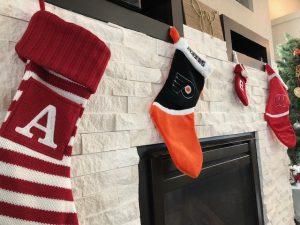 Think about how you spend your money. Broadly speaking, it probably includes three categories: needs, wants, and wastes.
Your needs are the non-negotiables: things you need to pay for like groceries, mortgage or rent, and adequate winter clothing. The wants are things that you could live without, but have a valid case to spend money on, like extra streaming services, eating out with friends, or a gym membership. Then there are the wastes, things that don't bring you joy or fulfillment.
Your time is the same concept. Unlike a monetary budget, everyone gets 24 hours each day. Like with money, the biggest thing in a time budget is how much is spent on what's important vs. what's not.
Setting a time budget really forces you to examine all the choices you have, then whittle them down to prioritize the needs and the valid wants over the wastes.
5. Just Say No
My final tip is advice I'm sure you've heard before: Just say no.
There is so much pressure on parents, moms especially, to volunteer at the school program, to attend every party, to take perfect holiday photos, and to make every Christmas magical for our children — because, if no one has told you yet, you only get 18 of them, blah, blah, blah.
Look, I understand it's easy to get caught up, to go all in, and stretch yourself too thin. But you can have a wonderful, memorable holiday season with your family and still protect your time.
If it's something that adds stress, gets in the way of your priorities, or you simply don't want to do it, just say no. And don't feel badly about it!
With planning, thoughtfulness, and intention, you can plan a time budget that ensures your holiday season is filled with things that make the days merry and bright.
And, maybe even leave a little time that's just for you.