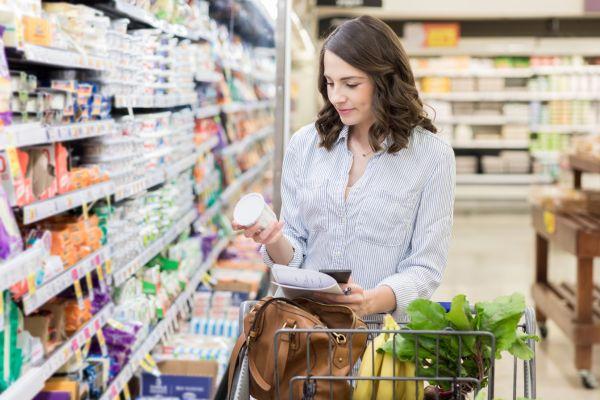 For the first 30 years of my life, I never paid any attention to the words "gluten-free." My family ate gluten-filled bread, pizza, pasta and thought nothing of it.
But then two years ago, my husband received a mail-in DNA test for his birthday. He discovered from those test results that he was at a high risk for celiac disease. And he was officially diagnosed at his next doctor's visit.
Currently our home is now approximately 90 percent gluten-free. And I don't miss buying multiple boxes of pasta or loaves of bread. And I find that sometimes (but not always!) a gluten-free option can be higher in protein, or filled with more veggies.
Our two children also have a higher chance of developing celiac disease, so going gluten-free has been a good practice to have in place.
And we have discovered businesses in the Fargo-Moorhead area that offer some great gluten-free choices. From food shopping to dining out, here are some of our family's favorites.
Local Gluten-Free Options
Grocery Shopping
The gold standard for gluten-free groceries in the Fargo-Moorhead area is Mehl's Gluten Free Bakery. Located in Fargo, they offer bakery items such as bread, muffins, bagels, cakes, and cookies, as well as some lunch options and meals to go. Their cookies and bread are delicious! They also carry some packaged items from other gluten-free brands. And the best thing about Mehl's is that literally everything in their store is gluten-free, so so there's no need to scrutinize labels and question anything.
Another grocery store that has some good options is Aldi. They have gluten-free pasta, macaroni and cheese, crackers, bread, and cookies, all at very reasonable prices.
Every grocery store I have visited in the Fargo-Moorhead area has a gluten-free section.  And many items that are not specifically labeled gluten-free are naturally gluten-free: such as rice, potatoes, vegetables, fruits, and any meats (without breading). Many dressings, sauces, and spices are also gluten-free, but it's important to read the labels to make make sure the ingredients don't contain wheat, barley, or rye.
Favorite Grocery Store Finds
I am not a pro in the kitchen, so I like to make our meals as simple as possible. Some of my favorite gluten-free staples include Banza pasta (it's made of chickpeas so it has extra protein and fiber), Caulipower pizza (made with a cauliflower crust), and Kevin's brand frozen meals (the sauces are all gluten-free with no sugar added). And I have found that coconut aminos to be a great substitute for soy sauce!
Restaurants
Note: When eating at a restaurant, you are giving up a lot of control as to how your food is prepared. If you do not want to risk any cross-contamination, eating at home is always the safest option. Please ask each restaurant about their cooking protocols for gluten-free items to ensure safety. 
Fast Food
It can be hard to find gluten-free options when pressed for time, but there are some fast food restaurants that are very gluten-friendly! Culver's, Erbert and Gerbert's, and Jersey Mike's all offer gluten-free bread. For Mexican food, Qdoba, Moe's Southwest Grill, and Chipotle offer lots of gluten-free options — just stay away from the flour tortillas! Power Plate Meals also has many gluten-free items on their menu each week and their breakfast choices are usually even made with gluten-free bread! Mahana Fresh is also a spot that has a mostly gluten-free menu. Crisp & Green is another great option. They specialize in salads and grain bowls. All the ingredients are listed on the menu and everything is gluten-free unless otherwise specified (my personal favorite is the Thai & Stop Me salad).
Pizza
Ordering pizza is one of my favorite options when I don't want to cook dinner. Luckily, many pizza delivery restaurants offer a gluten-free crust now, including Domino's, Papa Murphy's, and Spicy Pie. The gluten-free crust is generally one size only and it's a little smaller, perfect for 1-2 people. Dine in options for gluten-free pizza include Blaze Pizza and MacKenzie River Pizza.
Dining In
Restaurants have adapted well to the demand for gluten-free options. This is not a comprehensive list by any means, but here are some of our local favorites! You can eat gluten-free at all of these places without feeling like you're missing out.
Baron's Eatery & Bar (in Kingpinz): All the pizzas can be made with a gluten-free crust and it's very good. Also, the staff is very conscientious about what is and isn't gluten-free.
Brewbird: This local restaurant is one of the only places where the fried food is completely gluten-free! They offer chicken sandwiches and chicken tenders and the breading is all gluten-free. They also have gluten-free buns, as well as gluten-free biscuits and English muffins for brunch.
Crave American Kitchen & Sushi Bar: This sit-down restaurant has an entire section in their menu dedicated to gluten-free, and many of the items on their regular menu can be made gluten-free as well, by using gluten-free bread or gluten-free pasta.
MacKenzie River Pizza: Any of their pizzas or pastas can be made gluten-free.
Rhombus Guys: Any variety of their pizzas can be made on a gluten-free crust.
Smashburger: They offer gluten-free buns for all of their sandwiches.
Sirirath Thai House: Thai food is a great option because it is naturally rice-based and this restaurant is one of our favorite new discoveries. In our house, we love the spring rolls and shrimp pad thai!
The Tavern Grill: All of their burgers, pizzas, or pastas can be made gluten-free. And I can personally vouch for their gluten-free pizza crust — it's delicious!
Other Local Restaurants with Gluten-Free Menus/Items:
(Disclaimer: please ask each restaurant for their specific protocol to avoid cross-contamination. We cannot guarantee all restaurants prepare gluten-free items separately.)
Sweet Treats
There are few things worse than not being able to eat a piece of cake on someone's birthday! Luckily, many bakeries in town have gluten-free options, so there is no need to feel deprived. As mentioned, Mehl's makes delicious cakes, cookies, and cupcakes. Gigi's Cupcakes also always has a gluten-free cupcake option. And Nothing Bundt Cakes offers gluten-free options as well. Also, Due North Gluten-Free Bakery & Goods sells gluten-free baked goods made from their unique seven-blend flour. The flour is available for purchase along with muffins, cupcakes, breads, cookies, bars, cinnamon rolls, and mixes to make treats at home. Lastly, try the local Becky's Treats: Gluten & Dairy-Free to find a sweet treat made by a local baker! And if all else fails, ice cream is usually gluten-free.
Finding options that are gluten-free in Fargo might seem overwhelming right away, but with a little bit of planning ahead and label-reading, it's pretty easy to adapt. And it is so worth it to keep everyone healthy and happy!