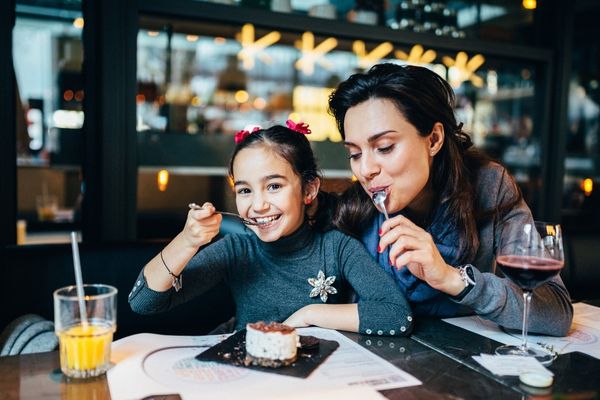 I am a food lover through and through.
Trying new restaurants and flavors is something I share with my husband. Which, living in the Midwest, can be challenging.
Then when you factor in kids with limited taste palates (read: meat and potato restaurants need only apply), you might find yourself in a bit of a pickle figuring out where to eat!
However, we have found some of the best restaurants in Fargo that we enjoy frequenting time and time again.
Here's a short list of our family's top choices in the Fargo-Moorhead area!
Best Fargo Restaurants from a Foodie Mom
Feeling fancy? Treat yourself to a plate at:
Admittedly spendy, but so worth it.
If you are going with a group of people, splurging on the Chef's Table is a great way to get a small taste of everything. However if you prefer to be the master of your own plate, their menu is exceptionally creative and delicious. I have experienced Rosewild both ways and recommend it all!
701 Eateries, Prairie Kitchen and Camp Lone Tree
Upstairs at Camp Lone Tree, you can enjoy some laidback fare such as corn dogs, nachos, and cheese curds while cozied up on their patio (in the winter they also have insulated igloos lit up with fairy lights).
Prairie Kitchen, on the main floor, offers a twist on some traditional Midwestern fare such as the Lefse Plate, Hotdish of the Moment, as well as upscale items like the Smorgasbord appetizer or steak from their Butcher's Block.
Quickie lunch date options or order for pick up:
I adore hitting up the dynamic duo of Junkyard and Sol Ave. There's something about eating outside and enjoying a fresh locally-made beverage that gives me the warm fuzzies.
My go-to order is the (vegetarian) Bipbimbop and Pork & Mushroom Dumplings. And if I'm just snacking, the cheese platter and meat platter are my #1.
Their bagels are pretty incredible. But personally I go there for the Nordic Lamb meatloaf sandwich.
When you go out for Thai, do you ever feel like you order the same dish every time? At ThaiKota just ask what their special is and it has never failed to impress us! Mind what spice level you order! My husband likes it spicy while I prefer a middling 2-3.
My kids ask for these restaurants all the time:
My husband and daughter appreciate that they can order a sushi roll and get traditional Asian cuisine. While my son and I love that we can order lots of chef's special rolls!
Don't feel like going out? Order for delivery or pick up.
When we have a hankering for tacos or some of the most amazing guacamole in the FM area, this is where we go. Sharing the Molcajete and having leftovers for days is a plus.
They also have a sister restaurant, Mas Tequila, which caters to a more authentic Mexican cuisine. I haven't been there yet, but I've heard great things from a fellow foodie.
This gem is in south Fargo and you can eat in, go through the drive through, or order for pick up. For our family who likes a bit of everything, it's a solid call to order the gyro platters and extra avgolemono soup for me!
A staple of West Fargo, enjoy your classic diner food here all day. A must if you love breakfast food as much as I do!
Don't forget about that sweet tooth!
Desserts that almost look too good to eat and are exquisite to taste. My daughter loves to make this part of our day when we're downtown.
Do you love cookie dough? Do you love ice cream? Get it all here in as many scoops as you can eat!
They make cute little ice cream animals. It will almost make you sad to eat them!
Looking for more dessert options in the area? Check out our post on Frozen Treats & Ice Cream in Fargo & Moorhead.
What are some of the best Fargo restaurants you love? Let us know in the comments below!