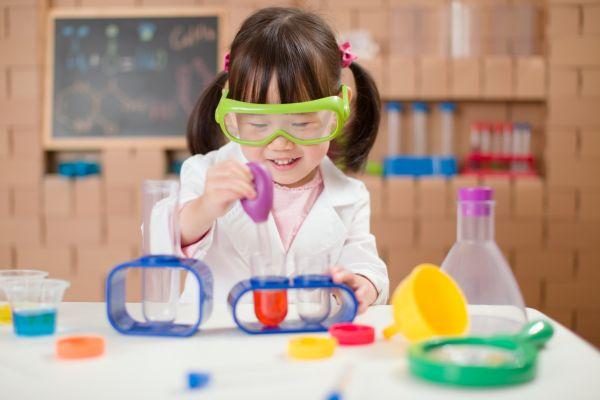 The toddler brain is constantly growing and building new connections every day.
And it's never too early to give your young child opportunities to explore concepts like cause and effect, opposites, basics of nature, and sorting.
Here are some ideas for fun and simple "experiments" that you and your toddler can complete with items found around your home.
Science Experiments for Toddlers
Baking Soda and Vinegar Activities
The possibilities are endless with these two ingredients. Simply mixing the two in a bowl will create fizzy fun for your child to see, hear, touch, and smell!
You can also expand this activity by allowing your toddler to use various tools to add the vinegar to baking soda, such as an eye dropper, syringe, spoon, or cup.
In the winter, fill a hill of snow with a jar of baking soda, water, and dish soap, and add vinegar to create a snow volcano!
Flower Color Changing
Place a few light-colored flowers (with stems) in a jar of water. Allow your child to place 10-15 drops of food coloring into the jar. Within hours, the flowers will begin to change color!
This is a great way to teach young kids about how plants "drink" water from the ground.
Tip: Try this activity in the evening, then your child will wake up to a vibrant, colorful flower. 
Growing an Avocado Pit
The visual of a growing avocado pit is a wonderful way to show young kids how seeds start to sprout and take root!
Use four toothpicks to suspend an avocado pit in a cup of water. Your child can check the pit each day to look for roots or sprouts.  Once the plant has grown a few inches, your child can plant the mini avocado tree in dirt.
Crayon Resist Art
Use a white crayon on white paper to create a "secret message" or picture. Use watercolor paint over the paper to reveal the hidden images! This activity is a cool way to explore how water resists wax and oils.
Sink or Float Experiment
While this seems like a simple activity, sorting items by whether they float or sink in water is an excellent skill for toddlers to practice. Try it in the bathtub, or in a container of water outside.
Ice Rescue
On a warm day, freeze small toys in water balloons, ice cube trays, or muffin tins. Your kids can bring the frozen bricks outside and "rescue" their toys from the ice by melting them.
Children will learn about the different forms water can take in different temperatures.
I hope you enjoy these science experiments for toddlers for simple, engaging ways to explore science concepts with your toddler!