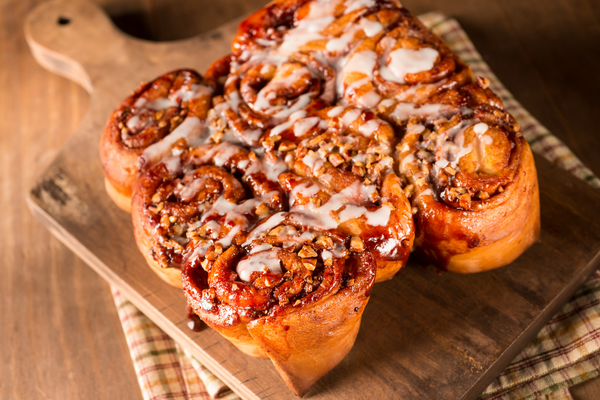 Waking up to the cool fall mornings and sipping on a nice hot cup of coffee is relaxing, but what makes it better is a warm cozy breakfast for the whole family. You maybe stuck on the same breakfast recipes for kids, but I have a few ideas to try!
I am not a Food Network star by any means, but I do love watching it (especially Pioneer Woman!). Good food that my kids will actually eat and is made with ingredients that aren't out of my comfort zone. Here are some of my go-to recipes for a kid-friendly breakfast.
Monkey Bread (Sticky Buns)
These ingredients might sound a little out there, but I promise that it is delicious and my kiddos ask for this almost every week! I serve it with some fresh fruit or yogurt for a well-balanced start to their day.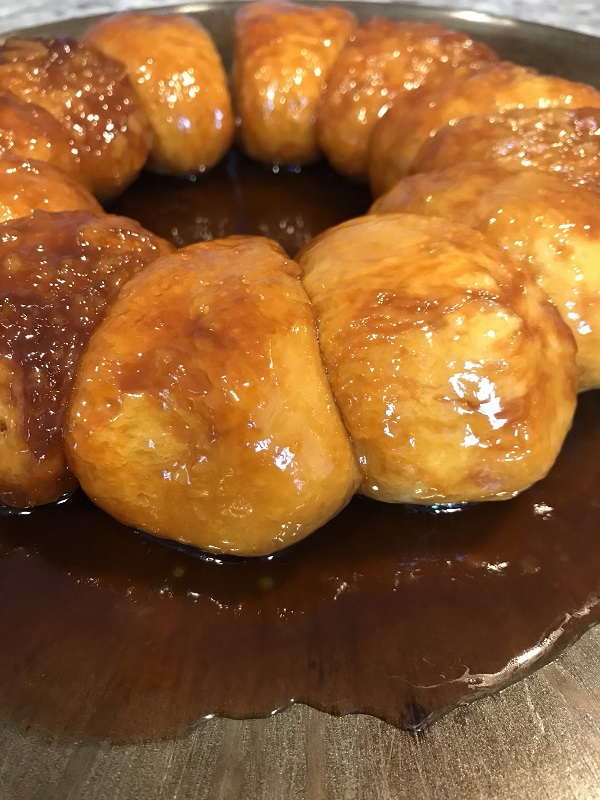 Monkey Bread
Note: Prepare the night before and allow to sit out over night.
Ingredients
1

dozen

packaged frozen buns

(I use Rhodes)

1/2

cup

brown sugar

1/2

cup

margarine

1

box

butterscotch pudding

Cook & Serve, NOT Instant
Instructions
Grease bundt pan well and lay frozen buns around the bottom.

Sprinkle pudding mix over all the buns.

Melt brown sugar and margarine thoroughly and dribble over pudding mix/buns.

Do not cover - let it sit out overnight (buns will rise).

In the morning, bake at 350 degrees for approximately 12 minutes.

Flip over on plate (or pizza pan) and eat!
Banana Bread
This banana bread recipe is my favorite. I tried numerous different ones to find a good moist banana bread, but not too moist that makes it soggy if it sits out for a couple days. Make sure to only use 3 bananas and not any more, or else it will drastically change the consistency of the bread.
Banana Bread
Ingredients
3

bananas

1/3

cup

melted butter

1

tsp

baking soda

pinch

of salt

3/4

cup

sugar

1

egg

1

tsp

vanilla

1 1/2

cup

flour
Instructions
Preheat oven to 350 degrees.

Grease and flour 4x8 loaf pan.

Mash bananas and stir in butter.

Mix in baking soda and salt.

Stir in sugar, egg and vanilla.

Pour into pan and bake 50 minutes to one hour.

Cool for 5 minutes then remove from pan and cool on rack.
Libby's Pumpkin Bread
Who doesn't love a good pumpkin bread? I never add any raisins or nuts in mine because my kiddos love it just how it is! It makes two pretty big loaves, but I promise it will be gone pretty fast!
Libby's Pumpkin Bread
Ingredients
3 1/2

cups

flour

1/4

tsp.

baking powder

2

tsp.

baking soda

1 1/2

tsp.

salt

1

tsp.

each of nutmeg

cloves, cinnamon

1 1/2

cups

each of granulated sugar and brown sugar

1

cup

vegetable oil

2

cups

pumpkin

4

eggs

1

cup

each raisins and/or nuts

optional
Instructions
Grease TWO 9 1/2 x 5 1/4 inch loaf pans.

Sift together flour, baking powder, baking soda, salt and spices. Add the sugars, mixing well.

Mix dry ingredients with the oil and pumpkin, stirring until well combined.

Add eggs, one at a time, blending thoroughly.

Pour into 2 greased pans.

Bake at 350 degrees for 50 to 60 minutes. Wait 5 minutes then remove from pan and cool on rack.
Other Breakfast Ideas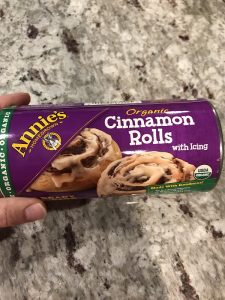 Some other ideas for a warm kid-friendly breakfast are cinnamon rolls in a can (we really enjoy the Annie's brand), waffles or pancakes. We use the boxed Hungry Jack pancake pancake/waffle mix and everyone seems to like it in my family. We usually serve the waffles and pancakes with sausage and hashbrowns. French toast is another good option too! With the french toast I usually cut the bread into 1/3 strips and then make them for the kids. This way it gives them a french toast stick and they can choose to dip it in syrup or however they choose to eat them.
Remember, these are technically "breakfast" food ideas, but I am all for breakfast for supper too! Try one of these warm breakfast recipes for kids–I promise you will be glad you did!
Looking for more fall-inspired recipes? Check out our other posts here!