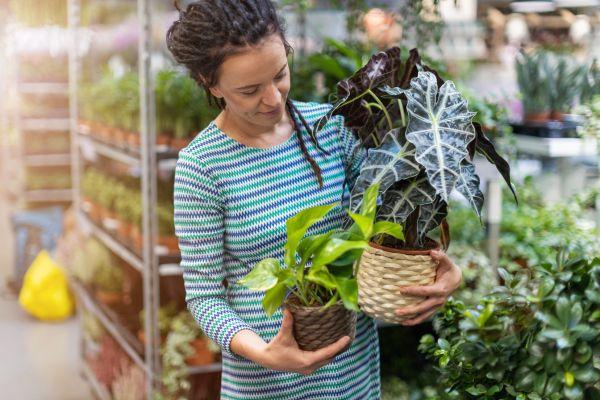 It's time to start planning how to fill planters and what to put in flower and vegetable gardens! Looking for places to shop locally? Here are some great options for plant stores and nurseries in Fargo and Moorhead!
Plant Stores & Nurseries in Fargo & Moorhead
2733 S University Dr, Fargo, ND
Baker's houses an extensive amount of indoor plants, outdoor plants, and gardening supplies. They also offer the opportunity to shop online and host various workshops on plant education. The staff is very helpful and knowledgable, and the large gift shop is full of unique home and gift items.
Two brothers, Kale and Casey McCollum, have partnered up to create this huge "local plant paradise." Their shop is located in heart of Downtown Fargo and offers a large houseplant and pottery selection, along with workshops for plant-lovers.
17 5th St S Ste 1, Moorhead, MN
This store has been in operation since 1975. The focus of their Downtown Moorhead store is on floral arrangements and they offer a good selection of houseplants.
349 Main Ave E, West Fargo, ND
Hildebrant Farm is run by third generation farmers on a small family farm located northeast of Glyndon, MN. They have a local greenhouse in West Fargo where they sell a variety of flowering plants, houseplants, perennials, hanging baskets and pots, vegetable plants, herbs, succulents, and houseplants. Also, they have a fresh fruit and veggie market.
420 N University Dr, Fargo, ND
Holland's has been serving the Fargo-Moorhead area for over 50 years. Formerly located in Moorhead, Holland's new shop is now open in Downtown Fargo! This home and garden store is a fun place to shop and features local plants, home decor, and gifts. And their nursery carries a wide selection of annuals, perennials, trees, and shrubs, and specializes plants that will thrive in our harsh northern climate.
They also offer classes, see their Facebook page for more information on what's currently offered.
300 Sheyenne St, Unit 150, West Fargo
On Sheyenne in West Fargo, this small shop offers indoor plants, mainly cacti and succulants and cute pots to plant them in. The employees are ready to answer questions and offer care instructions for each plant purchased.
605 32nd Ave NW, West Fargo, ND
Specializing in tree care, these "tree health experts" also sell potted trees, perennials, and ornamental grass, great for landscaping projects.
2525 Highway 10 East, Moorhead, MN
Just off Highway 10 in Moorhead, Ole's has been serving the area since 1972 and has a variety of plants, trees, and more.
1702 1st Avenue North, Fargo, ND
Located in Brewhalla in Fargo, the Plant Supply specializes in handmade pots and easy-to-care-for indoor plants. Each plant purchased comes with a set of instructions on care and the staff is ready to answer any questions.
This garden center is just 10 minutes from Fargo-Moorhead in Horace. They offer a large variety of trees, shrubs, and plants!
225 40th Ave W, West Fargo, ND
This boutique store and garden center is located in West Fargo. They offer garden classes and DIY workshops. And the large boutique and market showcases houseplants, home decor, and unique gifts. Trees and other plants are also available for purchase along with bulk landscape materials.
Shotwell Floral & Greenhouse
This locally-owned and operated nursery boasts six greenhouses and 36,000 feet of growing space. Offering flowers, plants (bedding plants, perennials, and annuals), and gifts, they are known for their geraniums, hanging plants, and helpful service.
More Options
Other stores that offer plants include Lowe's, The Home Depot, Menards, and Wal-Mart Garden Center.
Hopefully this list helps you develop your green thumb. Happy shopping and planting!
Did we miss any plant stores or nurseries in Fargo or Moorhead? E-mail us at

[email protected]

and let us know to add them!