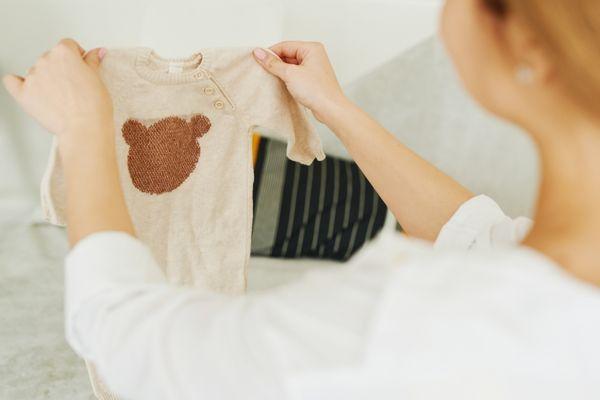 New parents hear this sentiment all the time: cherish those moments with your baby — they grow up way too fast!
And it's the truth. In the blink of an eye, the newborn baby you brought home from the hospital will be running through the house and chatting up a storm.
And they grow up and out of those baby clothes so fast.
That adorable outfit you lovingly picked out seemed to only last a month before it no longer fit. Keeping up with never-ending growth spurts can seem like an impossible challenge, and you may find yourself with bins upon bins of outgrown baby clothes.
If you're anything like me, parting with these baby items can seem impossible, with so many precious memories attached to each onesie and sleeper. Each piece of clothing is a reminder of that special stage of my child's life that is now over, but I still want to hold on to.
So the question is: what to do with baby clothes?
Some families have extra storage space to spare and can hold on to outgrown baby clothes for future generations. Others have success with reselling, donating, or gifting hand-me-downs.
But, if you're like me, and you find yourself having a hard time letting go of those baby items, consider these fantastic ideas for ways to repurpose them!
Ways to Repurpose Baby Clothes
Quilting Squares
A great way to repurpose those first baby clothes is by turning them into quilting squares.  And the possibilities are endless for what you can create! Some ideas include:
Patchwork Memory Quilt
Pillow Cover
Wall Hanging
Baby's First Christmas Stocking
Not only would these projects make great keepsakes of your little one's first year, they would also be wonderful gifts to pass on to your children when they are grown and starting their own family.
If you don't quilt yourself, you can find several online vendors who can create these projects for you. Just send them your materials, and they will do the rest!
Plush Baby Toys
Another great way to repurpose baby clothes is by making soft toys your child can play with.
Scraps of different textured fabrics can be attached to a teething ring to make a great sensory toy for infants. The ribbons make it easy to grab and hold onto while the different colors and textures of fabric keep the little one interested and engaged.
For older children, you can make an activity book out of clothing with buttons, zippers, laces, and snaps. This type of toy is a great way to help develop fine motor and cognitive skills.
And of course, for those who are thrifty with a needle and thread, you can repurpose first baby clothes into adorable stuffed toys for little ones to snuggle.
Upcycled Baby Headbands
Creating headbands out of outgrown pants or shorts is an easy and adorable way to repurpose baby clothes. Simply cut off the elastic waistband and embellish with a fabric flower, bow, or buttons from the remaining material. The finished result is super cute, and much more cost effective than buying brand new.
Bunting Banner
Making a bunting banner from outgrown baby clothes is another great option. You can easily utilize several different fabrics from favorite outfits to make a cute addition to nursery room décor.
Another idea is to use clothes from the first year to create a special first birthday banner.  Not only will the banner make fabulous party décor, but it will also make a great keepsake.
Christmas Ornaments
Another simple way to preserve your favorite baby clothing is by making Christmas ornaments. Simply purchase a clear, fillable ornament and include your favorite pair of mittens, socks, or a baby hat. Include a small photo of your little one as well, and you will have a fantastic memento of your baby's first Christmas!
Doll Clothes
Children learn through play, and dressing up dolls is a great way to foster creativity while developing fine motor skills. But doll clothes can be expensive. Luckily, baby clothes sized preemie to three months tend to be a great fit for a standard 18-inch doll.
Speaking from personal experience, we have had good luck dressing up an American Girl doll with baby clothing from that first month. And seeing your little one play mommy or daddy using their very own clothing is the absolute sweetest.
Memory Bear
This is my favorite way to create a treasured keepsake from outgrown baby clothes — by making a memory bear. Memory bears are made from the clothing of a loved one and are a great way to remember those early years.
If you have basic sewing skills, you can create one of these huggable teddy bears yourself using any number of sewing patterns.
But if sewing is not your strong suit, have no fear! You can send your precious baby clothes to a variety of merchants online who can create a personalized bear just for you.
I hope this post will inspire you to repurpose baby clothes. Not only will you breathe new life into those outgrown items, you will also create a treasured keepsake in the process!