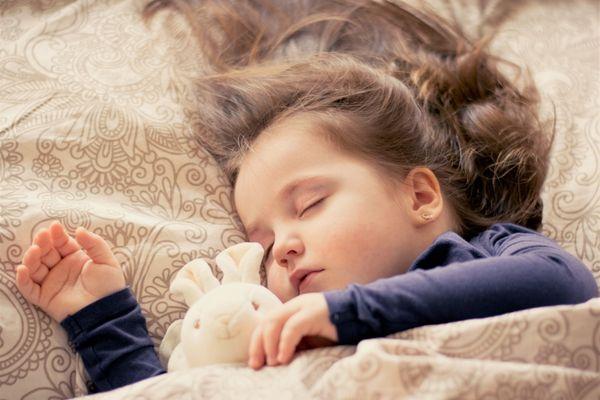 When my twins were born, to say my husband and I were sleep deprived is an understatement.
We tried everything, adjusting sleep schedules, sleep sacks, adjusting room temperature, changing feeds — you name it.
Our son was a great sleeper and much preferred to be in his own crib. But we just weren't able to find a sleeping routine that would work for our daughter, other than having her sleep in our bed.
And thus, we started the journey of co-sleeping.
And this was something I thought we'd never be able to give up. However, by the time our daughter was 2.5, we had another baby on the way. And I knew it was time to end our co-sleeping experience and transition her to sleep in her own room.
At first, I was really nervous for this change and honestly, thought it would be really challenging. But with a few adjustments, the transition ended up being quite easy.
Here are some things we did to help our daughter adapt.
From Co-Sleeping to Independent Sleep
Discuss the situation beforehand.
One thing that really helped was talking about the transition with her, making sure she understood what was happening.
Since we were conversing with a two-year-old, we kept it quite simple. Stating,"In a couple weeks, you will be sleeping in a big girl bed." And, "Pretty soon you will have your very own bedroom and will be able to sleep all by yourself."
She caught on to the concept really quickly and would often bring it up to us at random times throughout the day. Clearly, she was thinking about it and processing in her own way.
We made it a point to often assure her that we would be right down the hall. And would be checking in on her throughout the night.
Get your child involved in the process.
Another way to make the transition easier was to let her pick out her own bedding. We went to the store and looked at different patterns of bedding, and she was able to pick out her favorite one. We made a big deal out of this and talked about it at great length. And told her that she would have a day to go pick out her own bedding in her favorite color. She looked forward to this and brought it up in conversation many times before we actually made the trip.

We were able to show her what her new bed would look like by taking her shopping for a twin bed. Although she didn't have any say in what bed we picked out, she did get to lay on them in the store and get a feel for what a new bed would look like.

We also allowed her a chance to help take down her crib and set up her new bed. This was a really exciting part of the process for her. She loved being involved in every step, and it really made her first night of independent sleep in her new bed a breeze.

We found that after talking about it for a few weeks and then following through with these steps, we were able to transition from co-sleeping to independent sleep quite easily. She never once asked to be back in our bed and now tells us, "I will call you when I need you, mommy and daddy."

While I wouldn't give up a single night of co-sleeping, I am grateful for that our co-sleeping journey ended on a positive note.