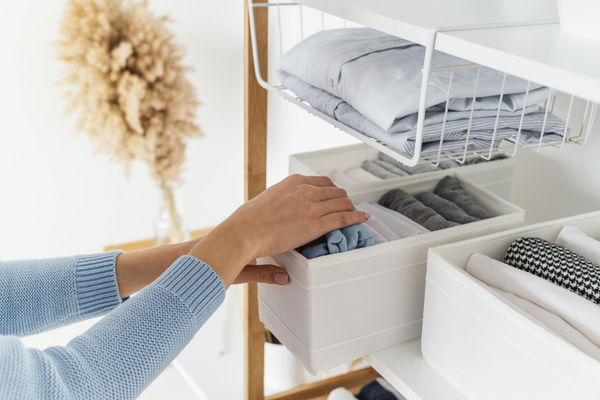 I can't be the only one.
I can't be the only person who finds peace in
organizing chaos
. Looking at a mess and rearranging all of the stuff feels natural to me.
I've been called an anxious control freak. And maybe I am. So what?
I function better when my life and surroundings are organized. Clutter feels like chaos.
Chaos feels overwhelming. Being overwhelmed doesn't bring out the best in me.
Last week I organized this bathroom closet. I threw away crap I haven't touched in forever. I cleaned. I sorted. I labeled.
I don't need a psychology degree to understand I do this to take back some control in my life. It brings me peace when so much feels uncontrollable. And that's how it felt last week.
My kids were going through some sort of stage, as they always seem to do. I had some stressful challenges at work without ideas for solutions. My hubby and I were irritated with each other (because we have a normal marriage).
And all of a sudden I was transitioning from planning summer fun to preparing for our oldest to go to kindergarten.
When times are overwhelming and I don't know where to begin, one of my coping mechanisms is to fervently organize something. Almost with tunnel vision. I have since I was a kid.
Compulsive? Excessive? Whatever you want to label it, I don't really care.
I am an efficiency-finder, puzzle-solving, accomplishment junkie. And so, last week, I I freaking dominated this closet. And I have no shame.
It felt good. And I'll do it again.