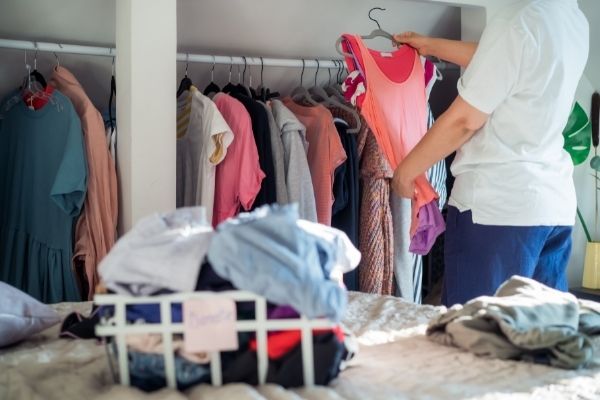 Looking to declutter your life? It all seems like fun and games on The Home Edit, but it can be a daunting task.
Here are some tips for decluttering to get you started, AND keep you going!
Decluttering Tips
Make a Plan.
This is by far the most important part. You'll want to write down what your goals are and your timeline.
Are you just trying to tackle one room? The whole house? Carve out some time to really think this through.
Break it down.
You'll also need to break down larger tasks into smaller steps. If you want to "clean out the basement," this is likely not a one day task. It should be broken down into small sub-tasks like,"pick up the trash," "move sports equipment into garage," or "fold and put away laundry."
It's also important to estimate how long each task might take. This way you'll know if you only have the time or energy for 30 minutes of work, you can pick something off the list that will take 30 minutes or less.
Make Cuts.
When sorting through tons of stuff, the easiest thing to do is keep it simple for the first round. Everything you touch goes through a filter system of, "definitely trash," "Definitely keep," and "Maybes."
Once round one is done, you take care of the trash, put aside the keep items, and make a second round of cuts with the maybes.
Continue with this pattern until you have a manageable pile of what you plan to keep, donate, or sell.
Schedule it.
A big task like, "clean out the basement" can be overwhelming. It helps to have a calendar in front of you to map out what day/times you can dedicate to working on that specific task.
Now that you've created your smaller sub-task list with time stamps, this will make it easier to know when and where to add in each small task.
Here's are some examples:
Clean out the basement: 2.5 hours.
Throw away obvious garbage: 15 minutes.
Collect clothes to deal with later: 15 minutes.
Sort kids toys into "keep, donate, sell, trash": 1 hour.
Sort clothes into "keep, donate, sell, trash": 1 hour.
Potential Roadblocks and Strategies.
When we have too much clutter in front of us, it creates chaos and we tend to overwhelm and shut down. It can help to just move everything to one side of the room to have a clear workspace.
We can't start a task if we don't have all the materials we need. As part of your "Make a Plan" step, make sure to add what you'll need. This could be storage bins, trash bags, cleaning supplies, etc.
Sometimes we just don't know where to start. This is when the list becomes helpful. If it's still not clear, just use the clock strategy; start in one corner and work your way around clockwise.
If you're really feeling unmotivated, set a timer for 10 minutes and see how much you can get done before the time goes off. Know that you don't have to work past 10 minutes but oftentimes once we start a task, it's much easier to keep going. *See Physics 101: objects at rest, stay at rest; objects in motion, stay in motion.
Stay organized and on track. Have your game plan posted somewhere you can visually refer to it and check off boxes as you complete tasks. You can always move tasks to another date but make the adjustment to reschedule. This not only helps with keeping track of everything but seeing your progress helps keep you motivated!
What are some of your best decluttering tips? Let us know in the comments below!