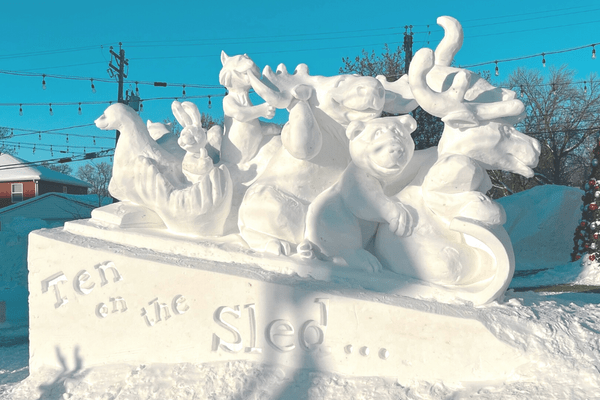 Looking to get the kids outside? Then check out these local snow and ice sculptures!
Where to See Snow & Ice Sculptures in Fargo & Moorhead
Viking Ship Park in Moorhead
Please note these are currently being worked on this week and will be ready by January 28th. 
The Moorhead Business Association's Snow Sculpture Contest takes place each year as a part of Frostival.
the 10 foot tall hand-carved snow sculptures at Viking Ship Park from January 28th on! These pieces of art are created during the week leading up to the Fun at the Fortress event, with a lot of time, effort, and passion.
View the snow sculptures and vote for your favorite! Voting will take place from 11:00 a.m. – 2:00 with the winners announced 2:30 p.m. And enjoy outdoor games, a hot cocoa station, and marshmellow roast
Support the artists and celebrate winter in Moorhead!
Heading there in the evening? Don't forget to enjoy the beauty of Mary's Tunnel as well!
POW/MIA Plaza in West Fargo
Head out to West Fargo to see snow and ice sculptures created by local artists. The sculptures have been on display since January 14th as a part of the Snow Much Fun event at the POW/MIA Plaza.
The scene was inspired by the childrens book Ten on the Sled. And it features a large snow sculpture with ice scuptures of animals surrounding the main display. The idea came from the West Fargo Public Library staff ha brings the popular story to life.
Check out these cool carvings!