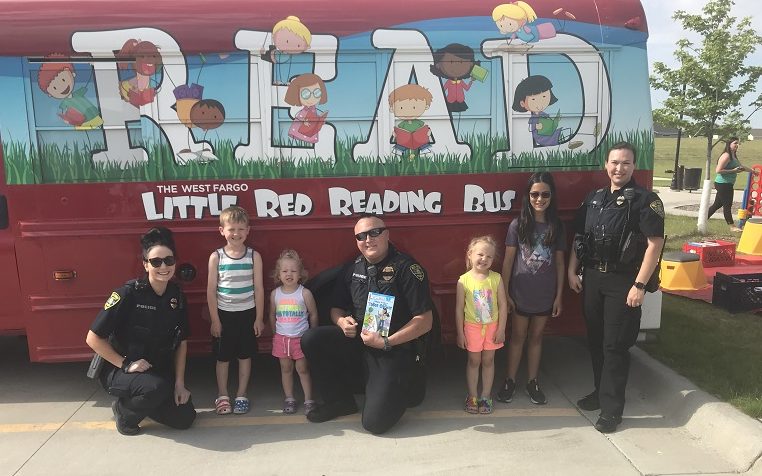 Summer is here and I know many of us are trying to figure out how to keep our kids engaged in reading. Enter the West Fargo Library The Little Red Reading Bus!
It is by far one of our FAVORITE weekly summer activities.
What Is The Little Red Reading Bus?
The Little Red Reading Bus is a pop-up library that makes one-hour stops at eight of the local parks in West Fargo during the summer.
They have books for all different age ranges, from baby board books to chapter books for older kids.
My kids love to sit in the bean bag chairs or one of the colored circle seats and browse different books they have in their bins.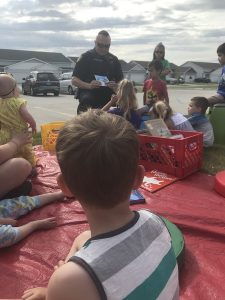 Where Does It Stop?
The eight weekly stops are:
How Do You Check Out a Book?
In order to check out a book from the Little Red Reading Bus Library, you need a West Fargo Library card.
It is super easy to do! Just go visit the West Fargo Public Library in person or sign-up for it online.
Just like any library book, you bring it back the next week at any of the Little Red Reading Bus stops!
Pro-tip: Get a little bag/backpack that you can keep your library books in and card to keep everything in one spot for easy transport!
What We Love about It
Everyone who helps out at the Little Red Reading Bus is super nice. They usually have volunteers that read a story at each stop.
Sometimes they will even have extra special volunteers such as the West Fargo Police or other community organizations. My kiddos loved when the police handed out little goodie bags. Also, the kids got a chance to look in their police cars.
Along with the books, they usually set up a couple other activities for the kids such as chalk and games, a giant Jenga set, and little take home packets of fun activities to do.
Go check it out this summer! You won't regret it!