Disclaimer: The information and other content provided in this article or any linked materials are not intended and should not be considered, or used as a substitute for, medical advice, diagnosis or treatment. Please consult with a medical provider before pursuing medical treatment of any kind.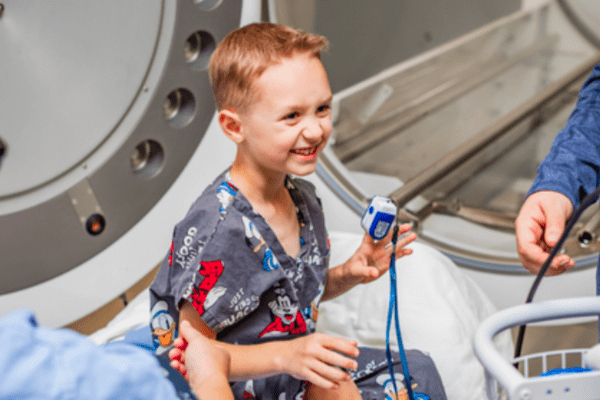 Back-to-school time is here, and we want to ensure our kids are feeling their best selves so they can learn and grow in the new school year. But sometimes previous injuries (particularly if they've had a head injury) can lead to increased inflammation. This can then result in difficulty focusing at school.
Healing with Hyperbarics, a local provider that offers hyperbaric oxygen therapy, is on a mission to ensure kids are "brain ready" for the school year! Like many moms, we were new to the idea of hyperbaric oxygen therapy and had some questions.
We went straight to the source and asked these top questions when it comes to considering hyperbaric oxygen therapy for kids.
Hyperbaric Oxygen Therapy: What Is It?
Hyperbaric oxygen therapy is a procedure that uses 100% oxygen and pressure to increase the amount of oxygen dissolved directly into the blood. This oxygen then travels to all the cells in the body, providing them with oxygen and nutrients they need to function.
What can Hyperbaric Oxygen Therapy help with?
In the short-term, hyperbaric oxygen helps to decrease inflammation. This can treat concussions or post-concussion syndrome, post-COVID long-term effects, chronic pain, and pre and post-surgery treatments to help decrease recovery time.
Is it FDA approved? Is it covered by insurance?
Healing with Hyperbarics has both FDA and non-FDA approved treatments. This means the clinic is able to research areas of hyperbaric medicine that are not yet accepted by the FDA.
FDA-approved treatments include post-radiation treatments, diabetic foot ulcers, frostbite, and carbon monoxide poisoning. Most insurance will cover these FDA-approved treatments for patients.
Non-FDA-approved treatments (but research continues) include concussions and other brain injuries, post-COVID symptoms, chronic pain, Lyme disease, sports injuries, pre and post-surgical treatments for decreased recovery time, and overall wellness treatments. Healing with Hyperbarics has treated over 1,000 concussions in their clinic, and have seen first-hand the positive results from treatment.
Note that non-FDA-approved treatments are the patient's financial responsibility. Treatment cost ranges from $225 to $395 per treatment. They offer payment plans to help cover the cost of treatments.
How does Hyperbaric Oxygen Therapy heal the brain?
Our brains are a fixed space because of our skulls. When we have an injury to the brain (like a concussion), it causes the brain to swell and inflammatory pathways to fire.
This is similar to an ankle sprain and the physical swelling you see afterward. The problem with the brain is that we cannot rest and elevate it like we can with a sprained ankle.
When our brain cells become "injured" or inflamed, they need more oxygen and nutrients to recover. But the inflammation in the brain doesn't allow normal blood flow, further decreasing the oxygen and nutrients getting to that area.
Hyperbaric oxygen gets a surplus of oxygen and nutrients to the area, allowing the body to turn off the inflammatory processes, repair the cells, and get them back to high-functioning.
Can kids receive Hyperbaric Oxygen Therapy?
Hyperbaric oxygen is an option for children, because it's a safe treatment that is able to return the brain and body back to balance. Also, it has minimal side effects (the main one being an increase in pressure leading to ear popping, like when flying on an airplane).
Treatments for children mainly include concussions or other brain inflammation, but may also include sports injuries and broken bones.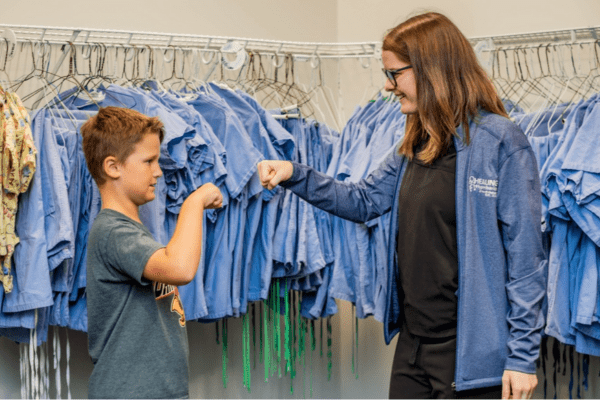 Are ongoing treatments needed?
The goal with hyperbaric treatment is to treat the inflammation completely, so that the body turns off the inflammatory pathways. This means that maintenance or regular treatments is not usually required.
What benefits in do kids see in school and daily life after treatment?
Some symptoms of long-term brain inflammation are emotional difficulties, concentration and focus difficulties (including challenges with ADHD or reading), as well as headaches, sensitivities to light and sound, and sleeping difficulties. Hyperbaric oxygen therapy can help improve all of those symptoms.
As a mom, you may notice improvements in your child before they do. Our goal is to restore the child's brain back to its optimal functioning. So they are able to function better, read and learn better, and experience improvements in sleep as well as day-to-day life.
What does treatment look like?
All new patients schedule a consultation before beginning treatments. In that hour-long consultation, you will meet with Dr. Luistro, Healing with Hyperbarics Medical Director, and go over the benefits and risks of hyperbarics as well as a full medical history.
Trained medical professionals administer treatments, a physician supervises all hyperbaric treatments. Hyperbaric technicians run the chambers and will be with you throughout the entire treatment. They are EMT or paramedic certified and have a hyperbaric certification.
Parents can be in the chamber with their child.
The hyperbaric chambers in the clinic are the largest single person chambers, and can accommodate a child and their parent. Many kids like to have a parent or older sibling with them and some will graduate to doing treatments by themselves. You know your child best, so if you think it's best to be with them during treatment then they will accommodate that.
Then for the duration patients watch TV (they have almost all of the streaming services and will find something that you or your child likes to watch). Hyberbaric technicians are always right there if you need anything and there are phones outside of the chambers for technicians to talk to patients during their treatment.
How long is the treatment time?
Treatment length depends on what we're treating. "Brain treatments" are one-hour treatments with lighter pressures. They are beneficial for any inflammation of the brain, including a concussion, PTSD, mental health, or general wellness.
Two-hour treatments are referred to as "body treatments."They are beneficial for any acute or chronic pain in the body, as well as pre and post-surgery to boost recovery.
During treatment you will lie in the hyperbaric oxygen chamber on a padded cot with pillows and blankets. You will also have a water bottle to drink from to help clear your ears.
How do I find out more?
If you are curious if hyperbaric oxygen therapy treatments may help your child, call Healing with Hyperbarics at 701-203-3906 or visit healingwithhyperbarics.com. They are available to educate on changes in the brain after injury and also provide treatment to restore the brain back to its optimal functioning!
For more information or to set up a consultation, please contact Healing with Hyperbarics at (701) 203-3906.