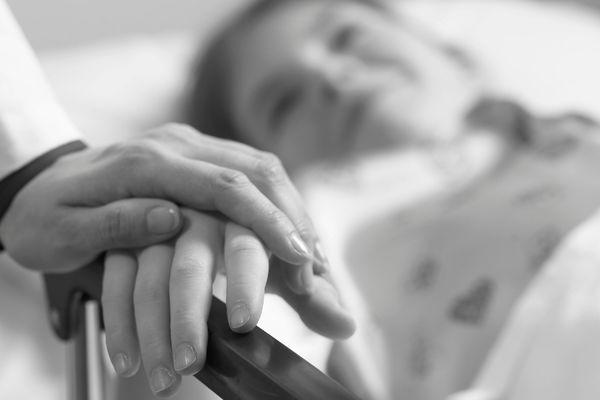 My 13-year-old, Marie, was diagnosed with Hodgkin's Lymphoma in February 2022. 
I didn't know how to parent after that devastating blow. Marie forgot how to be a kid.
But I am so grateful to her friends and their parents. They did the right things; they showed up. They supported her and they supported me.
And it can be weird to reach out to your friend who has cancer, particularly as a 13-year-old.
What do you say? Is it rude to ask about it? Is it rude to ignore it? Or, is it rude to talk about school/basketball/parties when she can't go? Is it ok to visit or should we keep our germs away?
As an adult, I've read books on how to support people through difficult times (and would recommend Everything Happens For A Reason: And Other Lies I've Loved by Kate Bowler).
And we certainly need to help our kids support a friend. But we can't expect kids to just know what to do.
Help your teenager be a good friend to the sick teen (make them if you have to).
When my own daughter was diagnosed with cancer, I realized how my older teen and I had dropped the ball with one of her friends who had been diagnosed with cancer two years prior. I sure wish I had known, and followed, these tips to help her sick friend.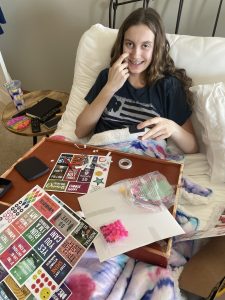 How to Help a Kid with Cancer
I've learned these tips from people helping our family, people I didn't know before Marie was sick. Also, your child does not have to be best friends with the sick child. 
1. Check in
Phone calls, Facetime, texts. A call from anyone helps pass the time. You can literally feel the support when someone calls to check in.
Encourage your kids to reach out. It will be weird, for a moment. But having cancer is weirder. Calling their friend won't be as weird as having cancer; your child will recover.
Parents, want to help the child's mom? Check in with their sick child as well. You could even get the child's phone number. Give them a call and/or texts. Facetimes are great. Support the child's mom by connecting with their kid. 
Marie's friend's dad sent her dad jokes. They were so silly and funny and we were always excited to see the latest joke. 
2. Visit
Again, you don't have to be best friends with the sick child. Moms and daughters from basketball teams that had played my daughter stopped by with goodies, and we had never met them! Friends from early elementary school that she really hadn't seen much in the past few years stopped by.
And her good friends stopped by with their parents quite a few times. Her basketball team stopped by on the way home from practice and brought her an ice cream treat.
As a mom, I will never forget the people who came to our house to see her those first weeks. It was such a comfort. 
Things to think about
What about germs? Parents will tell you if the child isn't allowed to have visitors. Offer to meet outside, and share that you will cancel if anyone is sick.

Ask the parent ahead of time how long of a visit the child can handle. If they aren't feeling well, the visit may need to be brief. But still visit!

Send your child over on their bike, or have them drive and stop by. Send a little treat if the kid needs a reason. It doesn't need to be a formal plan or all-day event. Have them come in and see some of the recent gifts the child has received. If the child can't have visitors inside, they can hang out outside with the sick kid for a bit, shooting buckets or just sitting on the patio chatting. Could it be weird? It might. But it won't be as weird as having cancer.
3. Gifts
Cancer sucks. Gifts do not suck. Try to ask the parents what the child is wanting, or what she's received a lot of. Gift cards are great. Hot, trendy items are also great.  
And keep them coming. Or maybe just visit or send a card at first, and drop off a gift in a month or two. Nothing makes coming home from an appointment at Roger Maris better than seeing a package or basket delivered to the front door. 
Gift Ideas
Marie mentioned to a friend's mom (who texted her to check in quite often) that the doctors told her she had to drink a lot of fluid to flush the chemo out of her system. This smart mom asked her what she liked to drink, and Marie said Bubblers.
The mom supplied her with Bubblers throughout her six months of treatment. She would check in with Marie now and then to see how she was feeling, how the Bubbler supply was, and what flavors she was wanting. And then she and her daughter (Marie's friend) stopped by about once a month with the deliveries, giving them a great reason to visit for a few minutes.  
Also a subscription to IPSY, a little make-up delivery, was a fun gift to receive each month.
It's difficult to answer every text, particularly at first. Encourage your kids to read about how their friend/classmate is doing. Or read it to them and explain to them how the person's doing. 
One of Marie's friends read all the posts. She always knew how things were going. And it was such a nice way to show she cared.   
5. Wear a Mask
If it's not needed, the parent will tell you. Better yet, you and your child get vaccinated against whatever you can.
Chemotherapy wipes out a child's immune system, so it's good to be conscientious. It took my daughter three weeks to recover from the common cold — a rhinovirus. 
Kids receiving chemotherapy can't fight off viruses like they could prior. Yet we parents of kids with cancer often pick the risk of them contracting a virus over not having visitors.
If you're not vaccinated, it doesn't mean you shouldn't visit or stay away — the sick child has already had plenty of things taken away. But it is a way to be a good friend, to try to help to protect them when they're own body can't.
6. Invite Them to Events
Everything in a child with cancer's life is immediately canceled — sports, trips, activities,  often school. And that creates a lot of boredom. But a small group or just one to two kids is usually safe and allowed. And getting out of the house for an hour or two is a gift in itself!
Here are some examples of fun things Marie's friends/friends' parents planned:
Ideas
Pre-chemo party. 

Her basketball team planned a party of bowling, games, escape rooms, and pizza at King Pinz. And that gave me time to just sit at home and rest while we got ready for the first chemo. 

Horse show/horse riding.

Marie is really into horses. Although the doctors made her stop being around horses at some point, it was a great activity to pass time. So her friends' parents who had a horse or took lessons took Marie with for a show and to the barn. 

Making clay pots.

One mom (an art teacher) took Marie and the friend to use the pottery wheel, then had her back to paint and pick out plants another day. Also she did this in month five of treatment, but had mentioned it to her earlier. So it was nice to have some of the fun spread out.

An outdoor birthday party.

Some parents invited my husband, me, and Marie to an outdoor birthday party at their lake, just for the day.
7.  Go Back to Normal
This is the part the kids are excellent at. Although it might even be easier for 12-year-olds than at 17 or 18, because they really can only think about other people for a limited time. Then it's back to ME, ME, ME!  
I remember listening from the other room as Marie's two best friends played Roblox or something with her the day after we had told her friends she had cancer. They were just laughing and yelling, and for a moment, it was as though cancer had disappeared. And it was such a relief.