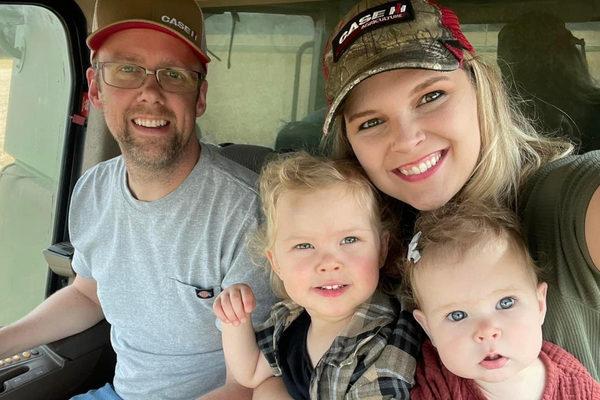 In October 2021, I gave birth to our second daughter. We anticipated having two kids under the age of two would be challenging, but then shortly after we brought home our new baby girl, our household got COVID.
It was a difficult season for our family. A few weeks passed and we recovered, thinking we could get back to the grind of daily life.
But we were not prepared for what came next. We weren't prepared for things to become even more challenging.
Throughout my pregnancy, my husband, Jordan, was experiencing some unusual "bathroom" symptoms. So, he visited the walk-in clinic and was told it was nothing more than internal hemorrhoids. To go home and notify them of changes, but otherwise resume daily living.
Jordan was a healthy 34-year-old and had no indication of anything else being wrong. However, after our daughter was born, he continued to have daily symptoms, that had now stretched over a span of three months.
"This Looks Like Cancer"
The symptoms didn't resolve. And we advocated for him to get a colonoscopy. On the day of his appointment, we were hopeful we'd receive more information about his symptoms. Initially, we suspected polyps, but were unprepared when the doctor came back into the room and said, "I'm going to be honest, this looks like cancer."
The following weeks were emotional and busy with follow-up tests. And in February 2022, my husband was officially diagnosed with stage three colon cancer and is now participating in a medical immunotherapy study at the Mayo Clinic.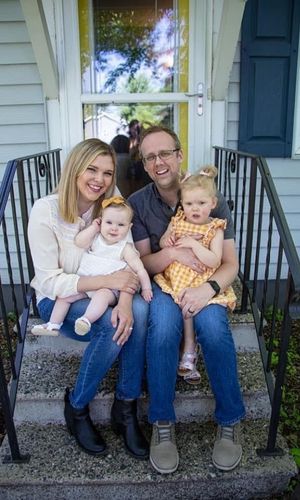 It's been a hard season with two young children, a cancer diagnosis, traveling for his treatment, and even moving into a new home. Fortunately, many of our friends and family have surrounded us in love and support. And we're grateful for the help we've received over the past six months.
This season has given me a fresh perspective on how to serve others when they're having a tough time. Below are ideas you may use to serve others facing hardship. A lot of these have been ways our family has been served during our hard season.
How to Help During Hardship
1. Send Words of Encouragement
Hardship can feel lonely. And checking in can make a bigger impact than you may think. Just knowing you're being thought of or prayed for can offer a lot of encouragement and support.
Things to say:

"How are you doing today?"
"I'm thinking of you. You are brave."
"Your family is in our prayers/thoughts."

Or, send an inspirational quote or Bible verse. Send something that might make them laugh: a GIF, TikTok, Reel, etc.

And it's also okay to not know what to say. Even something like, "I don't know what to say, but I'm so sorry you're facing this. I'm thinking of you," can be helpful.
2. Organize a Meal Train

One day, a friend from church called to ask if anyone had started a meal train for us. I had never even heard of a meal train.
We were in and out of doctor visits at the beginning of Jordan's diagnosis, which made grocery shopping and cooking meals a challenge.
This website is an excellent tool to help organize meal drop-offs for families or individuals in need. Also, it's a free resource and can help ease the burden of meal prep and cooking.
One of the kindest gestures we received was when someone provided Olive Garden for us on our anniversary, which happened to fall in the same week as all of Jordan's scans.


3. Offer to Do Something Specific

Although saying, "Let me know if you need anything" has good intentions behind it, it's a bit vague and can feel overwhelming to respond to.
We didn't always know what we needed and it was hard to ask for help. Overall, I found specificity to be more helpful and easier to respond to.
Of course, we were grateful for any support, but sometimes a family facing hardship needs direct, practical, and specific help.

Alternative things you can say:

"What's on your grocery list this week? I'll add it to my grocery pick-up!"
"Who is watching the kids during appointments? Do you need childcare help?"
"I'd like to send you a gas card, what is your address?"
"What are some meals your family enjoys? I'd love to drop something off."

Don't be afraid to just jump into action. More than likely, something that may seem small to you, can make a big impact for someone going through a hard time.

4. Offer Household Support

As most of us know, running a household — especially with children — is challenging. Add in a medical emergency, diagnosis, death, financial hardship, etc. and it can seem impossible.
Household support was something I struggled to receive help with. I didn't like being vulnerable to someone seeing our mess. However, looking back, I wish I'd either asked for more help or been better at accepting help.
If someone is facing a hardship, you could offer to clean, do their laundry, tend to the yard work, grocery order pick ups, etc. Again, being specific can be helpful. Try to make it an easy "yes" for them.
For example, one of the sweetest gestures a friend did for us was to stop by our home to clean, placing Bible verses around the home to encourage us.

Here are other ideas you can try:

"I know you have an appointment on Thursday. Is that a good day for me to come by and mow the lawn while you're out?"
"Let's watch your favorite show tonight. I'll come over and fold socks!"
"I'll be in the neighborhood on Tuesday. Can I take the kids to the park nearby?" (This is a good one if you know they'll insist on their own housework but need the time/quiet to do it).
"I'd like to help you clean this week. What's a list of some tasks I can help you with?"


5. Travel Support

We do a lot of travel for Jordan's treatment since it's in Rochester, Minnesota. And a huge blessing to us has been travel support.
Does someone in your life need to attend a lot of appointments? Do they have to travel for a funeral or other family concerns? Perhaps a gas card, an Airbnb gift card, or a Visa gift card could be a practical way to support them.
You could also offer to drive a loved one to their appointment.
Or, perhaps someone from out of town needs lodging, a meal, coffee, or even just a nice space to do diaper changes. Extend the invitation, even if you think they already know they're invited. The family or individual might not want to impose, or feel comfortable asking for help.

6. Send a Little Gift
When my uncle passed away, I sent my aunt a journal and candle. As a gift-giver, I didn't know if it would be helpful, and it felt like a small gesture.
She has since told me that the journal offered her a lot of comfort. Sending a random gift can be a sweet gesture. And a lot of websites make it easy to directly ship your gift to the loved one.
You don't need to spend any money either! Have your kids draw a picture or make a craft. Or, use your own talents to make something thoughtful. Even a small gesture can show that you care.

7. Listen With Compassion

A listening ear can mean a lot in a hustle and bustle world. If your loved one is going through a hard time, offer them a safe space to decompress, process, etc.
Try to set aside any distractions and position your body to face theirs. And keep in mind the importance of body language when listening.
If you're engaging in a phone call, try to minimize distracting noises. Then when listening, try to resist the urge to give advice or offer solutions unless they're asked for. Listening with compassion might just mean giving empathetic responses. Such as:
"I'm sorry this is happening to you."
"You're feelings are safe here. I will listen."
"This sounds like a hard time for you."

Overall, try your best to practice active listening. This will help them know you understand and hear what they had to say.

8. Encourage Physical Movement

Ask them to join your family walk or playtime at the park. Invite them to spin class. Ask if they could use a quick 15-minute walk.
Find ways to encourage physical movement. When someone is down in the slumps, even a short walk can boost their mood.
If they say no, try to gently invite them again. There were times, my husband was anxious about his diagnosis and felt glued to the couch in anxiety. A gentle, "Let's just go for a walk around the block," may help the person feel lifted from the fog.
It can be difficult to see a loved one hurting. And sometimes it's hard to know what to say or do.
These last few months, we've been supported in simple, yet impactful ways. We know others face their own hardships, and it means a lot to know others are thinking of us.
If you have other ideas on how to support a loved one, drop a comment below!
And if you have a loved one who needs professional support, see our post on Counselors in Fargo-Moorhead.