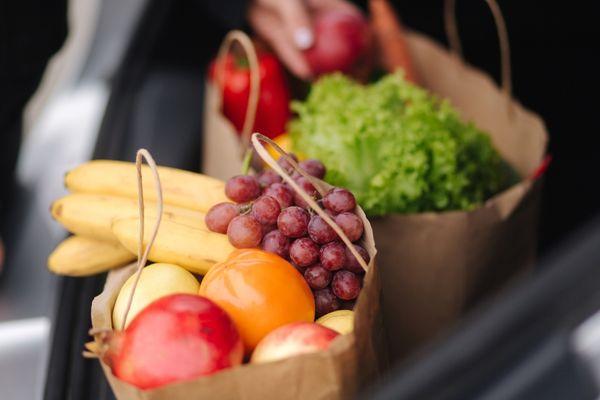 March 2020 was memorable for many due to the pandemic and the drastic changes it brought to our day-to-day lives.
For me, it was life-changing for many reasons. I had my first baby and our support system was unable to physically be with us, due to health guidelines at the time.
It was a unique and stressful time to be a new mom.
Then, shortly after our daughter was born, my husband was furloughed. We had savings at the time, but decided to pay off the hospital bills from the birth.
And this put us in a tight space financially.
Asking for Help

It can be difficult to accept help or seek it out. Shame or embarrassment may keep you from reaching out. I know that's how I felt when I started exploring the idea of using a food pantry in the months following our daughter's birth.
I used the local food pantry twice in that time.

Before my first visit, I called the pantry and asked to speak to the food pantry coordinator. I asked her shyly if they really would have enough for someone like us, meaning we weren't homeless, we had a means to income but things were just a little difficult with a new baby and restricted income. The last thing I wanted was to take food away from anyone else who may not eat at all that day.
The coordinator was so kind. She encouraged me, saying that in times like this in our life, is exactly why the food pantry exists. So they can help families and individuals who need it.
She said no explanation was needed and that we should feel completely at peace being served in our time of need. The phone call made me cry. Shame lifted and I drove to the pantry. I brought home a mix of pantry staples: fresh fruits, vegetables, dessert, and bread.
It wasn't just food, it was a blessing.
And I want to offer the same encouragement to you if you find yourself in a time of need. Don't wait until the bills are piled high and you're drowning.
It's okay to take the help now if you feel it's something you or your family needs at the time. It's not a handout, it's peace in a time of need.
I'm now able to look back on that time and reflect what it meant to me. It's encouraged me to be more giving when I'm able. It reminded me to be generous and donate food items to pantry collections in the community. And it's given me perspective, especially toward new parents. Sometimes a home-cooked meal, dropping off some pantry staple items or a pack of diapers, is really more helpful than you think.
So don't be afraid to ask for help if you need it. And if you're in a position to donate time, money, or food, please do. It can make such a difference for a family in need.
If you'd like to donate to the local food pantry, or need to use their services. Here are some food pantries in the Fargo-Moorhead area:
Food Pantries in Fargo-Moorhead
(*at Ruby's, you have to pay for it but you get quite a bit of food).