You've done it. You've finally made the decision to add a furry loved one to your family. Congratulations! So now you may be thinking, "Where do I even start adopting a pet in the Fargo area?"
We've broken down all the locations for adopting a pet in Fargo-Moorhead for you, as well as tips on how to start the pet adoption process. So do your research, review your options, and get ready to add more love to your family!
Adopting a Pet in Fargo-Moorhead
A non-profit founded in 2005 and based in Fargo, 4 Luv of Dog Rescue has remained a fully volunteer-run and community-supported organization that has dogs available for pet adoption. They are a foster-based rescue that maintains a facility in Moorhead that provides emergency-only housing for dogs until a foster home can be secured. As of 2020, 4 Luv of Dog Rescue has saved about 5,000 dogs. Here is a photo of our rescue dog, Luna, whom we adopted as a puppy from their great organization.
Based out of Moorhead, this organization has cats and dogs available for adoption. They are a non-profit and completely volunteer-run, but do not have a shelter. Instead, the animals live in foster homes until adoption.
Adoptable cats live in colonies of 6-10 in individual units based on compatibility. A core group of shelter volunteers care for the cats in Fargo. Young kittens live in private foster homes, where they get 24 hour care and lots of love and attention. From there, they go to their "furr-ever" homes. Cat's Cradle Shelter is currently funded 100% by donations, fundraising, and pet adoption fees.
This organizations has cats and dogs available for pet adoption. They are a 100% volunteer-run organization that depends on foster homes, volunteers, and generous community donations to continue saving the lives of animals.
This is a local and community-funded, non-profit animal shelter located at the Yunker Farm in North Fargo. It provides a second chance at happiness to lost or abandoned animals and educates the community in the proper treatment of animals. Additionally, Homeward Animal Shelter is committed to preventing animal overpopulation and spays/neuters all animals 6 months or older before pet adoption. Since its inception in 1966, they have placed over 35,000 animals in lifelong homes.
This organization has cats and dogs available for pet adoption (barn cats, too!). Based out of Grand Forks, they accept strays and owner surrenders from ND, MN, SD, and occasionally outside areas. The cats/dogs stay in foster homes receiving medical care and learning to be a beloved family member until they are ready to start their new journey in their forever home. They also work with other rescues to get animals to safety and transport hundreds of animals a year to partnering rescues in MN, ND, and WI.
Located on 13th Avenue in Fargo, this is a pet store that facilitates pet adoption by supporting Cat's Cradle Shelter. They house and care for adoptable cats and kittens, and you can visit them in the store. All cats have been vet checked, tested negative for FIV & Feline Leukemia, have age appropriate vaccines, are microchipped, and most are spayed or neutered before being adopted.
This is a pet store located in West Fargo that hosts 4 Luv of Dog's Rescue on scheduled "meet and greet" days, giving perspective adopters a chance to meet some of the dogs available for pet adoption. Follow 4 Luv of Dog Rescue on Facebook to receive notifications about upcoming events. Pet Smart also has cats available in-store from Homeward Animal Shelter, Crazy Cat Lady Rehoming, and Humane Society of the Lakes.
Cats and dogs are available for pet adoption from Turtle Mountain Animal Rescue, where they stay in foster homes primarily in Fargo/Moorhead and Grand Forks. Founded in Rolla, ND, TMAR is primarily volunteer-based. They serve a 2,000 square mile area, and rescues 70-100 animals each month. Most of the animals they rescue are homeless, but some are owner surrenders. Therefore, all need vet care, shelter, food and compassion until they find a home. TMAR often holds animal "meet and greets" at local events and/or businesses, which gives people a chance to meet a dog prior to applying to adopt. Follow their Facebook page for details.
Other Surrounding Area Pet Adoption Options
Circle of Friends Animal Shelter (Grand Forks)
Humane Society of Ottertail County
Humane Society of Richland/Wilkin Counties
Humane Society of the Lakes (Detroit Lakes)
Marshmallow Animal Shelter (Detroit Lakes)
Prairie Paws Rescue (Jamestown)
How Do I Start the Adoption Process?
Where do I start?
Firstly, fill out an application to adopt. Applications for adoption usually cost $0-$30 you only fill it out once. If you don't end up adopting an animal through that rescue, you can consider it a small donation. Once you are approved as an adopter, you move forward with meeting an animal and connect with the foster owner. You then arrange when you can visit an animal you are interested in. Having the application process completed first can help you adopt the pet you've been patiently waiting to see.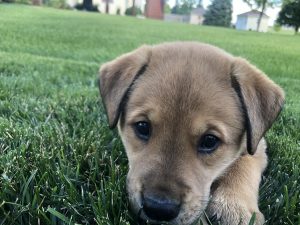 How can I meet a dog?
Approved adopters are able to set up a meeting with a foster owner and the dog. Also, meet and greets, as listed above, offer opportunities for meeting the pets.
What happens at a home visit?
Most organizations do require a home visit (or a virtual home visit) to ensure a good fit between the dog and potential adopter. Rescue organizations want success for the dog and for the people adopting the dog. The home visit is not so much to judge every little nook and cranny of your house and personal life, but to assist adopters in getting a dog that will best fit their lifestyle, home, and family. Also, all pets in a home will be spayed or neutered prior to approving adoption.
Can I do a "trial run" with a pet? 
Some rescues allow this, but you can avoid pet return with home visits, meet and greets, and communication between the foster owner and potential adopters. Once you are approved to adopt, you are under no obligation until you've been determined a good fit for the pet and your family.
What is the cost of adopting a pet in Fargo?
Most dogs/puppies cost approximately $200-$300 to adopt, but some dogs are less. Cats range from $25-$140. Dogs and cats old enough are always spayed or neutered prior to adoptions. The adopter agrees to have the adopted animal spayed or neutered if a puppy or kitten is adopted prior to the sterilization occurring. Some rescues return a portion of the cost of adopting the puppy/kitten after providing documentation of the spay/neuter.
Need assistance in paying fro the spaying/neutering of your pet? Then check out Minn-Kota PAAWS. 
So there you have it, all the local shelters in one place for you to find the right organizations and pet for your family. Happy adopting!