There is just something about fall. The crisp weather, the reminder of how fast the kids are growing, holiday card season right around the corner… it always seems like a great time to capture fall family photo. When is comes to taking fall photos in Fargo, our neck of the woods has some great spots to take advantage of beautiful, natural settings. 
These days, taking family photos can be as formal or as informal as you want. Family photos can run the range of capturing the perfect picture to hang on your wall to a quick snap to upload to Instagram. But whether you've booked a photographer or prefer to snap your own pics with your phone or the help of a friend, you need a fantastic location for your photo shoot. 
Location is key because you'll want everyone to be relaxed and having fun. The kiddos usually won't stay photo-ready for long, so it's important to pick a place that's easy to get to without long car ride meltdowns or impromptu naps.
We've got you covered with seven great locations for your fall photos in Fargo!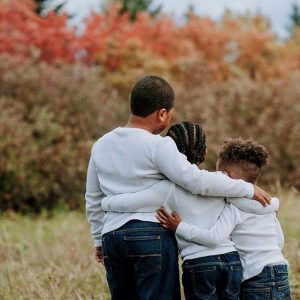 This quiet park in South Fargo really highlights the natural beauty of our area. The most rustic site on the list in terms of offerings, Lions Conservancy Park is nestled along the Red River just off University Drive South in Fargo. If you're not looking to completely venture into the "nature" of the park, you'll find great settings close to the parking area like the small rustic brick amphitheater. Take the unpaved trails and explore the park to find a variety of picture perfect opportunities including tall native grasses, interesting trees, and river views.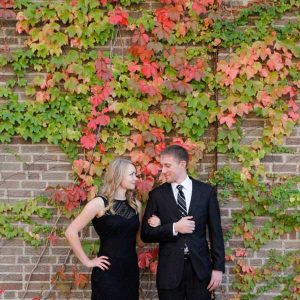 Downtown Fargo has no shortage of awesome backdrops for fall photos. If you're downtown and want a fall feel, you must hit up the Ivers Building. The ivy-covered wall begins to turn a beautiful crimson in fall and it is the perfect backdrop. While downtown, spend some time walking throughout the area to hit up a variety of other photo hot spots like the Roberts Commons Parking Ramp, The Depot, Roberts Alley, Red River Market, or any of the downtown photo murals.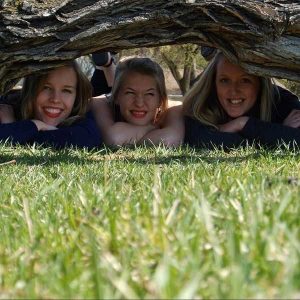 This is another entry on the list that contains a variety of locations. We have multiple beautiful college campuses for photo locations in the area. But if we're talking fall photos in Fargo-Moorhead, Concordia College makes the list for a few reasons. First, the yellow brick used on most buildings throughout the campus lends itself beautifully to the autumn color palette. It also features some indoor options that can still be awesome backdrops, like their indoor skyway. Plus, they include indoor public restrooms which is always a bonus when you have little kiddos. And, we can't have a list of fall photo locales without including the crazy tree on the east end of the Concordia campus on the corner of 12th Ave S and 11th St S.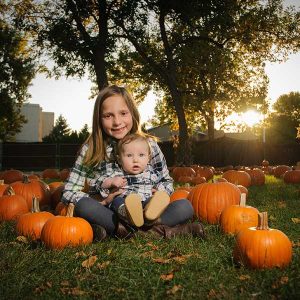 If your idea of fall photos in Fargo is pumpkins and barns, then this is the ideal location for you. It features over a thousand pumpkins spread out in the grass, an open area featuring a variety of trees, and a rustic barn and silo completing the setting. Some amenities that will make the experience more enjoyable include a central location in Fargo, indoor public restrooms on-site, adjacent parking, and a playground for the kids.
This location is available as part of the free Fall in Fargo event for two weekends only in mid-September. Hosted by the Fargo Park District, they built in a variety of fall-themed photo vignettes so this is the perfect spot if you're after some Instagram-worthy fun. The event is open to the public with masks strongly encouraged when not taking photos. To avoid accidental photo bombers, plan to arrive early to beat the crowds.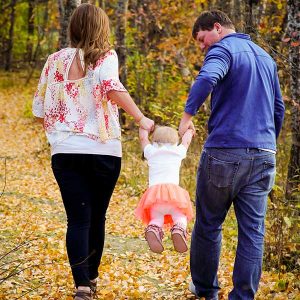 Straddling the Red River, Oak Grove Park in Fargo and Riverfront Park in Moorhead showcase the beautiful river setting. The lift bridge that joins the parks makes for a great photo prop as well. The paved paths that wind through the tall oak trees make for charming autumn scenes.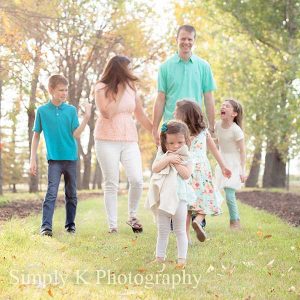 This beautiful park in West Fargo boasts a picturesque waterfall area that makes it a great background for family photos. The rocky area is perfect for active kiddos who want to climb and explore as part of their photo shoot. The park has a variety of other amenities, including a playground that you can visit as a reward when pictures are all finished.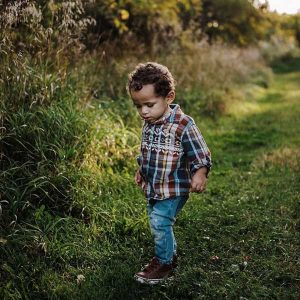 The bonus with this photo shoot location is there are built-in snacks. This community orchard includes apples, plums, and pears that are free for the community to harvest. Depending on when you go, the fruit may be pretty picked over. If that's the case, you're still left with beautiful fall foliage as a backdrop. Rustic pathways connect this Orchard Glen Park to additional parks which makes this a perfect location for exploring.
Looking for a photographer to capture some fall photos in Fargo? Check out our Guide to Local Photographers!