The Sheyenne River Valley southeast of Fargo is a great spot for a day trip or camping!
My family recently made our first trip to this scenic area.
The valley has many hills and forests, a change from the Fargo landscape. And the variety of amazing outdoor activities in this area was a surprise to us! This is now a family favorite and we're planning to take more day trips to this stunning location.
Two hiking locations include Little Yellowstone Campground and Fort Ransom State Park. And another great spot is Mineral Springs Falls in the Sheyenne River State Forest.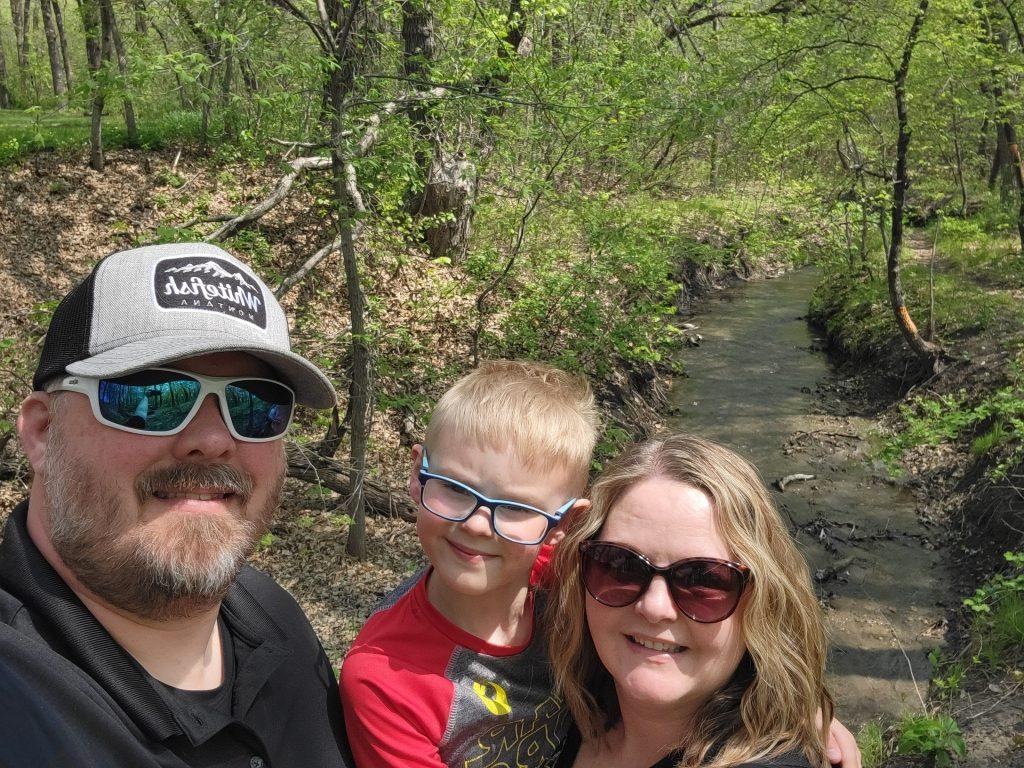 Fort Ransom State Park
Fort Ransom State Park is in the location where the original 1860s military fort once rested. The park has wooded paths, meadows, and winding streams. It's a truly beautiful area, and not too far from the Fargo-Moorhead area.
Getting to the Park
The park is a one-hour drive from Fargo. If you have time, take the Sheyenne River Valley National Scenic Byway for views of rolling hills, quaint towns, and farms.
Visitor Center
Stop here on your way into the park to see the friendly park staff. We asked about the trail with the best chance to see animals and they were happy to offer recommendations.
The Visitor Center also has a small gift shop where you can pick up bug spray, or anything else you need.
Exploring the Fort Ransom State Park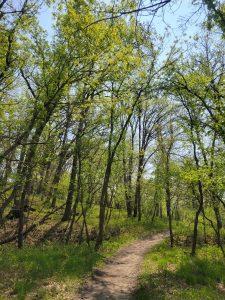 Fort Ransom State Park has over 20 miles of trails available for hiking, biking, cross-country skiing, and horseback riding.
Explore the Sheyenne River on rented kayaks or bring your own to the canoe/kayak launch.
There are so many trails that we haven't explored them all. But our favorite trail of the day was the Little Twig Nature Trail. This 0.9-mile trail includes meadows and wooded trails alongside a small stream. We even spotted a deer along the path!
If you want a more challenging hike, you can go to Mineral Spring Falls, North Dakota's only waterfall. This hike to the falls is outside the Fort Ransom State Park in the Sheyenne River State Forest. The Fort Ransom State Park staff have the directions, or you can access this map.
The scenery is stunning, but be prepared for some uphill hiking during the 4.6-mile roundtrip hike. Also, the waterfall is more of a small trickle — not as big as we expected it to be.
Camping
Fort Ransom would be a great base for a weekend hiking getaway. There are multiple camping sites for tents and campers. And other lodging options include cabins, a pioneer homestead house, and two yurts. Also, a Percheron wagon is available for an Oregon Trail-style camping adventure!
Little Yellowstone Campground
Little Yellowstone Campground is also a little over one hour away from Fargo.
This 27-acre park has 34 campsites, a playground, and hiking trails.
This campground is quiet, providing a secluded retreat. And most of the campsites are close to the park and bathrooms. This would be nice spot for groups with younger children, or larger groups who want to camp on multiple sites.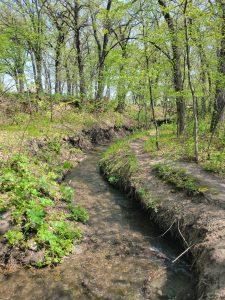 This park is a beautiful, wooded area with a spring-fed stream and small walking bridges to explore.
The hiking trail alongside the stream was our favorite part of the campground. The dirt path wove along and across the stream. Scrambling on the pathway and exploring the little bridges along the way was fun.
Post-hike, enjoy a family meal at the picnic shelter and spend some time at the playground!
Looking for a great day trip destination this summer? Be sure to visit Fort Ransom State Park and Little Yellowstone Campground! They are both amazing places to explore.