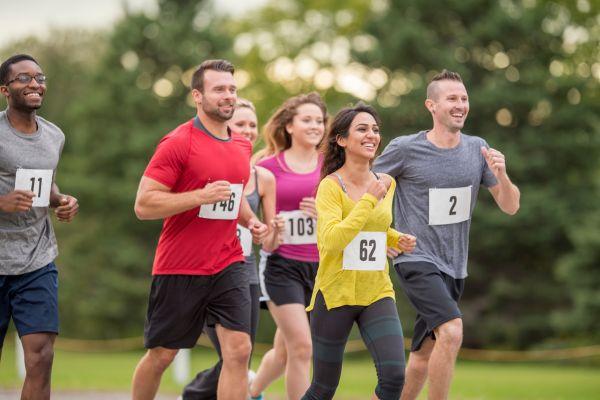 Races in Fargo are back for summer!
Now is your chance to sign up for a 5k, 10k, or even (if you're feeling especially ambitious) a marathon.
Training for Race Season
And summer is a great time to run. The days are longer and the only layering to worry about is sunscreen. The Vitamin D and sunlight are great for the body and mind. And you get those super cool shorts, tank top, sock and watch tan lines…wait, no not that. But the other reasons are great.
One of the other reasons I love summer running is because there are so many late summer and early fall races. While those August and September days can be hot and humid, the early morning starts are typically marked by comfortable temps and beautiful light.
And having a race on the horizon is a great way to stay motivated and committed to goals. Plus, you get to reap all the physical and mental health benefits of running.
Whether looking to take the plunge and sign up for a first race or a seasoned racer, eager to get back on the start line, now is a perfect time to hit the pavement (or treadmill) and train.
There are many notable local races in Fargo happening now throughout the fall, many of them supporting wonderful causes. While I am not able to include them all, here are three favorites, each with their own family-friendly aspects.
3 Local Races in Fargo
Dates: May 15-20, 2023
Want to walk a 5k? Ready to tackle a full marathon? Only run with your fur baby? Not a runner, but love to cycle? The Fargo Marathon literally has something for everyone.
I love this race because it combines a world-class event with a small town race feel.
The spectators show up big at races in Fargo. I have seen the best signs, from common funny ones to a single guy putting himself out there for a date. In addition to the aid stations, I have been offered amenities, from water and snacks, to shots and beer, to Kleenex and Vaseline. All of this support and energy makes Fargo Marathon a great race for first-timers, even with the large field size.
The runner crowds are big, especially at the start and first few miles (and basically the entire 5k) but strollers are still welcome. The course is fairly flat and mostly closed off to traffic so road space is nice and wide. And finishing in the FargoDome, seeing runners on the big screen— that feels pretty rock star!
Date: August 12, 2023
If the idea of a big race is intimidating, the Yellow Road Race is a great choice. It offers a smaller field size. Also it is a bit later in the summer, allowing for more time to train!
The races start at Trollwood Park in North Fargo and include a 5k and a 10k.
Date: September 9, 2023
Okay, so this one's not actually in Fargo — or even the state of North Dakota. With Detroit Lakes area being a second home to many Fargoans, it felt right to include the Dick Beardsley event in this local race roundup.
The course is great, as you get the best of two worlds. First, running around Big Detroit Lake offers a lot of pretty scenery. Second, runners get to experience the streets of the city, a small town that's full of energy.
Several distance options are available for all ages, including a youth run, 5k, 10k, half marathon, and a 25k. The location is an awesome place for families to hang out during and after the race, with a playground, public beach, and lots of great places to eat all within walking distance.
But a word of warning— I would not recommend pushing a stroller on the 10k or half marathon courses. Both have characteristics that make it less than ideal for strollers, from narrow paths to hills. However, if you are up for a few steady inclines, the 5k is a great option for running with a stroller.
That's not to say a stroller race can't be done. If there is one thing I know about running moms (and dads!) it's that training while pushing a stroller makes you strong enough to handle just about any race day challenges. But if you can, this might be a perfect one to leave the kids home and enjoy a race to yourself!
Races are just one of the ways it is starting to feel like the real world is back and we can gather as a community. In this case, I look forward to seeing a great group of runners, mothers, and healthy, happy people out there crushing it.
Have more questions about local races in Fargo? Connect with me @lindsayinreallife on Instagram or @LindsayIRL Twitter, or find more running and wellness advice on my blog at wellirl.com.