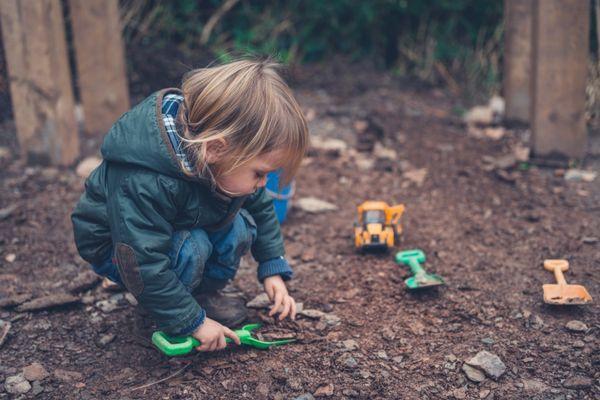 Maybe you've heard the saying,"there's no such thing as bad weather, just improper clothing."
And while I understand the sentiment, I have to think that whoever coined this phrase must not have experienced the sub-zero temperatures and bone-chilling wind in Fargo. 

However, this phrase has encouraged me to think more creatively about spending time outside with my family.
The benefits to more time outdoors are countless: increased physical activity, less time on screens, improved mental and physical health, opportunities for kids to build gross motor skills and grow in their understanding of nature… the list goes on!
So, I set a goal for my family to spend more time outdoors in 2023, and here are five tips that have been helping us get out the door — even on the frigid wintery days.
5 Tips for Spending More Time Outdoors
1. Wear the right gear.
Having appropriate clothing for the weather makes a huge difference.
In cold weather, layering is key, along with having a waterproof (and windproof) outer layer.
In muddy weather, having rain pants and boots can help you make the most of a rainy day.
And you don't have to go out and buy expensive coats and gloves. I have built my family's supply of winter clothing primarily from thrift and resale stores at very affordable prices!
2. Make the most of small windows of time.
Have 10 minutes before leaving to drop off the kids at school? That is more than enough time to have a quick game of tag, or to build a snowman outside.
3. Bring the indoors out.
While highly physical activities and games are great, they don't have to be the only ways our kids enjoy outdoor time.
Consider doing traditionally "indoor" activities outside.
We like to keep a basket of toys filled with puzzles, books, blocks, and stuffed animals right inside the front door, and bring this out on a picnic blanket when we have a few minutes to play.
We even bust out plastic blocks, trucks, and other waterproof toys to play with in the snow!
4. Include food.
Snacks can be a great motivator for kids!
Who can resist the offer of a cup of hot cocoa outside in a snow fort, or a popsicle on a hot summer day?
Another easy way to spend more time outdoors is by eating meals outside. No need to pack a fancy picnic — simply prepare food as you normally would and bring your plates outside!
You can also try your hand at outdoor cooking, using a grill, electric hot plate, or even over a fire!
5. Set a goal.
I was inspired by the 1000 Hours Outside movement to set an hourly goal of time I wanted to spend outside with my family this year.
Whether your goal is a few hours a day, or an hour per week, setting an hourly goal can be a fun way to track your time outside with kids.
Your goal could also include a list of outdoor places you want to visit, or outdoor activities you'd like to try this season or this year.
Last year, my family's goal was to visit every park in Moorhead, which made for a fun way to explore our city and find parks we had no idea even existed!
Whatever your goal, include your kids in keeping track of your progress; this can be a great way to keep them motivated.

While getting outdoors with kids can feel like a struggle at times, keep in mind that those memories will be worth it!
And for outdoor fun in Fargo-Moorhead, try these bike paths or places to hike.