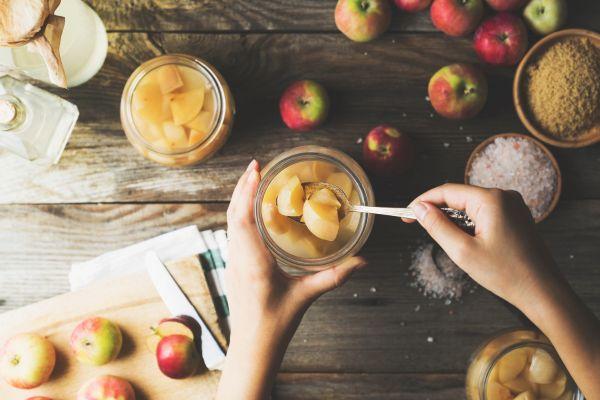 It's that time of year when apples are in abundance!
Perhaps you have your own tree, pick apples from an orchard around town, buy from a farmers market, or just at the grocery store. Wherever you get them, a variety of apples can be used for baking.
For the sweet recipes, a more tart apple like Granny Smith or crab apples are preferred, because the sugar in the recipe will help with the sour taste.
Then for applesauce you can use sweeter apples like Honeycrisp, or a mixture of sweet and sour.
There are so many varieties of apples to try, and my new favorite is the Zester apple variety.
Apple Recipes for Fall
Here are some recipes to try that are both savory and sweet!
1. Applesauce
Ingredients:
3 lbs of apples
1 tsp cinnamon
1 pinch of nutmeg
1 1/2 cup water
1 tsp of lemon juice
1/4 tsp salt
Directions
Peel, core and cut apples. Add all ingredients to a pot on high heat.
Boil, once it starts to boil cover it and simmer on low heat for approximately 20 minutes until soft.
Stir, add more water if needed, and mash up with a fork or a potato masher. Can also be blended. You can add sugar to taste, but I usually don't add any.
2. Pork Chops & Apples in Mustard Sauce
(from the Forum Communications Company: Favorite Recipes submitted by Braden Kuznia)
Ingredients
2 lbs apples, peeled, cored and sliced thin
4 thick pork loin chops
1 Tbsp butter or oil
1/4 cup chicken broth
1 cup heavy cream
1/3 cup dijon mustard
Directions
Preheat oven to 400 degrees.  Butter baking dish. Spread apples over the bottom and bake for 15 minutes.
Remove from oven and set aside. Salt and pepper the pork chops and place on apples.
Heat skillet on medium, add broth and scrape bottom. Continue to stir, letting boil for a minute.
Whisk cream and mustard together. Add to broth, blend well, and bring just to a boil. Pour over pork chops. Cover and bake for 20 minutes.
Prep time: 15 minutes: Total Time: 45 minutes; Feeds 4.
I would imagine that lamb chops could also be substituted.
3. Caramel Apple Pizza
(from Betty Crocker's New Cookbook 1996)
Ingredients
Caramel Syrup (recipe below)
2 medium cooking apples, thinly sliced
1 tbsp lemon juice
1/2 cup sugar
2 tsp ground cinnamon
1 tsp ground nutmeg
1 package (3 ounces) cream cheese, softened
1 large egg
1 tsp vanilla
1 package (17 1/4 ounces) frozen puff pastry, thawed
1 cup chopped nuts, toasted
Directions
Heat oven to 400 degrees F. Line 2 cookie sheets with aluminum foil or cooking parchment paper. Prepare Caramel Syrup
Toss apples and lemon juice in medium bowl. Stir in sugar, the cinnamon and nutmeg.
Beat cream cheese in small bowl with electric mixer on medium speed until fluffy. Beat in egg and vanilla on medium speed until blended.
Roll each sheet of pastry into 10-inch square on foil-lined cookie sheet. Cut into 10-inch circle. Place scraps in center and roll into pastry.
Spread half of the cream cheese mixture over each pastry circle. Arrange apple slices on circles. Sprinkle with nuts. Drizzle about 1/4 cup syrup over each circle.
Bake 25 to 30 minutes or until puffy and golden brown. Pour remaining syrup over pizzas. Serve hot.
Caramel Syrup
Ingredients
1/2 cup plus 2 tablespoons packed brown sugar
1/3 cup corn syrup
2 tbsp stick butter
1/3 cup whipping heavy cream
1 tsp rum or vanilla extract
Directions
Heat brown sugar, corn syrup, and butter to boiling in 1 quart saucepan over medium heat, stirring constantly until thickened.
Remove from heat. Cool slightly, about 30 minutes.
Stir in whipping cream and extract.
Prep time 40 min: Cook 10 min Bake: 30 min. Makes 2 large 10 inch pizzas, 6 servings each.
4. Easy Apple Cake
(from The New American Heart Association Cookbook, 2001)
Ingredients
Vegetable oil spray
2 cups diced apples (peeled or unpeeled) about 2-3 medium
3/4 cup sugar
1 1/2 cups all purpose flour
1/2 cup raisins
1 1/2 tsp pumpkin pie or apple pie spice
1  tsp baking powder
1 tsp baking soda
1/4 tsp salt
1/3 cup unsweetened applesauce
1 egg or egg substitute equivalent to 1 egg
1 tbsp vegetable oil
1 tsp vanilla extract
Directions
Preheat oven to 350 degrees F. Spray an 8 inch square cake pan with vegetable oil spray. In a large bowl, combine apples and sugar. Set aside for about 10 minutes.
Meanwhile, in a medium bowl, combine flour, raisins, pumpkin pie spice, bakiing powder, baking soda, and salt, stirring well.
Stir remaining ingredients into apple mixture. Gradually stir flour mixture into apple mixture and stir again.
Spread batter evenly into cake pan. Bake for 35-40 minutes or until a toothpick inserted in the middle comes out clean (serves 9).
I hope you enjoy these seasonal apple recipes!