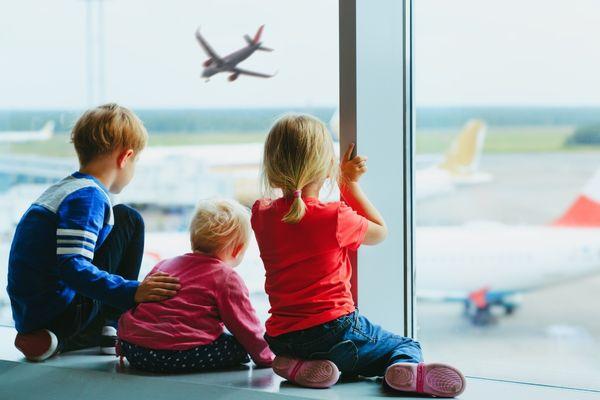 Flying with kids can be stressful, chaotic, and unpredictable.
I currently have four boys, they are 12, 10, seven, and four years old. We have been doing long distance traveling since all my boys were young, even venturing to Hawaii.
And although we've become seasoned travelers over the last few years, it is still tough! 
Here are a few things I have learned that make traveling experience with young children a bit easier.
3 Travel Tips for Flying with Kids
1. Get a travel bag for car seats and fill it with more — for FREE.
A few years ago while packing for Hawaii, I purchased a car seat bag.
Most people know that airlines won't charge you for things like strollers, car seats, or pack and plays while flying, but did you also know that anything else you throw into that car seat bag is also free?
Cue me tossing in floaties, diapers, and all the extra non-fragile items we needed on our trip, without using my suitcase space.
We just used this hack on a trip to Florida. Although we didn't need diapers anymore (high five!), we were able to stash floaties for the pool. They made their way to our destination completely free with the seats.
Note: do not do this for essential items or anything fragile.
2. Bring pre-packed snacks to fill hungry tummies and save money.
TSA is pretty strict on beverage and food that pass through security, but did you know that prepackaged snacks from home can be brought on your flight? Yep, all four of my boys got a gallon-sized bag which they filled with granola bars, crackers, and puffs that all made it through security.
These snacks were great for quick connections, times when we couldn't stop for a meal. And it was handy for when the tiny in-flight pretzel bags weren't enough to fill their bellies.
These snack bags are also a good option for flying with kids with food allergies, and any other families whose children become hangry without all the snacks.
Side note: I also packed empty water bottles that we filled after security. It saved tons of money since we didn't need to buy bottled water at the airports. And it helped my boys stay hydrated without all the sugary drinks they would normally ask to have.
3. Bring some new things.
Before going on the flight I picked up some coloring books and fine motor activities for my four-year-old from the Target dollar section.
Anything that requires concentration and problem-solving are great for preschool brains. And it wears them down a little more than just using a tablet (but those are handy also).
My four-year-old spent so much time playing with the new activity sets that we didn't need to use the tablet and digital things until later.
I highly recommend diversifying your activities — bringing things that are new, stimulating, and exciting to occupy kids during the flight. 
I hope this article made the thought of flying kids more manageable.
What tips do you have to make traveling with kids easier? Let us know in the comments below!