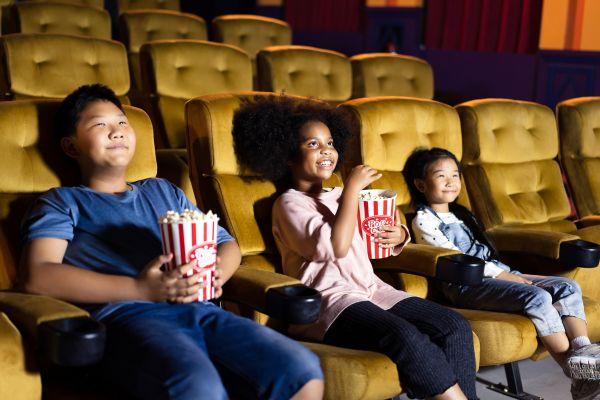 Looking for some summer fun indoors? Check out these local places bringing back free and cheap kids movies this summer!
Kids Movies in Fargo
West Acres Cinema $3 Movies
Kids Dream movies are shown Tuesday through Saturday, June 13 through August 5, and all shows are only $3 per ticket. What a steal!
All movies are shown at West Acres Cinema (4101 17th Avenue SW, Fargo). Call (701) 282-6930 for more information. All showings are in the afternoon (most have 2 showings per day).
Here are the kids movies showing this summer in Fargo:
Looking for more ways to watch kid's movies in Fargo? Try a Private Cinema experience, Value Tuesdays, and Sensory Friendly Movie Times.
Fargo Theatre $3 Kid's Flicks
Select kid's movies will be shown Tuesdays throughout the summer at the Fargo Theatre in downtown Fargo, all for $3! And a $3 concession combo will also be available to make it a full movie experience. Find full details HERE.
Kid's Flicks Schedule 2023 (all movies are shown at 10:00 a.m. & 1:00 p.m.)
PUSS IN BOOTS: THE LAST WISH- June 13th
THE SUPER MARIO BROS. MOVIE- June 20st
BEAUTY AND THE BEAST- June 27th
MINIONS: THE RISE OF GRU- July 11th
TOY STORY: July 18th
DC LEAGUE OF SUPER PETS: July 25th
SPIDER-MAN: ACROSS THE SPIDER-VERSE: August 1st
Fargo Public Library Free Summer Movies
Beginning June 16 through August 11, the Fargo Public Library will be showing Friday afternoon movies at the Carlson branch at 1 p.m.
Here is the movie schedule!
June 16: Encanto (PG)
June 30: The Fox and the Hound (G)
July 14: Lilo & Stitch (PG)
July 28: Shrek (PG)
July 29: Finding Dory (PG)
Aug. 11: Spider-Man: Into the Spider-Verse (PG)
Free Movies at Broadway Square
Mainly Thursday evenings and select Saturdays at 7:00 p.m., Broadway Square in downtown Fargo will be showing outdoor movies! All movies are free. Please note some movies are PG-13 and require parental guidance. 
Here is the schedule:
June 1: DC League of Super Pets (PG)
June 15: The Green Hornet (PG-13)
June 29: The Eternals (PG-13)
July 6: Ghostbusters (PG)
Jul 27: WarGames (PG)
August 3: Minions: The Rise of Gru (PG)
August 12: The Bad Guys (PG)
August 17: The Secret Life of Pets (PG)
August 26: Wonder (PG)
August 31: A Beautiful Day in the Neighborhood (PG)
Outdoor Movies by West Fargo Events 
Select evenings this summer, West Fargo events will host outdoor movies at POW/MIA Plaza in downtown West Fargo and Essentia Health Plaza at The Lights!
Find more details on their calendar. Here is the schedule!
May 30 (Essentia Health Plaza): A Bug's Life (G)
June 5 (POW/MIA Plaza): Space Jam (PG)
July 10 (POW/MIA Plaza): Encanto (PG)
July 17 (Essentia Health Plaza): The Incredibles (PG)
August 7 (POW/MIA Plaza): The Parent Trap (PG)
August 14 (Essentia Health Plaza): Shrek (PG)
Movies in the Park at Rheault Farm
The Fargo Park District will be hosting a series of three outdoor movies this summer at Rheault Farm! Movies will be shown at dusk (about 8:30 p.m.). Be sure to bring a chair and blankets!
Find more details on their website, but here is what's lined up:
July 20 – Field of Dreams (PG)
July 27 – The Goonies (PG)
August 3 – The Incredibles (PG)
Enjoy the movies!
For more Summer Events and Things to Do, check out our Ultimate Guide to Summer!