Day Trip to Jamestown
Looking for a quick road trip from Fargo? Then consider heading west to spend the day in Jamestown!
Jamestown is the 9th largest town in North Dakota, and a quick 1.5-hour drive from Fargo.
Best known for its bison, this inviting town is also a great place to discover history, culture, and loads of family fun.
To help you plan your excursion, here are some great ways to spend the day in Jamestown!
Jamestown is often referred to as "Buffalo City," and for good reason. While passing by on the interstate, you can't miss the larger-than-life buffalo statue towering over the town.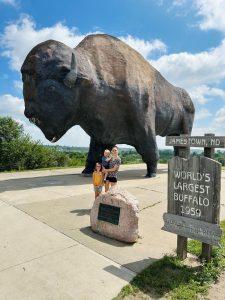 Built in 1959, this concrete giant stands at 26-feet-tall and weighs 60 tons! It's truly an impressive sight.
Near the monument, you will also find viewing scopes overlooking the nearby buffalo preserve. Using the scopes, my kids were excited to spot two adult buffalo walking with their two calves!
Address: Louis L'Amour Lane, Jamestown, ND 58401
Cost: Free
Just down the way from the monument is Jamestown's Frontier Village.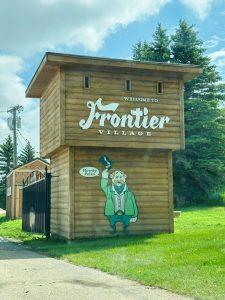 This town is a reimagining of what the area would have looked like during the pioneer days.  Many of the buildings are original, and display antiques and artifacts are from that time in history.
My kids particularly enjoyed exploring the bank, church, railroad depot, and (of course) the jail.
It was a fun and immersive way to teach the family about life on the frontier.
Address: 404 17th St. SE, Jamestown, ND 58401
Cost: Free
The National Buffalo Museum is technically a part of the Frontier Village, but it is an attraction all on its own. Guests will find several exhibits that focus on the history of bison and their significance to the Plains Indians and European settlers of the area. There are even remains of a prehistoric bison!
Today, these buffalo roam over 200 acres at the museum's buffalo preserve. This herd was once home to the incredibly rare and sacred White Cloud, a true Albino American Bison.  After passing in 2016, her remains were preserved and are on display in the museum.
Address: 500 17th St. SE, Jamestown, ND 58401
Cost: General ($8), Children 5-14 ($6), Seniors ($6), Under 5 (Free)
If you're planning a visit to Jamestown in the summer months, a visit to Meidinger Splash Park is a great way to cool off!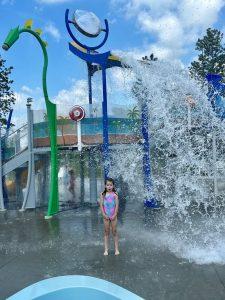 The splash park is open daily from 12:00 p.m. – 8:00 p.m. and includes several elevated activity stations, water slides, fountains, and splash zones.
There are also restrooms, a good variety of concessions, and picnic tables available onsite. We enjoyed a picnic lunch here, which allowed us to spend more time at the splash park. This was perfect because my kids did not want to leave!
Address: 1501 5th St NE, Jamestown, ND 58401
Day Pass Cost: Under 21 ($4), Over 21 ($2), Family ($12)
If you're looking for more fun in the sun during your visit, be sure to check out the Jamestown Reservoir.
Recreational opportunities include fishing, picnicking, hiking, and camping. But the big draw for my family was the swimming beaches.
These swimming areas are open to the public and free to use. And the beaches are sandy, so be sure to bring your sand toys!
The water gradually increases in depth from the shore, which is great for swimmers who prefer shallow water.  There are also on-site bathrooms and an accessible ramp down to the water.
Address: 3225 E Lakeside Rd, Jamestown, ND 58401
Cost: Free
To get a better understanding of Jamestown's history, you won't want to miss the Stutsman County Memorial Museum. The museum is housed in the Lutz family mansion, where the family resided in the early 1900s.
Each room in the mansion is themed to the artifacts on display, such as the Railroad Room, Military Room, and Peggy Lee Room — in honor of a famous Jamestown native!
The artifacts on display span throughout Jamestown's history, some dating back to the pioneer days. Pieces of particular interest include a Japanese flag given to General MacArthur, a dress worn by Peggy Lee, Jamestown Hospital's first incubator, and a horse-drawn mail wagon.
Address: 321 3rd Ave SE, Jamestown, ND 58402
Cost: Free
From 1872 to 1877 Fort Seward was a military installation established to oversee the building of the Northern Pacific Railroad.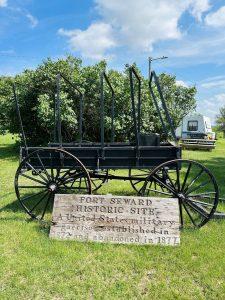 Now, the fort is home to an interpretive center, campgrounds, and the largest U.S. flag on public display!  You can camp just like the soldiers did by renting one of the Sibley tents available at the site.
At the Fort Seward Interpretive Center, you can learn about the history of the fort and surrounding area. Most of the artifacts on display were found at the site during archaeological digs!
Families that are up for an adventure may want to consider joining the Annual Wagon Train.  Typically held in June, the wagon train takes travelers of all ages on a week-long excursion across the prairie. History talks at historical sites, nature lore, crafts, and shared meals around the campfire are just a few of the ways guests can experience early pioneer life.
Address: 615 10th Ave NW, Jamestown, ND 58401
Whether you're interests lie in regional history, getting in touch with nature, or simply some fun in the sun — consider Jamestown for your next family getaway!
Looking for more adventure? Check out our Day Trip series!