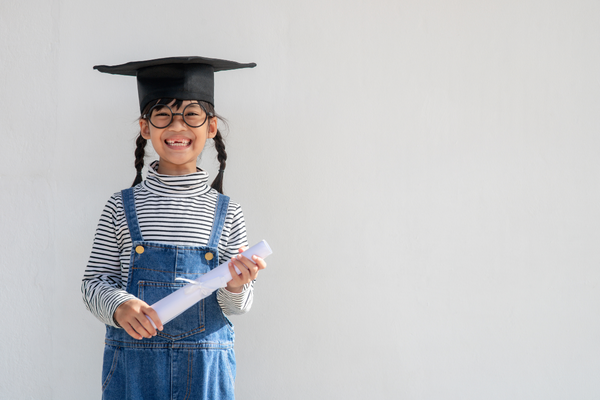 Whether your child is 6 months old or 16, it's always a good time to think about saving for college and their future education. Looking at the current cost of college, now is a good time to start planning how to save money. Thanks to programs like Bank of North Dakota's College SAVE 529 Plan, saving has never been easier!
Want to start saving but don't know where to start? Here are some great tips for saving for college.
Tips on Saving for College
1. Start early.
It's never too early to start thinking, planning and saving for the future. Plus, with match programs for newborns, your savings can get a kick-start!
"My wife and I have always wanted to provide our kids with strong educational support. Setting them up for financial and educational success for years to come was a way we could do this, with their College SAVE 529 account."

-Shawn, Grand Forks
2. Enlist friends and family.
Inviting grandparents, other relatives, and friends can boost your overall savings. With options like UGift® through College SAVE, contributions are simple for everyone!
"Our boys want to be heroes like firefighters, police, and doctors. We've asked their grandparents and great-grandparents to contribute to their College SAVE accounts to help them achieve their dreams."

-Travis, Mandan
3. Saving little by little can make a difference.
Adding small but regular amounts to a savings account over time can give an investment time to grow. And automatic investment options can deduct amounts from a savings or checking account on a regular schedule.1
"This year we were blessed with our first child. If having a baby has taught us anything, it's life is unpredictable. We want to start preparing for our baby's future now and College SAVE gives our family the opportunity to help us ensure she has the chance to achieve her dreams, rain or shine."

-Megan, Bismarck
4. Don't expect to save it all.
As the cost of education continues to increase and has consistently outpaced inflation, it's unrealistic for most families to think they will be able to save all the money they need for education. Combining savings, loans, and financial aid can allow for an education plan that makes sense.
"My husband and I have been contributing for several years to our daughter's College SAVE account. We may not be able to cover the full cost of her education, but it feels wonderful to know that we're making an impact."

-Cindy, Minot
5. Save in the right place.
There's lots of great options for residents of North Dakota to start saving. What's one good option? Setting up a 529 plan.
What is a 529 Plan?
It's a tax-advantaged savings account specifically for saving for education.
Although 529s are sponsored by the state you're in, student beneficiaries can attend a school anywhere across the country, or even abroad.
But they're not just for standard four-year colleges and universities. The money can be used at a variety of eligible institutions including graduate programs, vocational and trade schools, and even apprenticeships that are registered and certified by the Secretary of Labor. Eligible institutions include those that can participate in federal financial aid programs, training and apprenticeship programs, and K-12 programs.
Savings can be used for a variety of qualified education expenses, including tuition, room & board, fees, books, computers, and more.2
Benefits to a College SAVE 529 Plan
Easy to Contribute
Many 529 plans will take contributions of as little as $25 from anyone who would like to contribute to the account. And money can be added through one-time checks, recurring online bank transfers, and even payroll direct deposits.
Tax Advantages
One perk of 529 plans is they benefit from tax-deferred growth. What this means is that you don't have to pay annual taxes on your account earnings.
Plus, North Dakota taxpayers can deduct up to $5,000 (up to $10,000 for married couples filing jointly) of College SAVE contributions from their North Dakota state taxable income.3
Account Control
And the owner of the account has complete control over the savings (not the student), so you can choose how to invest, when to use it, and also what to use it on. Note: this is subject to plan rules and also federal regulations.
Match Programs
Bank of North Dakota's 529 plan, College SAVE, offers several match programs to enhance your ability to save. Including a $200 New Baby Match, a $100 Kindergarten Kickoff Match, and a $300 BND Match. See the College SAVE website for more information.4
Setting up a 529 plan can also be a great option as we approach the gift-giving season! See our post College SAVE Plan: A Special Gift for Kids That Keeps Giving All Year.
Interested in learning more about 529s and Bank of North Dakota College SAVE? Check out the College SAVE website for more information!
Note: Individuals have not received any compensation for their testimonial. Testimonials may not be representative of the experience of other customers and is no guarantee of future performance or success.
1 A plan of regular investment cannot assure a profit or protect against a loss in a declining market.
2 Earnings on non-qualified distributions are subject to federal income tax and may be subject to a 10% federal penalty tax, as well as state and local income taxes. The availability of tax or other benefits may be contingent on meeting other requirements.
3 Rollovers from another state's 529 plan are not eligible for the state income tax deduction.
4 The BND Match, Kindergarten Kickoff Match, and New Baby Match are subject to the availability of funds and can be modified, reduced or stopped at the discretion of Bank of North Dakota.
For more information about North Dakota's College SAVE Plan (College SAVE), call 1-866-SAVE-529 (1-866-728-3529) or click here to obtain a Plan Disclosure Statement. Investment objectives, risks, charges, expenses, and other important information are included in the Plan Disclosure Statement; read and consider it carefully before investing. Ascensus Broker Dealer Services, LLC (ABD) is Distributor of the College Save.