Memorial Day
Before I met my husband, Memorial Day was nothing more than another holiday for me.
Then my husband was on active duty when we met, and I was able to hear stories of those who paid the ultimate sacrifice, whether in combat or training. I soon understood that these were service members gone too soon.
Just like that, Memorial Day became a day I observed and no longer celebrated. It's a day to remember and say their names.
What We Do for Memorial Day
We started our family tradition after my husband came back from a 7.5-month deployment. I had participated in Wreaths Across America while he was deployed and learned the importance of remembering our American heroes.
We went to Fort Rosecrans National Cemetary and walked the rows of tombstones,
honoring everyone who laid down their lives for our freedom. It was both a captivating and humbling experience.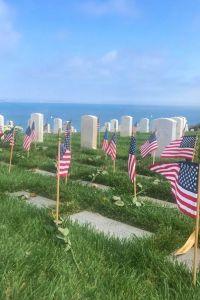 For each year after, we have made a point to either go to a military cemetery or do an act to remember those service members.
When we lived on Oahu, we visited Ford Island in Pearl Harbor. There were pictures of the fallen that told us of their bravery and sacrifice. We mourned with their families and honored their legacy.
What Your Family Can Do
Even though Memorial Day is a holiday, it should be one dedicated to honoring our fallen service members.
Memorial Day is to remember the fallen and Veterans Day is to celebrate veterans.
Instead of saying "Happy Memorial Day," we should simply remember those who paid the ultimate sacrifice.
Fargo might not be a big military community, but here are some things you can do to participate in honoring the lives and legacies of the brave.
Ways to Observe Memorial Day
1. Read about a fallen service member.
The Wingman Foundation is a non-profit that is aviation focused. They support wounded aviators or families of fallen aviators in the Navy and Marine Corps through donations. And their page has a list of Marine and Naval aviators and their stories.
You can also find the names of the fallen from all branches using these resources:
Take a minute to read about these heroes and to honor them.
2. Donate to a worthy cause.
Find a foundation that supports Gold Star families. One that I have given to is The Wingman Foundation.
3. Talk to your children about Memorial Day.
We teach our boys about the significance of Memorial Day by visiting a military cemetery and going to a Memorial Day ceremony. Our family chooses to honor the fallen by saying their names and thanking them for their sacrifice.
Here are two local Memorial Day ceremonies:
4. Do the Murph challenge.
The Murph challenge is an official fundraiser for Lieutenant Michael P. Murphy Memorial Scholarship Foundation. Most local CrossFit Gyms will be doing this challenge on Memorial Day. Take a moment to read this letter from Dan Murphy.
The beauty of this challenge is that you can either do it on your own, with a group of friends, or with a CrossFit Gym near you. It honors Lieutenant Michael Murphy, a Navy SEAL, who paid the ultimate sacrifice in Asadabad, Afghanistan.
Murph Challenge:
1 mile run
100 pull-ups
200 push-ups
300 squats
1 mile run
(with a 20 pound vest or body armor)
Don't forget, you can add modifications. The goal of this challenge is to honor and remember Lt. Michael Murphy.
5. Run in honor of the fallen.
Put on your running shoes and run by yourself, or with some friends! There are several virtual runs that you could join. Maybe someday, we'll be able to have a remembrance run on Memorial Day. But for now here are some virtual runs you can join:
As you run, dedicate it to a fallen service member.
6. Observe a moment of silence.
Maybe you have a busy day, or you're not able to commit to an activity. Even if it's five seconds to remember those who paid the ultimate sacrifice, you are honoring them!
Let's honor those who paid the ultimate sacrifice this Memorial Day. Let's keep their memories alive by saying their names and remembering their service.
"They say you die twice. One time when you stop breathing and a second time, a bit later on, when somebody says your name for the last time." –Banksy