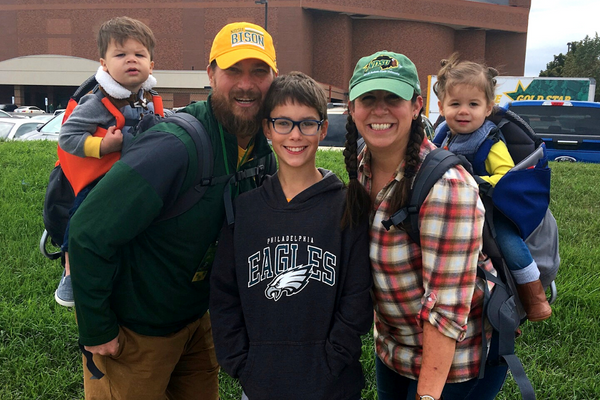 In our family, football is more than a sport.
It's a culture, and a tradition that spans across generations.
Football season is a lifestyle, full of get-togethers gathered around the television cheering on our team. Or at the stadium, both big and small, to support our kids from peewee to varsity. It's a busy season, but we love it because it means more family time for us.
It All Started with Football
When I first met my husband, we lived 1,500 miles apart. We had a standing Sunday date, over Skype, to watch our favorite football teams together. The feed lagged on my end so he had to contain his emotions for a few seconds after a big play so as to not give it away.
Needless to say, it wasn't the best way to watch a game.
When he flew out to Philadelphia one-way to help me move to Fargo, my team had rescheduled a game due to snow and we got last minute tickets for a Tuesday game. Ironically, he flew the 1,500 miles to see them play against the team that plays just 230 miles away from him.
Once I moved here and we could enjoy games in the same state, the traditions really started coming together and we became a family; a family with football at its core.
A Tradition of Bison Football
Many years ago, my father in-law played football for North Dakota State University, and my husband followed suit. This wasn't just because of the tradition of excellence, but when you see first hand how much playing football has shaped these men, it's hard not to get on board.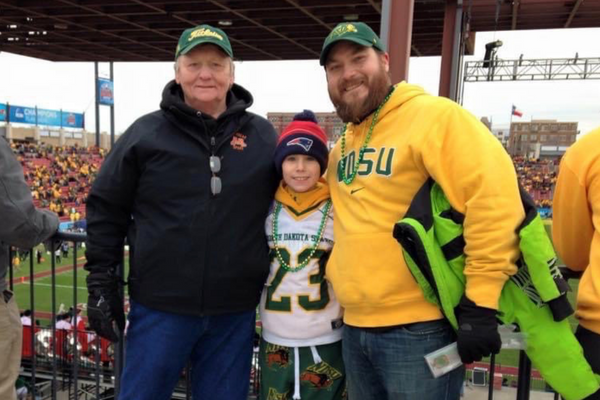 Naturally, my kids have fallen in love with the sport. My step-son now plays high school varsity, while my first-grader is all in with flag football. It connects them all. From age 70 to 6, the passion for this sport radiates throughout generations. It's a common thread they each share, a love that can't be explained but can be shared among players and fans.
Our Favorite Football Traditions as a Family
Being a football family means more than just playing the game. We watch multiple teams, attend tailgates, and gather our family and friends together around the TV to celebrate the big wins. Here are our favorite football traditions!
Attend an NDSU Game & Tailgating

Even if you didn't go to NDSU, attending a Bison football game should be on the bucket list of anyone that lives in Fargo! The atmosphere is so much fun, and everyone there is geared up and ready to cheer on our local team. Plus, kids under 3 get in free and don't need a ticket! (Just remember, they'll need to sit on your lap during the game.)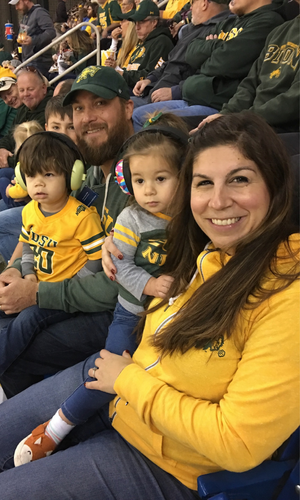 Have littles and aren't sure what to expect? Here are some quick tips for attending a Bison game with kids!
1. Baby or Toddler Carrier: If you've got littles, I can't recommend backpack carriers enough. You get to be hands free and carefree knowing exactly where they are.
2. Proper Footwear: If your kids are a bit bigger, be sure they're in sneakers. They'll want to run around while tailgating and you never know what's on the ground in the parking lot.
3. Pre-Game Potty Break: Hit the porta potty before going into the game. This sounds silly but you'll be glad when you finally get to your seats in row X and your kid doesn't ask to go to the bathroom as the game starts.
4. Noise-Canceling Headphones: The FargoDome is notorious for being loud which is great for team spirit but tough on eardrums. Noise-canceling headphones, especially for the littles, are a great way to safely enjoy the game!
5. Bring an empty water bottle: There are filling stations throughout the FargoDome, so don't forget the refillable water bottle! If you have little kids, small snacks and baby bottles are OK – just make sure to run it by the ticketing staff as you enter.
Want to hear more about these tips? Watch the interview below where my husband and I talked about our best college football game tips with kids in tow!
Sunday NFL Game Day + Food

We love a good Sunday football game, and have some tried and true foods we serve on the regular.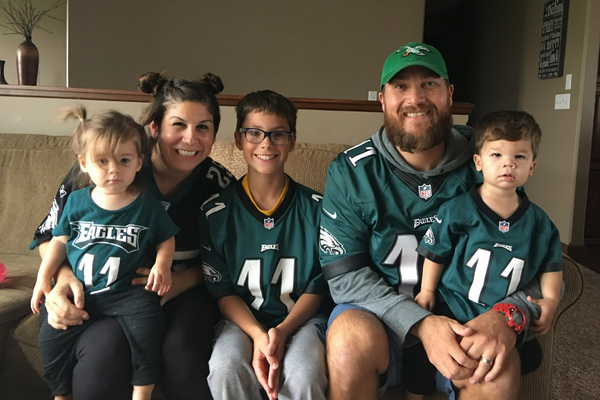 Best snacks:
1. Chips and salsa (always get some local pico de gallo!)
2. Pretzels and mustard or cheese dip
3. Pigs in a blanket
And every year, when our favorite college team makes it to the playoffs, we head to a friend's house to come together over food and football. Here are some slow cooker recipes I love!

Favorite Slow Cooker Recipes:
1. Buffalo chicken
2. Pulled pork
3. Parmesan artichoke dip
And you can't go wrong with a good veggie tray or charcuterie board (we've got some great tips for a kid version)!
Playing Together as a Family
We love spending time together in the backyard playing football. My daughter, who also played flag football last year, loves to join in the fun with her brothers. There's something so special about watching my husband pass down his knowledge to our kids, and see the bond between them grow over their shared love for this sport.

Coaching and Hard Times
My husband played and coached football for NDSU, and coached high school football in Fargo/Moorhead for 16 years. During his last season in Moorhead, he underwent a 15-hour brain surgery. He told the doctors his goal was to be done and watching his team by 7:00 p.m. that night. Although he missed that game, he FaceTimed into the locker room and during pre-game for playoffs. These were the bright spots during hard days.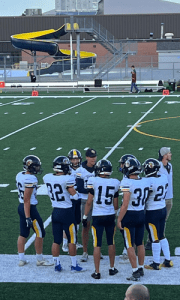 My step-son had surgery on a shoulder injury this summer and is unable to play football this fall. However, he's taken it upon himself to step into his dad's coaching shoes. He not only coaches his teammates the way he's watched his dad coach for so many years, but he's continued a small tradition and has the same mannerisms as his father. It really is a testament to the depth in which this sport resonates. These are life skills we know will serve him well in everything he does.
Coming Full Circle
Football has played a big part in our family from the beginning. From football Skype dates to watching our 3 kids play, we love this sport for what it has done to bring our family together.  For us, football is more than just a game. It's been a tool for teaching life lessons, a community we have leaned on in hard times, and at the core of some our most treasured memories. 
Want to get involved in the game, too? 
Future For Football is an initiative by the National Football Foundation to promote and celebrate the game at all levels. To find a football league for your child, visit Future for Football's local league finder.