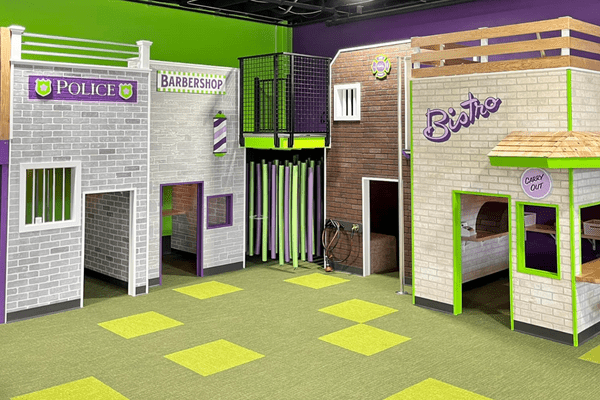 The day you become a parent, your view on life changes. And you start seeing your city or community for what it has to offer your kids.
KidCo: A Place Where Kids Can Be Kids
Growing up in our Fargo, I have fond memories of playing at the former Yunker's Farm, and leaning into that curiosity that makes kids….well, kids. 
But when our children were under three, I felt like I struggled to find an age-appropriate indoor place where they could explore at their own pace. Sure we have some great indoor playgrounds, but I was so concerned that my littles would be trampled by older kids, or not have the space they deserved to play.
There are many wonderful outdoor options, but the winter months are long, and often keep us inside. Kids have abundant energy, and they need a constructive way to get it out. 
The Idea for KidCo Children's Museum
Flash back to the beginning of 2020. We had recently come back from a trip before the world shut down (read more about that here), and our kids were able to engage at an amazing children's museum. Even as an adult, it felt magical! There was a sense of wonder around every corner, and watching their little faces light up was everything. 
This experience definitely planted a seed in my husband's brain. And once he gets fixated on something he fully commits. We had just opened our second events center at the beginning of the pandemic. And unfortunately timing was not on our side.
But with the end of that venture came a new one. It gave my husband time to curate the idea of a children's museum in our community — and the idea for KidCo. Children's Museum was born!
Our children have had a huge role in the design of this museum. We have taken into consideration all of the features we have liked and disliked in other museums around the world.
What to Expect at KidCo Children's Museum
Parent-Friendly
Our goal is that KidCo Children's Museum is to be a hybrid of the elements we loved in other museums with an emphasis not only on the child's experience, but the parents as well.
I mean, let's be honest, the kids aren't driving themselves to these places, and parents are often left on the sidelines as an afterthought.
We're striving to create a space where parents can engage in play with their kids, or have a comfortable seat to watch their kids, perhaps enjoy a coffee, and charge their phone if needed. 
Screen-Free to Encourage Imaginative Play
A large component of our museum is that it's screen-free.
We wanted to come back to the basics, because kids have ample opportunities for screens elsewhere in their daily lives.
Some of the exhibits you can look forward to include our "Tiny Town." It will be a multi-level structure allowing kids to really move through it and let their imagination run wild. Tiny Town will feature a bistro, fire station, salon, and police station.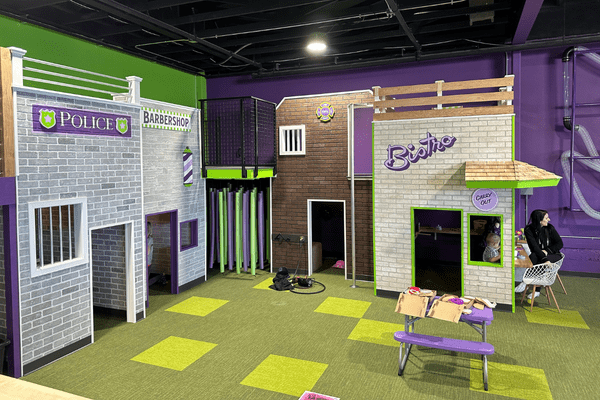 If your child loves to dress up or perform, there will be several areas for them to engage. We will have various costumes and accessories for kids to try on. And also instruments and puppets to play with.
One of our favorite parts of KidCo Children's Museum is that it gives kids full autonomy over their playtime. Whatever they gravitate toward and whatever brings them joy, that is the right area for them. 
Other fun elements of the museum include a construction zone, gear zone, ball run, and a giant tube drum. 
And there will be no shortage of books for kids to grab and snuggle up with in the loft, providing a great opportunity for parents to read with their child. 

A Space Just for Toddlers
We really wanted to design a space that was geared specifically for our toddlers.
Based on our experience as parents, it was important to us that they had an area where they wouldn't be trampled by older kids. A place that would offer the right space for them to flourish.
The toddler zone is surrounded by a half wall where parents can comfortably sit on the other side to watch their child, while giving their child the freedom to play. Toddler's LOVE this freedom, but also want their guardian in their view at all times. Win, win!

Inclusive
Another component to our museum is inclusivity to all kids. We are very excited to offer a sensory sensitive session. This will provide a calmer atmosphere with lower lights, soothing music, and a decrease in occupancy. 
The possibilities are endless, and we couldn't be more happy to be able to help the kids of Fargo-Moorhead GET THEIR WIGGLES OUT!
Watch our video here to see an insider's view!
If You Visit
How to Book Your 90 Minute Play Session: Visit PlayKidCo.com or download their app by searching "KidCo" in your app store.
Address: 814 Center Avenue, Moorhead
Current Hours: As of March 1, 2023, the hours for open play are Tuesday-Friday from 10:00 a.m. – 5:00 p.m. and Saturdays and Sundays from 9:00 a.m. – 4:00 p.m. Party rentals will be available on Mondays, on Tuesday-Friday after 5:00 p.m., and after 4:00 p.m. on Saturdays and Sundays. 
Best Ages to Play: This space is geared towards ages 8 and under.
Rates: Single play sessions are $14 per kid for 90 minutes, or Multiple play packages are available (2 plays for $20/month, 4 plays for $35/month, or unlimited plays for $55/month).