Thrift store shopping can be a great way for many families to save money.
Also, there is a thrill to thrifting. Finding an item at a fraction of the cost is exciting!
If you're not familiar with thrifting, there might be an assumption that items are dirty, used, or broken.
And yes, at times that may be the case, but oftentimes it is not. Many stores donate unused inventory to thrift stores. In fact, many times, some clothes still even have tags on them! And in most cases, toys can be easily cleaned and clothes can be laundered. 
Here is a list of items you can find at most thrift stores to help your family save money.
Best Items to Find at the Thrift Store
Toys
Does your child or their friend have a birthday coming up? Consider thrifting your gift!
Many toys are still in good shape, and may even still have tags. Your child most likely won't even notice if there is a tag or not. Many toys can be washed to look good as new.

If you're creative, you can upcycle a toy. There are tons of great ideas on Pinterest.
Kids can lose interest in toys quickly. So, buying gently-used toys is a nice way to save money while your child is in a particular stage of play.
Books
Reading is important for child development and you can find a variety of quality children's books at thrift stores.
Did you know, in the Fargo-Moorhead area, most thrift stores sell children's books for $1 or under? The cheapest I have found is at UC Hope in Glyndon for $0.25 each!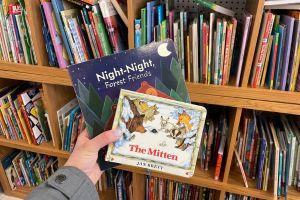 Most thrift stores also have reasonably priced books for adults.
Bonus tip: Check your thrift stores for books around the start and end of the school year, when teachers or families may be transitioning their book selections.
Clothing
You can find your family's entire wardrobe solely from thrift stores. Big box stores donate leftover sale items or returns to thrift stores. Dakota Boys and Girls Ranch usually carries quite a bit of Target-brand items.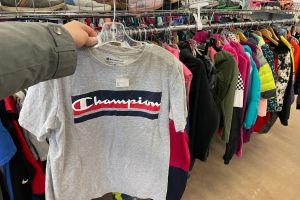 You can also consider stores like Once Upon a Child, where items are secondhand and well-stocked, compared to a traditional thrift store where there may be less selection.
As for adult clothing, try Clothes Mentor, My Best Friend's Closet, and Plato's Closet. Items are secondhand but hand-selected by staff, versus traditional thrift stores that simply receive donations.
Gift Bags
Have you bought a gift bag from a big box store recently? Prices can range from $2 to $5.
At a thrift store, gift bags can range in price from $0.10 to $2. Bags are often in great condition. And there is also usually a wide assortment of options: bags for birthdays, baby showers, weddings, etc.
Glassware, Dishes, & Mugs
This Christmas, I was bound and determined to make margaritas for my family. And I wanted margarita glasses to go with it. The first place I checked? Thrift stores! I walked out with four margarita glasses for under $2!
Most thrift stores have sets of matching glassware. And it's also possible to find quality canning jars at thrift stores.
If you're hosting an event, and want to elevate your guest's experience, ditch the disposables and opt for some fancy (but affordable) glassware.
Or, create a unique dining experience in your home by using mismatched dishes. Create a cohesive look by focusing on color or unify your set by focusing on a particular color, pattern, or era.
The best part is if someone breaks a dish or glass, it's not a big deal!
If you are on the hunt for a vintage set of dishes, Heirloom Thrift & Gift in Fargo is a great place to start.
Totes & Baskets
Do you have a space you want to organize or toy chaos to contain? Thrift stores often have baskets and totes for sale. And if totes aren't out on display, you can ask staff if they have any in the back available for purchase.
Use these baskets to stow items in your vehicle, organize your playroom, or display hand towels in your bathroom. Paying for these items new can range from $5 to $20, whereas at a thrift store you can buy several baskets for that price.
Puzzles and Board Games
The puzzle industry has taken off in recent years, and it shows in thrift stores. You can find beautiful puzzles at thrift stores — beyond traditional landscapes.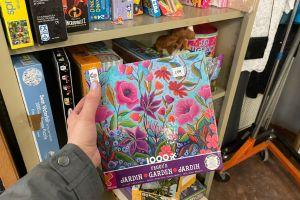 Many of these puzzles are priced between $1 to $5. And puzzles can also make great gifts!
Worried about missing pieces? Ask a staff member if they happen to count out the pieces. Most of the time, even if you're just missing a piece or two, it's still worth the experience of putting the puzzle together.
Board games are one of my favorite items to purchase at a thrift store. You might want to give it a quick glance to ensure the pieces are there. It's likely staff has already checked it over, but it doesn't hurt to give it a second look.
Wall Art, Mirrors, & Home Decor
Frames and wall art are one of the easiest and most exciting things to find at thrift stores. Consider building your own gallery wall!
Don't see a frame color you like? Paint it in the color you'd prefer! It's also easy to upcycle an art piece by updating the glass, frame, or matting.
Dresses
A fun trend on TikTok is going to the dress section in a thrift store, closing your eyes, and selecting a dress to wear for date night or a girls night out!
Oftentimes, a fun party dress will only be worn once or twice. So, why not save money and get one at the thrift store?
You can often find an even better assortment at a consignment shop. It might cost more than a traditional thrift store, but can be worth it to have more options. You may even be able to resell it at the consignment shop after you've worn it.
Furniture
Buying furniture used is a guaranteed money saver, and can spark creativity! And buying a used piece of furniture limits your environmental impact and saves decent pieces of furniture from landfills.
Maybe it's a statement piece for your living room, a new bed frame for your child's bedroom, or a dresser for the guest room.
Perhaps you're looking for vintage pieces. Eclectic styles often mix a variety of everything — pieces from various eras, styles, etc. If you're into this style, you can certainly achieve this look by scouring thrift stores.
Clean it up!
Be sure you still thoroughly clean your items before bringing them into your home — give it a good vacuum, wipe it down, etc.
You don't need to empty your savings to create a lovely home and experience for your children. Thrift stores are often filled with quality items waiting to be repurposed and reused. And with some handy work and a creative eye, you can transform items to fit your style.